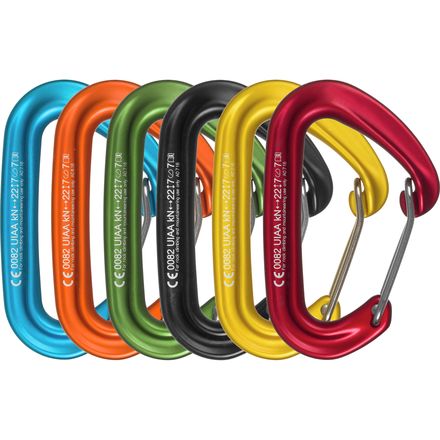 Community Images
Description
Lighten up your rack with this biner pack.
When you're heading into the big mountains or just looking to shave major ounces from your rack, there's no quicker way to lighten up than the Metolius Full Strength Mini Biner Set. This package of six ultralight wiregates trims the fat while still providing the same strength rating of many heavier biners.
Great Gear
Familiarity:

I've put it through the wringer
I am currently expanding my gear collection for trad lead climbing, these Caribbeans were an excellent purchase. I have a full rack and am looking to lighten my rack. This allowed me to do so by many ounces. Ounces may not seem like much but when it comes to climbing for hours setting trad routes for a local summer camp each ounce counts. I currently use these for holding gear from extra chalk, to water bottle, slings and the like. One thing I really like about these are that the KN rating is high enough that I could climb on them in a real pinch. The color assortment I received was excellent.
Size matters not...
Familiarity:

I've used it several times
Don't be afraid of these biners, I don't find them any harder to clip into than regular size biners. My friends and I love these, and the light weight makes them great for taking to climbs that require long hikes in, pack trips where I hang my hammock, etc. Don't knock them until you have tried them. The clip-in motion that you use is a bit different, but that doesn't mean it's harder. The gate seems to have a bit more initial resistance, but less secondary resistance.
Very usable!
Gender:

Male

Familiarity:

I've used it several times
I initially ordered these by accident thinking they were full size, but have been surprised by how much I like them. I have large hands so I wouldn't use them for protection, however they are great for keeping your climbing shoes together, putting your chalk bag on your harness, hitching your dog to the wall, or keeping gear together. Definitely recommended for those who have small hands or can always use an extra biner without the weight of a full size one
Love this little biners
Familiarity:

I've put it through the wringer
I use this for everything. I have them to attach cordelettes to cams or haul stuff around. They are light and resistant.
Small biners for small hands?
Great mini biners for color matching the gear and for weight reduction. Probably a bad choice for people with large hands.
Nice colors, good weight savings
The color coding makes racking cams easy but for rope-work I find the gate action and basket size to be less than ideal. Ultimately I end up reaching for the DMM spectre more than the FS Mini, but I dig the concept of the full strength baby biner. Plus, this is a great carabiner for all those super extreme people who carry their keys on their belt loop with a carabiner. Maybe you can suggest using the FS Mini as a less conspicuous option. Or a pocket...
These things are awesome! Smaller than most yet still strong. Definitely a must if you are wanting to shed some weight on your rack.