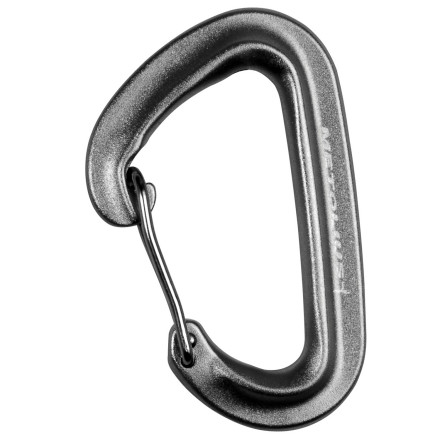 Detail Images

Community Images
Description
Go nuts with the FS Mini.
Lower rack weight and volume without sacrificing strength or utility with the Metolius FS Mini Biner. Metolius maintained carabiner strength while reducing the size in the FS Mini, so ounce-oriented climbers can enjoy a lighter load on those multi-pitch pushes. At a mere 25g, these rigs are also easy to clip and can help you color coordinate your cams and nuts.
Share your thoughts
What do you think of the
Metolius
F.S. Mini Carabiner
? Share a...
Too small, too stiff
Familiarity:

I've used it several times
I like small and light gear for alpine climbing. I've used the wild country astros, and BD oz, and Camp 23 and 22. I also have the small locking metolius biners.

These are not really great for racking. They are too small. The wiregates are stiff, stiffer than the other equivalently small/light biners. Whenever I grab for my gear on a metolius minibiner, I have to fight to get it off my sling. The opening is not really wide enough to clear the molded plastic loops on my sling while I'm trying to hold the gate open at the same time.

Also, there isn't a lot of space inside the biner for rope and a sling. Tying a cord into this with a clove hitch is possible... but still... you have to do it with care. So I wouldn't use these for draws either (unless I had to).

It's a light biner for sure - but the sacrifices to functionality are just too much to justify it for me. I'd consider other brands on the market - my favorite so far is the camp nano 22.
Works For Me!
Familiarity:

I've put it through the wringer
I actually bought this biner to use on my logs leash to shorten it. Nice and small and worked perfectly. I wouldn't personally use this for climbing. It's pretty small and I don't prefer small biners on my rack.
It comes down to handling of the size.
I love them as a utility carabiner for a multitude of uses. I tried using them for technical stuff and they just seem really small and kinda difficult to use. I am not a weight weenie and I would prefer a larger carabiner that is easier to clip and unclip. I just find they aren't the one I reach for when I look at my rack.
A good buy for multi-purpose. Keys, hammocks, climbing, stuff.
not my favorite.
Familiarity:

I've used it several times
these are the smallest biner on the market as far as I know, but not the lightest, which is why these are much less than awesome. If you have bigger hands these are fumbly and hard to work with, which would be ok if they were also the lightest biner in the world. but they are not. there is a significant difference between these and the CAMP nano 23. I much prefer the CAMP biner, its bigger and easier to clip and 2 grams lighter, right now the description is wrong, it has them listed at 23 grams but they are in fact 25 grams.

so unless you need a tiny biner for some reason or you have really small hands i would not get this one.
Great utility biner
Familiarity:

I've used it once or twice and have initial impressions
Got this little guy to leave on my belay jacket for a chilly multi-pitch in Linville Gorge, NC. Feels great with clean action. I like that it is so small because and goes right in the pocket of my jacket while I wear it.
Great, I love it.
Familiarity:

I've used it several times
I use a black mini to rack my black tri-cam. Saves weight, carries nice, feels like other regular sized carabiners to me. Wish they had more colors.
only for weight junkies
Familiarity:

I've used it several times
extrremly small and light but not really confortable to use with gloves or in hard trad climbing moves where you have to grab quiclky the cam form your harnes
if you are not worried about that. these are awesome
I bought these as utility biners, for racking or whatever else... and I love them! The gate action feels great, not like a "toy" at all. But they are SMALL, duh, that's why they are called "mini." You can't load them up with too many straps/ropes because things will get crowded. They aren't mean to quick draws, etc... and would be hard to clip, but they could work for a lot of things in a pinch.
Excellent and powerful little biner
Familiarity:

I've put it through the wringer
I really like how small it is. I used it for everything before I started rock climbing, including camera holder and keychain. It is very lightweight and small but very resistant. For rock climbing I use it mainly to hold my prussik accessory cord when rapelling.
Well made, a little small....
Purchased a few of these to rack some of my TCU's and Flex cams. They seem very solid and the gate is smooth. I have no problem getting them off and on a gear loop. However, the problem lies in doubled/extendable slings. These are just too small. There is no way I'd be fiddling to extend a sling when the juice is draining. No big deal, they were designed for metolius' single slings, hands down. Lastly, the price seems pretty steep to me. I will update as I put more use on them this summer. The jury is still out on whether or not I want mini-biners on my rack.
I got tired of my fake-biner keychain breaking, so I started looking for a tiny legit one. This was perfect! Very small design but you still have a full working biner at your side, you know, just in case you need to tie your shoe laces together and repel from a burning building after saving some old lady's cat or something.
Load up on them, great for everything
Gender:

Male

Familiarity:

I've put it through the wringer
Small, strong, light, great for so many uses, like lightening and shrinking your alpine rack, pack biners, shoe biners on your harness, anchors, etc...I don't love them for clipping the rope into while leading, but utility wise, they are awesome.
great for racking, metolius does color them to match all 8 master cams, but the grey and purple are harder to find. they could work for quickdraws, but for sport climbing the weight savings wouldn't justify the potential for clipping difficulties as they're quite small. for racking cams, 5 stars.