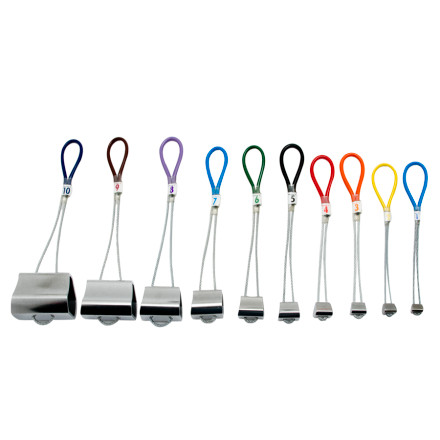 Detail Images

Community Images
The Metolius Curved Hex Full Set supplements your cams to cover the same sizes with lightweight, durable, inexpensive pieces of passive protection on long trad climbs. These simple, yet functional pieces of gear fit in places that cams can't touch and work great in icy, muddy, and dirty cracks. Best of all, the Metolius Curved Hexes won't empty your wallet if you have to leave some for rappel anchors.
Hexes are pretty they make lots of noise
when I'm shaking and scared way up high in the sky
They clang and they bang telling all around
here comes a weirdo who don't like the ground.
I love me hexs when a crack flares in
a cam might walk but my hex he'll stay
when I get scared and just can't go on
I bail on him and don't go sob
Cuz he ain't worth a paycheck
more like a dinner.
Is it possible to re-sling these with cord...
Is it possible to re-sling these with cord in the 1-6 size?
No. Cord at those small sizes would never hold a fall. The cord needs to be rated at at least 3000lbs. meaning about 5-6mm cord and that wont fit through. For the price of a single hex just buy new ones. If the sling took that much abuse its time to retire it.
Great hexes. The color coded loops make it easy to find a particular size once you get used to them. I've found them to be pretty easy to set properly.
what is the difference between the two...
what is the difference between the two options offered here?
, ☃bcs_badge_alumni_label☃
"Set of 10" is the '08 model, were the "One Color, One Size" is '09.The Hexes were unchanged from the '08 to '09 session.