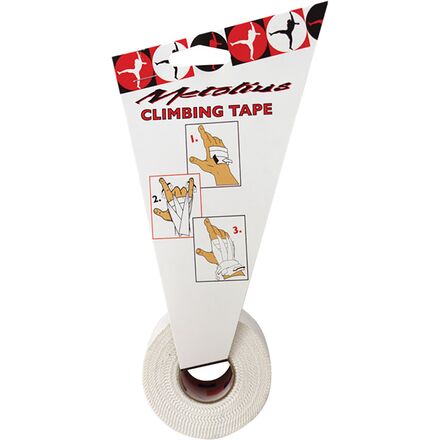 Community Images
Wrap up your weary tendons in some Metolius Climbing Tape and get back to crushing. Comes complete with illustrated, step-by-step taping instructions.
It is a Must
Familiarity:

I've put it through the wringer
Yes it's just tape, but it is a must in your climbing bag! There is always need for it, whether it is to tape your fingers, fix something that breaks, make a stick clip, tape your ankle that you just rolled, or anything that can happen to you while you are out climbing! This tape is great too! It is sticky and stays on whatever you use it on!
a real blessing
Familiarity:

I've put it through the wringer
My dad was a ball coach so I grew up in a house where athletic tape was a staple. This also meant that for the longest time I looked no further than the rolls of Mueller tape at the local sporting goods store. I was in college when I first came in contact with "European style" tapes, which is strong yet forgiving allowing for increased mobility yet still offering the necessary support expected of a tape job. This exceptionally pliable tape will dramatically decrease the occurrence of bothersome tape cuts. Also where creases and ridges can ruin a tape job with traditional athletic tape this style is much more forgiving.
It is indeed tape...
Familiarity:

I've put it through the wringer
Metolius does a lot of things right; TCU's, Training equipment, full-strength carabiners HALF the size and weight of traditional 'biners... the tape that they make is no exception.
It's definitely tape, and it does what tape is supposed to do and adheres to stuff! In terms of climbing tape, it actually proves quite exceptional. Other tape brands tend to lose their "stickiness" after a route or two due to perspiration from the hands, Metolius, however, stays put... it sticks so well, in fact, that if you have hair on your hands and wrist, you'll actually end up getting a wax job as a bonus (it is actually rather painful...).

P.S.
Save some hair on your hands by placing playing cards between the tape and your skin...

Hands down my favorite tape.
Familiarity:

I've put it through the wringer
This stuff is sturdy and sticky, and more flexible than other brands I've tried. I find it a little hard to tear sometimes, but only once I've already started turning the roll into thin strips to tape over pulleys. I really dislikee other tape after using this for a while. Great for gloves, fingers, or covering boo-boo band aids.
Wear and Tear
Familiarity:

I've used it once or twice and have initial impressions
I've only used this tape a couple of times but as outdoor climbing season gets in full swing I have a feeling I'll be ordering a few more rolls of this stuff. It's easy to tear which makes patching up blisters fairly quick and painless. I have had issues with the tape sticking well occasionally but that's mainly due to learning how to wrap it properly. It definitely took me a few tries so don't get discouraged if you experience the same issue. Solid tape overall.
It's sticky without being too sticky and leaving an awful residue. It's easy to tear which is a huge piece for me, I hate having to rip it with my teeth. It works really well to protect soft/torn skin from the rock/plastic, I will definitely continue to use it- hands down recommended!
Jared D.

Expert Gearhead

800.409.4502 ext 4055

jdowns@backcountry.com
Really Good Tape
Gender:

Male

Familiarity:

I've put it through the wringer
This is my favorite climbing tape on the market. I've tried different cheap athletic tape, and Metolius Tape I feel is superior.

-It has a good quality feel, made 100% from Cotton.

-Has great stickiness and a long life. I can usually get 3-4 days of climbing in before I gotta replace my tape gloves.

-Made in USA.

Even though it's a tad more expensive then garbage athletic tape say from wal-mart, I know from experience that it's worth it. I spent $ on 3 rolls of the cheap stuff instead of getting 2 rolls of quality tape from Metolius, it was crap and lasted half a pitch before peeling off.

(picture) At the anchors of Supercrack, Indian Creek, UT.
Love Glove
Familiarity:

I've put it through the wringer
Love crack? This is the tape for you.
Fingers, hands, anything
Familiarity:

I've used it several times
Great tape. Takes a few times until you can learn to wrap it well. When wrapped well, the tape stays in place, doesn't leave residue, protects my fingers, and allows me to continue climbing.



Most importantly, it's easy to rip with tired hands!
Very useful
Familiarity:

I've used it several times
This tape is very useful to have at the field. It is very resistant, so it would work if you need a quick fix of some piece of gear. It also has instructions on how to build a glove and other common things.

It is very hard to cut by hand, carry a knife if you expect to use it.
Can make a big difference
Familiarity:

I've used it several times
Being new to climbing regularly my hands have been sore and pretty torn up. Using this over blisters and weak skin has helped greatly in not making it any worse while still continuing to climb. Use half width for around finger joins and stays on and doesn't get in the way.
Good tape for just about everything
Familiarity:

I've put it through the wringer
This is good climbing tape and I do have a roll with the rest of my climbing gear, but I really like this tape for anything athletic-related. I use a lot of it in my med kit, particularly for covering blister bandaging or holding down gauze. I gave it 4 stars because, well, it's just tape.



I did some looking around online and it seems like $3-5 for 10 yds of athletic tape is a pretty standard price. So you're not paying too much for it and it works pretty darn well. Even better, the tape is made in USA like most of Metolius' products are.
I don't use it for tape gloves but just every day wear and tear wraps. There isn't really any difference between this tape and every other brand for athletic tape out there but you might as well add it to your cart while shopping on Backcountry!
It is honestly pretty simple. Keep your skin safe, put on some tape. Unfortunately, I usually only end up using my tape after I've already started to bleed, but it lets me keep going on a good day out at the rocks.