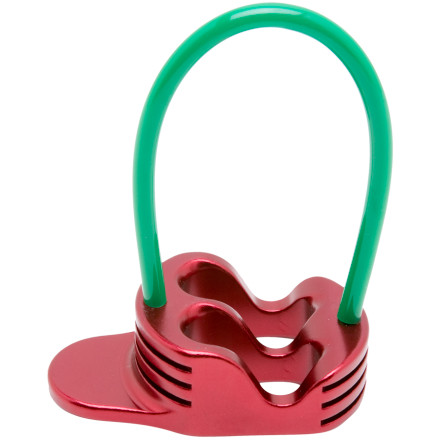 Detail Images
The Metolius BRD Belay Rappel Device's notched ends increase rope friction during a fall to allow for an easy catch, no matter how big a whipper your partner takes. This extra friction makes the Metolius BRD a solid choice for use on skinny ropes, and it works on any ropes from 8-11mm diameter. Metolius also added a thumb press to help you release tension and provide a smooth lower or rappel when time comes to go down.
What do you think about this product?
Have questions about this product?
We got one of these as a gift while on one of our 6 month climbing road trips. Its not the device for fat ropes, but since we only climb on skinny strings these days it works great. If you are headed into the mountains with doubles or a single skinny rope, you will be happy to have one of these on your harness. They really shine on long raps when you need a bit of extra friction to slow things down.

Daryl
Sylvan Rocks Climbing
www.sylvanrocks.com
The Metolius BRD Belay Rappel Device, there is no high friction mechanism like BD ATC-XP. However, the brake power is stronger than externals. The belay for a long time and the belay of a heavy climber can be eased. And, the descent can also operate the lip and it do smoothly. I like it very much.
I am a fire fighter I would like to know...
I am a fire fighter I would like to know if I get stuck in the wrong place and have to come down over the side of a building in a hurry how well will this iteam work for me
I totally agree with the previous answer and I will add this: Most of the products sold here are designed for sport climbing. The manufacture assumes that you as the owner know the history of the hardware and how you have used it so you can make a educated decision on when to retire it. This allows the use of much lighter weight materials to be used that won't last as long. Hardware that is intended for commercial use is generally the same design but much more robust and longer lasting but weigh a lot more. Using a sport climbing device not rated for commercial use may also be against local safety laws.Regardless of the device you use PRACTICE PRACTICE PRACTICE! Rappel with gloves and without. (who knows you might loose a glove or something) Practice rappelling long distances with the diameter of rope you plan on using. (longer rappels are tricky as you start going very slow but start building up speed quickly) If you read the book Accidents in North American Mountaineering you will find too many deaths due to simple mistakes rappelling. Battling a fire is not the time to be unfamiliar with your rappel device. Be safe out there.