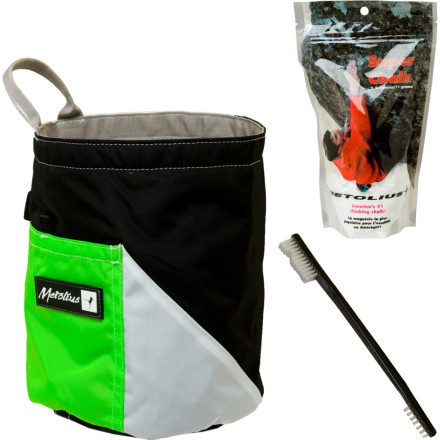 Detail Images
Don't forget to chalk up with the Metolius Boulder Bucket. This floor-standing fountain of chalk delivers finger-loving freshness to your hands for long days on a project or at the gym, and a tapered shape reduces spillage so you don't leave a path of white smoke everywhere you go. The Boulder Bucket also comes with dual brush holders and a 2.5oz bag of Super Chalk.
great community bucket
Familiarity:

I've put it through the wringer
Large bucket, holds a ton of chalk, great for bouldering. Chalk spills even while closed but not too much. Stays upright well. Great for what you need it for
Yo this bucket is pretty fantastic. its got enough room in there store chalk for days. it sits well when there is nothing in the side pocket but when i put my wallet and keys and such in it the bucket gets a little one sided and may tip over of there is little chalk. but besides that this bucket is great.
tippsy chalk flopping machine
This thing is a tipping machine. the round bottom ensures an unstable platform that is always waiting to dump your chalk all over the ground. The brush is the only thing in the package that is worth spending your money on. Don't be fooled, buy quality, buy Krieg or Organic!
I am an avid boulderer and this bucket does the job. Large enough that I can effortlessly get get to my chalk. And boy, this thing can hold a lot of chalk if needed. It securely closes making for easy move. Love the extra pocket in the front, use for phone and keys when I don't have to carry around my climbing bag. Even included a good brush.

Awesome quality and great price.
Can't go wrong.
For the price you can't beat it
Really stable and keeps the chalk in surprisingly well. The simple handle makes it really easy to quickly and painlessly move the bag to a different route. Bag seals up very nicely, as well, keeping more chalk in the bag! Also has a spacious velcro pocket in the front. I use it to hold my 2-inch tape.