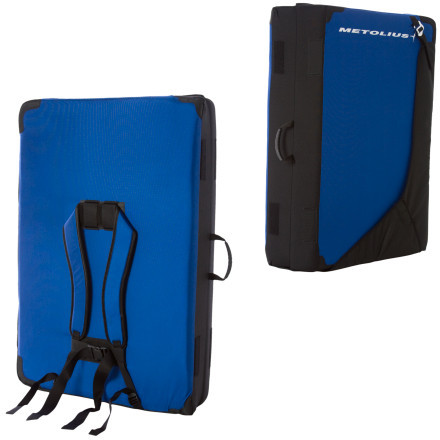 Videos

Community Images
Description
Whether you slip from the first move or the last, the Boss Hog provides a cush catch.
The Metolius Boss Hog Crash Pad uses a unique combination of open- and closed-cell foam to provide optimal padding whether you're working a sit start or lobbing off a highball. Metolius placed an inch of closed-cell foam on the top to distribute forces for big falls, and then added a half inch to the bottom for those unexpected back slappers. In the middle of the Boss Hog Crash Pad lies a beefy 2 ½-inches of open-cell foam to take the sting out of any failed send. The suitcase-style fold eliminates gaps in the padding, when the thick side faces up, so you don't land with your foot in an unpadded spot and risk ending your season.
Extra-large size ideal for highball bouldering
Drag handles for fast and easy replacements
Shoulder straps and waist-belt for comfortable carrying to the boulders
Worth every cent
Familiarity:

I've put it through the wringer
This was the first crash pad I bought and it's held up amazingly well. It's got a decent amount of padding, it folds up easily, and it's not too heavy to carry. Also, I can throw my shoes and chalk bucket in it and not have to carry a second bag. I highly recommend this to anyone looking for a medium size crash pad.
When it comes to crash pads you usually get what you pay for. This pad has lasted a lot of abuse over the years and is holding up well. The hip belt and the velcro pocket for keys and doggie bags are nice but the best feature is the flaps that wrap around the bag so thing don't fall out on the trial.
Great pad! Saved many broken ankles.
Gender:

Male

Familiarity:

I've put it through the wringer
I found this pad used online without knowing much about it, and it is pretty close to perfect. It is thick and durable, minus a few tears on the back from rocks on the ground. The foam is equally firm across the pad and offers a great catch. I take it every time I go bouldering. My one wish is that it was bigger, but Metolious and BD make bigger pads, they just cost more money.
All the Bells and Whistles
This is a top of the line pad. The closed-cell foam on top distributes weight over the softer open-cell foam, while the closed-cell foam on the bottom helps protect from uneven terrain.



There are essentially two styles of pads: taco style doesn't fold up as tightly and doesn't open up as flat, but there is no gap in padding. Hinge style closes flat to take up less space and folds open flat, but landing on the hinge might mean your foot goes straight through the padd and hits the groud. The boss hog is a hybrid that get the best of both worlds. The closed-cell top layer is one continuous sheet that provides protection on the hinge, and the hinge is cut at an angle so you can't fall straight through the pad.



Aside from a standout protection design, this pad has all the features. It's got shoulder straps and waist belt. When it's closed, a handle on the hinge for easy movement. When it's open, handle on each far side to reposition it easier. The one buckle shell securely holds all your gear when hiking around, and has a pocket for your keys and a couple snacks.



To top it all off, this pad is burly. After years of falling on it, the padding is still great, and the reinforced corners are still holding on. Also the dimensions are small enough you can usually still check it on a plane.



This is an excellent pad for all styles. Bigger pads are nice, but if you play nice, other climbers usually share.
Metolius Boss Hog Crash Pad
I have this pad along with some other Black Diamond pads, and I have to admit- this one is more comfortable to land on.

Shoulder pads have a little more cushion than my other pads, making it a lot more comfortable to load up with other gear.

When you go to hit the hay, you're able to remove the shoulder straps and lay on the softer side without the straps digging into your back.



I wouldn't say this is "ideal" for highballs. Sure it's thick enough, but not all big in surface area. Throw 2 or 3 of these pads(or similar) over the landing zone and you'll be just fine though.



I do wish that the handle was on the side that opens. It would make carrying the pad short distances a lot more convenient. I can throw gear into my Black Diamond pads and then just haul them to the next boulder using the handles. I have to strap my Metolius pad together before picking it up, or everything falls out.



Just one minor design complaint from me. This is an awesome pad and has lasted us for years!
Good Pad, but Overpriced
Gender:

Male

Familiarity:

I've used it several times
The Boss Hog pad by Metolius is a really good pad, but the price is a bit steep. The Boss Hog has a great closure system that accommodates for all your bouldering gear and keeps it on the inside so you don't have to worry about losing anything. It has a fully carpeted surface to clean your shoes with, which is a fantastic feature that deserves recognition. The quality of the foam is adequate, and the landing is the right balance between stiff and soft. However, beyond these features, the pad is relatively bare-bones. I'm not sure if it's worth the sticker price. I've only been using mine for a few months, but I have heard that it is a long-lasting pad. Let's hope so..
This is a great pad. The tarp flap thing is awesome, as it allows you to just cram whatever into the pad and not worry if it'll fall out. The material is durable, the straps are as comfy as they need to be, and overall I like it. However, I don't think it's worth it to go for this over one of the cheaper alternatives, such as the mad pad, bailout, or stomp pad.
Whats the difference between this and the...
Whats the difference between this and the Bailout pad? They're both the same dimensions and this one is slightly heavier. I notice that the Boss Hog has multiple types of foam. Is that the only thing thats sets the two pads apart?
It is the only difference.
They both have multiple types of foam; a softer open cell and a stiffer closed cell cross linked polyethylene or something. This just has a more durable fabric and more bomber closure system, which lets you carry stuff without worrying it'll fall out.
They both have multiple types of foam; a softer open cell and a stiffer closed cell cross linked polyethylene or something. This just has a more durable fabric and more bomber closure system, which lets you carry stuff without worrying it'll fall out.
Light with some nice features
I like that Metolius has rubberized the high wear areas on these pads for the newest version (corners). The foam is probably adequate for standard bouldering but not firm enough for really high ball problems where you may bottom out. The shoulder straps are comfortable but I am not a fan of the free floating waist belt since it always gets pulled one way or the other and ends up snagging on items. I really do like the CNC aluminum buckles which have always been bomber and will need no replacement. Excellent intro pad (I own or have owned ~6 pads over the years).
This baby does the job its supposed to, it provides a rad thickness for the price and the carpeted top is just an added bonus.
I'm not going to lie, i'm primarily a trad climber but when i do boulder this is what i bring. It has saved my ankles numerous times. The offset closure in the middle is brilliant and you can appreciate it if you have ever decked out in the center of a pad before. Not fun!
This pad does what it needs to do - provides soft catches for bouldering falls. I've got about 6 months of continuous use on this pad (it's gathering dust these winter months), and it's softened up very nicely form it's original stiffness, but is still very firm. I've taken a few pretty decent falls on this pad, 15 ft.+, and felt just fine. The carpet top gathers a lot of stuff (sticks, leaves, etc...) but brushes off easily, and, more importantly, cleans shoes really well. One of the stitches on the "hook" side of the velcro closure pocket has ripped, making the pocket a bit of a hassle to use, but I'm happy overall. A better pad than most in this price range.
oh, also of note, I can fit this pad easily in the trunk of my Dodge Neon - another major plus
Hey Guys, it works, just don't try to rollerblade up hill with it on.
For my husband's birthday I got him the Metolius Boss Hog Crash Pad and he loves it! It has the perfect amount of padding for any crash landing. He also loves how it folds up and is easy to carry. His friend decided to get one as well after a day of boldering at the Bald (Rumbing Bald - in North Carolina.)