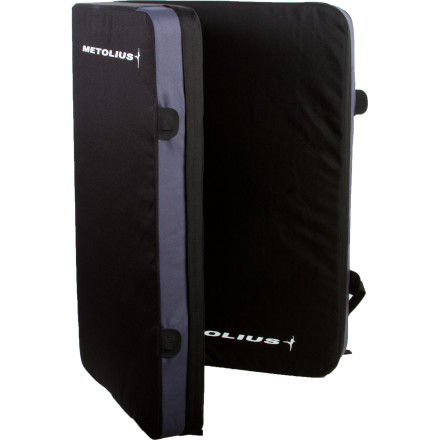 While the Metolius Bailout Crash Pad is seriously big, it's not so obscenely huge or heavy that you can't actually get it to your secluded highball problem. Shoulder straps and a waist-belt make transportation easy and comfortable, and drag handles let you move this pad quickly while your climber tops out.
Sandwich foam design (1in closed-cell top, 2.5in open-cell middle, 0.5in closed-cell bottom) absorbs impact so your ankles can live if you blow it at the lip
Carpeted logo helps keep your shoes clean
Angled hinge design helps eliminate the gutter
Good for the Price
Familiarity:

I've used it several times
This is probably the best pad you can get for under $150. It's relatively lightweight and it does its job when it comes to cushioning your landing and helping remedy bad spotting. However, the foam appears to wear down quicker than more expensive, competing pads (Asana and Organic). I do also love the carpet diamond in the middle for cleaning off dust and dirt from my shoes before getting on rock. I recommend this pad
Best Pad for Features and Price
Familiarity:

I've used it several times
By far the pad you can buy for the price. Try to get it on sale for a really fantastic deal. It is thick enough and firm enough to provide cush landings from "highballs" but soft enough for low overhanging roofs. However, always nice to have at least 2 pads while bouldering. Love the carpet for wiping shoes and buckles for quick clips. Also have to love the hybrid hinge. Plenty of room inside the pad to transport shoes, water, chalk, clothes, dog, bathroom sink, etc... Comfortable backpack straps with waist strap. Good foam that has lasted and should continue to last a long time. Buy it and get out there and crush some boulders!
Good pad for a good price
Familiarity:

I've put it through the wringer
This pad is well priced and does its job. It's not the biggest pad out there, but it's lightweight, comfy to carry, and fits with another pad in most 2- and 3-person tents for cushy post-climb camping. I really like the big foot-wipe area for getting mud off the shoes before hopping on a problem. I also like the full-fold design for placing the pad over big, scary rocks in the landing zone. This pad + a big taco pad is the perfect setup. It seems plenty durable to me; I've had it for over a year, used it pretty regularly, and the buckles and foam are holding up just fine.
A decent pad.....
Familiarity:

I've put it through the wringer
For the same amount of money there seem to be a bit better pads but this one isnt bad. The carpet on the pad is nice to wipe of your shoes. But compared to mad rocks equal level crash pad this on seems a bit thiner and a bit softer but it is definetly lighter. overall a decent pad
Metolius Bailout Crash Pad
Poor
Gender:

Male

Familiarity:

I've put it through the wringer
I really don't like metolius's cheap pads. The fastening system on mine barely lasted a year. The cheap rubber they used to hold it closed just tears. I have to hold mine together with a strap going all the way around now. And the fabric on the bottom tears really easy. I wouldn't recommend this specific pad to anyone.
Love this pad! Light and easy to carry while still providing good protection against falls with the dual density padding. The carpet square in the middle is icing on the cake!
Like others have said, this is a great pad for the money. I just picked one up last week, but I have used a friend's prior. Solid pad, easy to carry, light-weight, etc., etc. If you're starting to get into bouldering, this is a great buy.
Anyone know where I can get my hands on...
Anyone know where I can get my hands on the crashpad in this picture? http://www.myspace.com/metoliusclimbing/photos/2422689
The Sketch is the closest thing to that at the moment. http://www.backcountry.com/metolius-sketch-crash-pad
Looking for a good all-around/light weight...
Looking for a good all-around/light weight bouldering pad. I would like it to be able to carry shoes,calk,and a nagene. Any recomendations?
This one is a great pad, so is the mad pad. If you're willing to throw down a few more bucks for some better quality and support a small business, check out organicclimbing.com. I prefer the simple pad to the full pad.

But yeah, you can't go wrong with this pad, it's served me well for years.
Backcountry is awesome! I'm stations in Japan and Backcountry shipped this crash pad to me for free and within a week. That's super fast for an oversized APO AP shipment. Thanks Backcountry I couldn't enjoy this awesome product without you!
This is a great pad. very durable, portable, affordable.

love the angled hinge, variety of carrying handles, graphics, and the carpet square in the center is a nice touch.

I'm very happy with my purchase!
Nice pad for the price! The shoe wipe logo on the top is nice touch too. Have had to bail about 10-12 feet above, so far, and have not bottomed out through the foam. Not sure how it would fare on highballs yet. Nice and light, easy to carry around. The cover seems really durable (time will tell.) The graffix version is cool too!
Two things before you read the rest of this review.

1. There is a shoe wiping pad in the middle of the pad so your shoes are clean before begin climbing I thought I would let you know since the picture doesn't show that.

2. This is one of those great CHRISTMAS WISH LIST items, its cheap and its for your "safety" and from personal experiences if you can convince your parents it will help save your life no matter the cost they usually find a way to get it for you or at least let SANTA know.... if you have those parents who still think its fun to put "from: Santa" on your gifts.


It has all that you need and at the price you want. The larger pads are nice but if your someone who's bouldering projects are a bit of a hike that also involve heavily treed areas this pad is awesome since its weighs nothing and its not overly big so it doesn't get caught on everything on the way.

The pad is only 4" thick but the group I was with all took some good falls on this guy and none of us ever bottomed out the foam or even got close. If you are a bigger guy or gal and you are worried about going through it a simple way to strengthen the fall capacity of this pad is to go your local foam shop and ask for their highest density 1" foam and slip it inside the pad on the main fall side, not only will it catch more weight but it will also distribute the load all across the pad allowing it to last longer.

If you wondering about how comfortable the backpack straps are well lets put it this way YOUR CARRYING FOAM! so really its not as if its ergonomically designed but its comfortable enough and wont rub anywhere.

This pad makes total sense if your someone who understands that money doesn't grow on trees and that you don't get better as a climber just because your purchase a 300+ dollar crash pad.
This pad is awesome. It's essentially just a revamped metolius stomp pad.

Pros:
• Super lightweight
• Sweet angled hinge so you don't gutter
• Comfy straps
• Durable fabric
• Carpeted logo
• Bomber buckles
• Really cheap

Cons:
• No longer comes in orange

For the price you can't beat this pad. Well, the mad pad is one inch thicker about equivalent in just about everything else, but this one is a little lighter. The upgrades from the stomp are a more durable fabric covering and a nifty carpeted logo to wipe off your feet before hopping on the rock.

This is a great first pad, ideal for bouldering anywhere and everywhere. I wouldn't use it for high balling, but for anything under 15 feet or so this pad is magic.