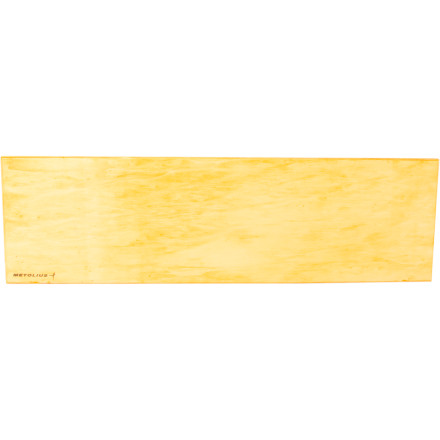 Description
Find your chi.
You have more fingers than just about any other appendage, so put them to good use on the Metolius Back Board. Mount it in your garage, in your basement, or just drill it into pictures of your idiot boss and channel the rage into beefy sausage fingers for crushing rock.
Work out while you stay in
I'm writing a dual review for the Compact board and the Back Board.



Installation: The backboard is a nice product as I don't have a saw or the ability to round and smooth the edges from a piece of plywood (which I'm sure is a bit cheaper but then again my time isn't free). After finding the studs I was going to mount to the only extra work I had to do which made the mounting much easier was predrilling my mounting hole so the included mounting screws would go in smoothly.



The training board itself is already predrilled so you basically just have to choose your location on the backboard and then make sure you have enough clearance above the board for pullups and in front for levers and other body work. I used a level app on my iPhone to check the board for being level and then just fired in the screws. I would say the whole thing took me about 30 minutes and most of that was finding my drill and screw bits.



Use: Becuase I lack discipline and imagination I grabbed the Digit Trainer App from the iTunes App Store for my iPhone and it comes preloaded with a bunch of workouts and the ability to make your own. I just put the phone on a stool in front of the board and go to town. The hangboard is as great training tool to be sure. Initially I was a bit bummed that none of the grips on there are really all that bad but in terms of doing hard workouts and not destroying my tendons I'm ok with the grip depths. If I need the trainging to be harder I can just increase hangs or decrease rests.



This is a great supplement to going to the gym when I don't feel like schlepping across town or the weather sucks and I'm stuck in doors. It really is amazing how worked you can get with just a 10 or 20 minutes workout.



PS. I know the mount looks crooked in my photo but its actually jus a sloping cieling in our apartment, the board is level.
I just put up a hangboard and I really like the metolius backboard for being more finished and with the nice rounded edges as compared to a sheet of plywood from home depot. You definately pay a bit more for the finishing and I've had success with the cheap method in the past, but this is nice if you feel lazy.
does what it says on the tin
Familiarity:

I've put it through the wringer
This is definitely necessary if you're hanging a fingerboard on a typical indoor wall.

You could get a piece of 3/4" plywood for cheaper, but I don't have a saw, nor do I have any use for the other 30 square feet you'd have left over. Plus the edges are sanded for you. That's convenience!