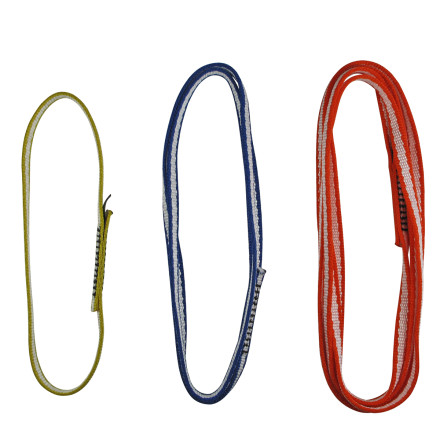 The Metolius 11mm Open Sling uses a combination of nylon and Dyneema to keep weight and bulk down without sacrificing strength or durability. Whether you're sewing up trad lines or getting after it in the mountains, this Metolius sling gets the job done without holding you back.
have you 10in slings in white+black color?...
have you 10in slings in white+black color? the color is extremly famous for me
Most slings are color coded by size; that is to say, from a given manufacturer, every sling of a given size is the same color. I haven't seen much in the way of black and white slings from anyone, let alone from a given manufacturer.
My understanding is that these are assorted colors. So you can't be sure of the color you'll get.

I have one of these slings with the black edge in 60cm length. So they do exist.
Sturdy Slings
Gender:

Male

Familiarity:

I've put it through the wringer
I've used these slings in so many situations. They are sturdy and can be adjusted to different sizes. I have the largest size and usually use them for top rope anchors. They are cheaper than the Black Diamond ones to. (Each are rated to the same KN)
What color are the 22 inch slings?
What color are the 22 inch slings?
Nice slings for trad. They are skinny but feel really durable. We will see how they hold up.
I really like these, they are the same slings as metrolious is using on their cams now. I think that the blend of nylon and dyeena will allow for stronger, lighter slings without dyeena shock loading problems (dont use only dyeena slings in an anchor system, they don't stretch and cause really high shock loading forces in factor 2 fall type stuff)

They work really well in trad anchors, and I"m probably going to get some more for long runners.