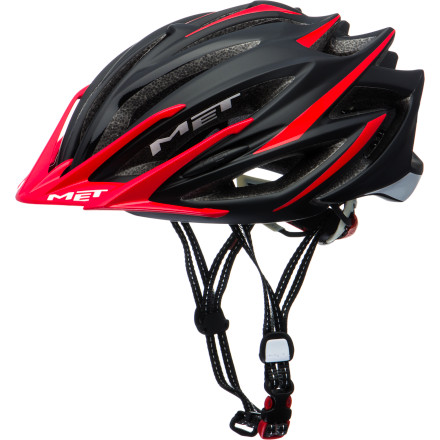 Detail Images

Community Images
Surely, you've been waiting with bated breath for MET's Veleno Helmet to land stateside, and we're happy to tell you that your wait is over. Now, for the first time, you gain access to one of the most technologically advanced, and comfortable, cross country helmets on the market.
MET takes comfort seriously, however, it doesn't just aimlessly punch multiple ports into its designs to achieve this. Instead, MET developed a protocol called Air Scale to measure ventilation. Simply put, it measures two essential parameters -- the Head Contact Surface (HCS) and Cooling Factor (CF).
The HSC indicates the percentage of the head that's in contact with the helmet. Why is this important? Well, common sense tells us that when HCS is high, there's simply no room for air to circulate. So, this lets MET design the HSC at a minimum, and in this case, the Veleno rests at 65%. Meanwhile, MET uses an advanced testing system called Fluid Flow Analysis (much like Computational Fluid Dynamics software) that measures the velocity and temperature of airflow as it passes through the helmet. This means that heat buildup is decreased as the design adapts to testing, accordingly giving its CF rating a 7.5 out of 10.
Further adding to the Veleno's low CF are MET's Gel02 front interior pads and patented Coolmax anti-allergenic interior pads. And not only do these reduce pressure on the skull and skin, but they also encouraging rapid evaporation of perspiration for a cooling comfort. The pads aren't for impact protection, however, that's left to the Veleno's In-Mold Intelligent Fusion construction. What is this? Simply put, In-Mold means that the shell and outer are bound during the manufacturing process. Furthermore, the shock resistant shell is fused to the impact absorbing EPS foam inside. And taking a step even further, MET also reinforced the Veleno around its numerous vents in order to add structural integrity. Ultimately, this system effectively minimizes and disperses shock force from impact.
Securing the fit of the Veleno is MET's proprietary Safe-T Smart retention system. Essentially, it uses a micro retention system that features both horizontal and vertical adjustment. Precision adjustments are made with a dial at the rear of the helmet. And due to this, the pressure is distributed across a broad surface, yet with a minimal contact area. So, comfort and safety are both accounted for on one simple platform. Additionally, the Veleno features a sophisticated chinstrap design that utilizes braided Kevlar. This not only increases durability, but it also nearly eliminates abrasion while increasing breathability and comfort.
Keeping sun's glare out of your eyes is a removable, low-profile, and tapered visor.
The MET Veleno Helmet is available in the sizes Medium and Large and in the colors Black/red, Matte Black, Matte White, and White/Cyan.
first time owning this brand of helmet. Its really comfortable, and is super light.

I love it. Super glad I bought it.
This is a Solid Helmet!
Gender:

Male

Familiarity:

I've used it several times
First purchase of a MET Helmet. Here are the first impressions



1)The Met helmets come with a gel fit halo band versus the flimsy velcro padding that falls apart in a matter of days from sweat that comes on other helmets.

2) This Halo also makes the helmet fit secure due to the back and front adjustments. Best fitting helmet I have had.

3) Styling seems great.

4) Price was right compared to spending double on the known brands



I have not crashed with it so can't tell you if it is a life saver but I will say I went out and ordered another one from Backcountry for the road


Did not work for me
Familiarity:

I've used it once or twice and have initial impressions
I purchased a large in this helmet because I was in-between the medium and large size helmets. My head measures 22.5" (just over 57cm) and was told that Met helmets run on the small side. Plus, if I were to wear a Headsweats underneath, I would have to have a bit of room to play with.



Upon receiving the helmet and trying it on, I noticed that there was barely any adjustment left after tightening. I though nothing of this at the time and went about wearing it. After 2 rides I noticed that I was bottomed out after tightening the helmet and making adjustments on the trail. I am not sure if the plastic straps on the retention system stretched or what happened. The helmet started to move around on my head a bit while riding, which is not a good thing. That is when I decided that the large was too large for me.



When I did ride with the helmet, I noticed that the air flows through this thing like a champ. Much better than any previous helmet I have owned. I also liked the gel pad on the forehead because it actually worked. Although it did completely block all the sweat from dripping down, it was much, much better than the fabric pads found on other helmets.



I can't really say how the overall fit was, because I feel that this helmet wasn't the right size for me. So, obviously, I cannot make a fair assessment on the fit of this helmet. I only wish I knew for sure if the medium would fit me because I did like the looks and feel of this helmet, as well as the gel pad.
Not for pony tails
Familiarity:

I returned this product before using it
I have a large helmet by another maker but I needed a red one for my new red bike. I am girl with long hair and I don't think I have a big head. The helmet did fit but did not give comfortable room for a bandana and there was no space for my pony tail on the back, there is just not enough room and the straps on the back of the head only adjust to fit your head in, not to give room for a pony tail. Love the design and the color. Beautiful helmet, I am sad it didn't work for me.
Great Looking Helmet.
Gender:

Male

Familiarity:

I've used it once or twice and have initial impressions
This helmet provide a lot of ventilation, while riding you can feel the air cooling your head, it is a nice looking one with nice lines and fitting. You can use the helmet for MTB (provided visor) or road riding (can detach the visor). The construction is top notch. The adjustment with the rear dial is easy to adjust. I'm very pleased with this helmet. I love it!!!
Great Fit (After Getting the Right Size)
I wear a Medium in Giro helmets and went with a medium with this helmet. I had to return it for the large. The helmet now fits great and has amazing ventilation. Light weight and good looking. The straps are comfortable and the dial at the back of the helmet is easy to tighten/loosen on the go even with gloves on. Have not had to test out the durability yet (and I hope not to do so) but it seems solid enough.
There is no sizing info for this helmet....
There is no sizing info for this helmet. I have a fat head so I need a larger helmet. Some brand's large fits, some don't.
Medium is 54-57 cm and Large is 58-61.