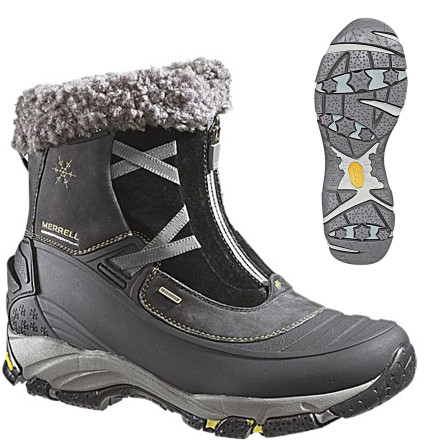 Like to slide arounf in the snow
Merrell makes an awesome winter boot if you like to slip every time you take a step in the snow. These are dangerous.
I will probably return these boots! If they are'nt defective they are just downright awful! The left boot feels like a different size than the right boot. I ordered a size 9 because I have worn that size in merrells for years, no matter what! Even with the thickest smartwool socks on they are too big. They were also $20 more than other online shoe sources including Merrell site, which I didnt realize until later.
I'm not gonna lie -- the front zippers don't stay up. They suit my purposes cause I work at a Site up in Northern Alberta and I have to put my boots on and take them off frequently so I always planned on leaving them unzipped. But to go sledding or snow shoeing, I wouldn't recommend because they come unzipped and snow gets on your ankles.
Unanswered Question
I worry about those front zip kind....the...
I worry about those front zip kind....the zippers tend to not stay up...is there a mechanism that holds the zip up ?