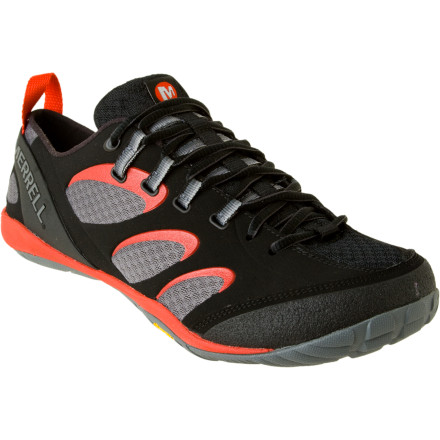 Detail Images
The Men's True Glove Shoe is a multipurpose shoe from Merrell's Barefoot Collection. This shoe's close fit, light internal support, and minimalist design mean your foot moves more naturally on hikes and approaches. That, in turn, helps strengthen your body from your feet up.
The lightweight, low-profile design allows you to find a natural stride in each step by moving you off your heels and into a more natural landing position
Omni-Fit lacing delivers a precise fit that is easily adjustable
Fused rubber toe provides protection and durability from sticks and stones
Vibram Trail Glove Sole for superior traction on rocky, wet, and uneven surfaces
Uniform 4mm compression-molded EVA midsole is supportive and assists in natural foot engagement
Non-removable microfiber footbed is treated with Aegis antimicrobial solution to resist nasty fungus and odor
A lightweight liner covers all of the internal seams so you can hike comfortably with or without socks on
Gave me a blister real quick
Gender:

Male

Familiarity:

I've used it once or twice and have initial impressions
I'm not saying these shoes will give everyone a blister, but it happened to me. I bought a pair of the trail glove as well, and they don't rub on my heel at all. The True Glove is ok, but the Trail Glove has a wider toe box and seems more comfortable overall.
Been wearing this shoe for a couple months on and off now and I really like it. I ordered a size 9, which is my street shoe size and there is a little room to spare, just like you would want to have in a running shoe. I normally wear a size 10-11 in running shoes too and the 9 fit better than most of the others in larger sizes i have worn. I am starting to warm up to longer runs in these as I have just begun to dabble in the 'minimalist' style. Very tough, vibram soles are great too. Highly recommended if you are interested in trying a minimalist shoe
This is my first attempt at using a minimalist shoe. So far it has been great! Comfy for long periods of times walking around and nice for running. I have slowly inched up my mileage and have not had any issues. They also seem to be holding u p great. One place that I love to use them is at the gym just working out. Makes lifting and balance drills more useful. I have not tried on any of the other "glove" line so can't really compare
I have had these for two weeks, i do not want to take them off.
I have had these for two weeks, i do not want to take them off.
Work, the gym, running, these have worked even for my Kung Fu classes. I love the wide toebox and forefoot. It gives me plenty of room to spread out. This is a solid shoe. I will definitely buy these again.
Throw away your old running shoes!
These are simply fantastic shoes and will change your running entirely. You will need to get used to them and your calves will ache, but get over the hurdle and you will be rewarded with stronger feet, a healthier running form, and you'll feel more connected to the earth with every step - no kidding.

And my one bout with faciatis dissapeared almost overnight after switching to these babies.

One bad note, they do not last very long compared to much thicker shoes (less rubber to wear off) but this is not a problem for me as I am light and never hard on shoes.They lasted me a full season last year.

I have tried the trail glove as well and I kind of like it better as the toe box is more open. So if you have wider feet go with the trail glove. Narrower feet, true glove.
I need to make sure I have enough support...
I need to make sure I have enough support in my arch. Do these shoes have a sufficient to support my foot or would recommend a different style shoe?
Best Answer
You won't find arch support, in the traditional sense, in any minimalist shoe. I have low arches and wear vibram fivefingers. I have had no arch issues.
Minimalist shoes tend to encourage you to adopt a more ergonimic mid or front foot strike. These types of strides put the impact on the ball of your foot, which then transfers up through the arch, which is now bearing your weight the way it evolved to. your feet and knees will not feel the impact, but your calves will work more than you're used to.
Great minimalist all-around trainer!
First off, this is a great shoe for people who are curious about minimalist shoes for running and any other type of training. It's also casual enough to be worn around town.

Notable Pros:
- There's just enough sole protection to protect from sharp rocks and glass but there's still a great deal of feel. Small sticks and pebbles to cracks in the sidewalk can all be felt.
- The toe box is huge! This allows your toes to splay out and support your steps. This also makes them great trainers for weight training as your leg stabilizer muscles actually have to work.
- Very lightweight, and never interferes with your stride.
- Pretty durable considering the weight and construction. These will definitely need to be replaced after some many months of good use, but at the cost, the value is still very much there.
- Your foot muscles and leg stabilizer muscles will feel noticeably stronger with regular use. Even walking casually around town will increase your strength. No longer will your shoe be doing most of the work.
- Barefoot running technique forced me out of my heel strike that prevented me from running any significant distance. Dare I say, I actually enjoy running long distances now that the pain and knee pressure isn't a problem.

Quirks:
- Even with a midsole with an antimicrobial, this will collect funk after a while, so take care of them and dry them out.
- The inside liner seems to be fraying. This may have much to do with the fact I wear textured SmartWool running socks while running, but it's basically eliminated the possibility of running sock free. If you run primarily without socks, this probably won't be an issue.
- I ordered these to size following advice found on this board. I'd suggest the same, as these aren't meant to be overly tight on your ankle or toes. However, there will be some break in time. This break in time shouldn't be painful or dig into any part of your foot... if this happens you may need to size up.
- The laces are huge! The laces always seems to bounce around and hit my shin as I run as there is so much excess. Easily remedied, but a minor annoyance nonetheless.

All in all, the True Glove is a great introduction to minimalist shoes. If you are a hardcore minimalist, then this may be too much support for you, but I'd suggest giving it a try anyway. I'll definitely be buying another pair. Merrell got this one right.
I am having a love/ hate with them at the moment. They are super light and bomber sole where you can scale over whatever and feel the ground but not anything jagged. Super sticky, no slippage... Great for narrow feet. However the fit may not be for me. The way they hit on my heel is my only complaint. Shredded my heels completely. Could need minor adjustments on my part....
Which is the sturdier shoe- Merrell Trail...
Which is the sturdier shoe- Merrell Trail Glove or Merrell True Glove? Any other significant feature differences that should be considered before the purchase?
The Trail glove is 6.2 oz, vs 5.9 oz for the True Glove. And judging from seeing them in person, it seems like the trail glove is a little sturdier. They're both pretty lightweight though.
I got these about a month ago. I used to be dedicated to wearing Nike free. I now wear these constantly and my Nikes sit in the closet. They did take some getting used to but I now can feel a difference in my gait. I would highly recommend them. I will be taking them on my trip to the Spiti valley in the Himalayas in June and will have to post an update when I return. I plan on using them continuously all summer!... they have a leather version as well that I may purchase to wear to work.
True glove, could be good
So to be honest, I am one of those humans with a reputation for destroying footwear so keep that in mind as you read this review (this is also the reason I purchased the True Glove rather than the Trail. Trail looks better, the True is tougher). By the end of my first trail run (city creek, Ut) the mesh on the left side had looked like I had been doing kick flips in them. When running up any incline with loose you will be getting twice the work out from the lack of traction. Although going down, for what ever reason, you will be king, I can pretty much (bare foot) sprint down a trail. I ran up Delicate Arch in them and the killed it on the slick rock. I have had them for a month now and the mesh tear has not advanced. Over all I am pleased but would recommend if you want them to last (given the price you should) stick to light flat trails: Liberty park oval, lower city creek, etc. hope this helps.
The First Hiking Barefoot Shoe
I have got a lot of questions about the difference between the true glove vs the trail glove. The Tru glove has a more rugged upper like you would find on a light hiking shoe, it will be a bit tougher and better if you are scrambling around the woods. Also, the lacing system is a bit different and can be better for narrow feet.

Cheers.. Enjoy...

RG
Why choose Merrell Barefoot?? Why Barefoot?
Barefoot running form explained.
Merrell Barefoot initial Groundwork.
Barefoot Running in Merrell Barefoot.
Merrell Barefoot Multisport.