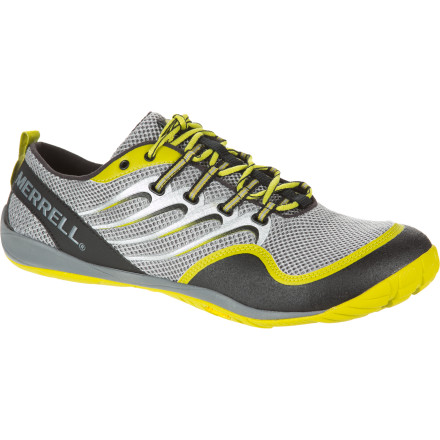 Detail Images

Videos

Community Images
Merrell's Barefoot Collection presents the Men's Barefoot Trail Glove Shoe. Merrell designed this shoe so that it encourages your foot to find a natural landing place (midfoot rather than heel) for less impact, a more aligned stride, and in the end, a stronger body core.
Large toe-box allows your toes to stretch and splay, thus preventing muscle cramping when you run long distances
DWR-treated synthetic leather and air mesh upper fits like an extension of your foot
Omni-Fit lacing is secured with welded TPU to deliver a precise fit that is easily adjustable
Fused rubber toe provides protection and durability from sticks and stones
Vibram Trail Glove Sole for superior traction on rocky, wet, and uneven surfaces
1mm forefoot shock absorption plate maintains forefoot flexibility and distributes pressure
4mm compression-molded EVA midsole is supportive and assists in natural foot engagement
Non-removable microfiber footbed is treated with Aegis antimicrobial solution to resist nasty fungus and odor
A lightweight liner covers all of the internal seams so you can run comfortably without socks on
Merrell all the way!
Familiarity:

I've put it through the wringer

Fit:

True to size
If you dont own Merrell shoes, well you have to! Feels great and really forces you to hike/run correctly, go out and feel the difference.

Love to feel the terrain
Wore for a 24 mile mountain race.
Familiarity:

I've put it through the wringer

Fit:

Runs large
I bought these shoes in an effort to strengthen my feet and slowly convert my form to alleviate knee pain. These shoes will put you on your forefoot, which is what I wanted. I mostly used about equally on trails and pavement, but they are more comfy on trail, that's for sure. I also really like them for hiking, as they give me a real nimble feel.

After considering wearing a cushier shoe for a 24 mile trail/mountain race in Alaska, I decided these would be better, as I had done all my training in them. After creek/river crossings they dried quickly, and after 24 mile race I had no foot pain. Improved running form (short stride, minimal-to-no heal strike) and these shoes meant no knee pain also.

Bottom line, I tried the Vibrams and didn't like the feel, and I got blisters. The Merrells were comfier with the roomy toe box, but still provided that minimalist feel. Many people go sock less, but because debris can wind up in your shoe (causing blister over time), I usually wore thin socks and they were fine.

I wore 1/2 size smaller than usual. The soles last well, but the upper near the arch may tear after 200-300 miles or so, depending on what type of running you're doing, but despite the tear, they are still runnable for some time.
Not for me
Gender:

Male

Familiarity:

I've used it several times

Fit:

Runs large
Let me start by saying that these are great shoes...but they didn't work for me. I tried to start off slowly but I found the shoes to uncomfortable for me to go more that a few miles for the first month. I wanted to be cool kid and be included in the new barefoot/minimalist running cult, but I guess that my feet were to weak. I also didn't enjoy the smaller and softer strides. I am a puddle splasher what can I say
OMG Merrell!
Familiarity:

I've put it through the wringer
Just got these guys for cross training and short runs, My favorite thing about this shoe is the fit and how it's tight around the midsole but there is tons of room in the toebox. I've only taken a couple runs on the road so far and they seem aight as far as cushion goes but then again they are supposed to be for trail running (on that note lets be honest I'm not gonna buy a shoe just for trail running) I normally have high expectations for merrell shoes cause in the past they have lasted me forever, and while I just got this shoe I'm not to sure about the mess uppers. They It seems kinda flimsy to me (the mesh uppers) so i'll will probably not use for every day and keep reserved for working out and etc.

EDIT: after a year, i must say durability is n good. mine have been sowed back together, superglued and everything in between. My new favorite thing about this shoe is how light they are. I use them as an approach shoe that I can throw in my pack and carry up a climb without adding a whole lot of weight.
used to carry 13's not cool , there...
used to carry 13's



not cool , there my favorite shoe and I cant not get another pair
thanks brother.



i just oppting for the trail gloves 2



just more money and not the Exact shoe i want
I bought two pairs.
Familiarity:

I've put it through the wringer

Fit:

Runs large
solid barefooters....they form to your feet and break in fast! the sole is just thick enough to stop the edges of rocks..but you still get the feet in the dirt feel without sore feet afterwards! great for running as well!
Used Hard
Familiarity:

I've put it through the wringer

Fit:

Runs large
This is my 4th pair of merrell trail gloves. I always have one pair for cross fit and another for trail running. When the trail pair are beat I buy a new pair for cross fit and take the formerly gym only shoes out to the dirt.



Every pair has been 1/2 size smaller than my normal size. They fit like a glove.



I do not wear socks with these shoes, ever. Even the thinnest of socks alter the feel and dynamics of the shoe.



I ran barefoot for a few season and enjoyed it. But, the last few summers had been too wet and my feet kept finding sharp object. After loosing bits and pieces of my toes I switched to these.



I run 6.5 miles of trail 4 times a week. Once a week I run 13 miles. The trail consists of mud, rock, stream fording, boulder fields, log traverses, dense forrest, briars, poison ivy and some things that aren't quite as nice. The trails are used by horse back riders on occasion, but mostly deer.



The soles provide very good grip toe to heel, but oddly, seem to slip laterally (side to side). I run very forward on my foot. So much so that my heel rarely make ground contact other than steep (slower) downhills. The tread shows little wear before the uppers fail.



I get about 500 trail miles out of each pair before they are tossed. (Interestingly, I get about the same number of miles from an $80 tank of gas in my awd sedan).

The uppers have routinely failed where they meet the soles near the arch. This despite being heavily taped. I tape for several reason:

1. 20-60% of my run (depending on rain) is heavy mud of a few inches to a foot.

2. I cross quickly moving water of anywhere from 6" to a foot or more.

3.The tape keeps laces from snagging (wish they had lace pockets like some trail shoes)

4. I like the added snugness at my high arches.



After a few wet and or muddy runs these shoes become very stiff when they dry. I hose them down after each run but find I need to re=wet them again to put them back on comfortably.


Great shoes.
Familiarity:

I've put it through the wringer

Fit:

True to size
I don't wear shoes very often but when I do I only wear Merrell's - they are the most interesting shoes in the world!



I vary between 10 and 10.5 got these in a 10 and they fit perfect so I would say they run pretty true to size. I do not run so wear them as my hike/kick around town shoes. Would definitely buy them again.


My go-to shoe
Familiarity:

I've put it through the wringer

Fit:

True to size
I've had these for a couple of years now. They are super comfortable and my favorite go-to shoe. My only problem with them is I quickly retired them from running (not that I'm a huge runner) because the rubber on the sole was wearing out. Other than that, I would recommend these shoes.
All around great shoe!
Familiarity:

I've used it several times

Fit:

True to size
I've had this shoe for 6 months now and use it weekly for sidewalk running, trail running, walking to the store and even short hikes. It's always been perfectly comfortable, super light weight and my foot feels secure. I worried that my foot would be more prone to injuries but if you read up on how to adjust your running style your whole body feels better using these shoes. I've found they remind me to run correctly. If I forget, the ball of my foot gets a little sore after a long run but that's about it. I love these shoes on smooth granite hikes, also great for wet running or trail running on wet rocks. Very good grip, breathe great and my foot never overheats. Totally recommend these shoes and hope Merrell continues to pump these out!
i have had two pairs of these, they both last a whole year of daily 3-10 mile runs, walking around, and going to class. the first pair I had to retire because the had lost all their tread, and stank like rotten grass. the second pair are still going strong since may 2012. their ground feel is amazing, you can feel ever variation in the trail, but the rock plate dulls all the sharp objects. the lining is super soft,I had no blisters through both pairs. the laces stay tied and the omni fit system works to form mold them to your feet. the mesh drains very well. the tread is not very good when the trail gets wet and muddy, and the rubber is not very sticky on the rocks. the toe is very over sprung, which takes a while to break down and comes back if you leave them on a heater to dry. all in all they are a great forest running shoe, but on rocky, really technical terrain, i would suggest a shoe with a little more protection and more sticky rubber.
Great fit, durable, too much ground feel
Familiarity:

I've put it through the wringer
These shoes are very breathable, very comfortable, zero drop!, but just a little too much ground feel for me when running on extremely rough trails. These were my first shoes that I bought for mountain running and I feel in love with them and ran in them several times a week. After they were finally starting to wear out I bought the New Balance 1010's which I was gleefully speeding down hills in for the first time since I started running (then wore out in the following five runs, I've reviewed them if you care to check). Before with the trail gloves I was always quite cautious, but with these I could really fly. But I guess that's the point; feel the pain in your feet and adjust to it, because if the ground is hurting your feet, it's probably hurting your body as well. The idea is something like that.



Anyhow, for what these are, their the best, but a ground feel shoe is not what I'm looking for any longer. If you are, get these. They'll hold up longer than the Minimus and have a much better sole that will prevent sharp rocks from jabbing you.



My biggest complaint is the lacing system. The holes are too close together making it awkward when I tighten them down, their is very little room for adjustment in specific areas.
Might not be the best road running shoe but it is the best all around work out shoe. I wear these to crosfit and love them! Light weights run push pull...can't imagine using another shoe. I have gone on 3-5 mile runs. Not great but not bad either. If I was just doing road running I would chose somthing else.
These are my first and only pair of barefoot runners. I've been running in these for 8 months now and I really think they're great.

They're really lightweight but they seem to offer great protection for such a minimalist shoe. You really notice the lack of bulk compared to regular running shoes and it's a good thing for me. They feel more natural on your feet and you get more feedback from the ground you're running on.

Highly recommended!
Merrell Trail Glove Shoe - Men's
Best shoes I have ever owned. I will now be collecting the glove series to see which ones i like the best to suit my needs. Somehow I feel these will not be topped. Used to run in Brooks shoes...Sized down by .5..Fit perfect Although I think keeping the same size would be fine as well. HUGE toebox which is great for me cause I gotta fat splay..I use them when I weight train in the gym, for tabatas, on the tread mill, and a little bit on the roads. Cannot wait to wind sprint in the grass when the snow melts here in MT..best ever..Backcountry your cust. service is the best....If you read this whole review::good on ya'...wish i could wear them on fire.....



Update

getting used to this shoe takes a little bit when you come from a trad shoe. I found that a lot of uphill drills worked for me as you are pretty much force to run on your toes and mid foot. Used a tread mill and decreased incline until I was at 0. Helped a lot. Buy this shoe!!!
Killer Shoe
Gender:

Male

Familiarity:

I've put it through the wringer
I love this shoe! Fits great. I got a full size smaller than my normal shoes. My toes are touching the front of the shoe. I use these for everything from chucking disc to hiking to running. Great technical shoe. I do have two very minor gripes with these shoes. One is that they have very thin soles, if doing anything on rocky ground it can be a little painful, not bad though. Also these shoes have a tendency to smell horrible! Definitely going to want to keep them outside after using them. Small price to pay.


Don't make the same mistake I made.
Gender:

Male

Familiarity:

I've put it through the wringer
I originally bought it as a trail/ water shoe, for when I take my backpack and boots off on multi-day hiking trips. They seemed like they would drain fast and dry fast, that is not the case. They don't drain, are heavy in water, and don't dry particularly fast for such a thin shoe. No worries though, because I now use them for their intended purpose, running. On trails and roads, I also use them for shorter hikes when my pack load isn't so heavy. For those uses, these are nearly perfect. 4 stars because the inside lining of my left shoe came undone a bit. Wear a liner sock.
Great shoes
Gender:

Female

Familiarity:

I gave it as a gift but have feedback to share
really lightweight, durable, and really swifty. True to size with a wide toe box so they don't feel cramped for long distances. Seem durable haven't had any troubles. Love Barefoot shoes.