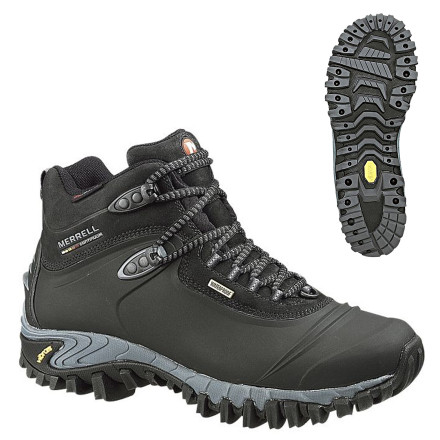 Will they come in size 14?

Best Answer
they do come in a size 14 right now merrell has them in stock for the price of 170.00 your more then welcome to check them out also!

http://www.merrell.ca/CA/en-CA/Product.mvc.aspx/19653M/41287/Mens/Chameleon-Thermo-6-Waterproof
Great boot
Familiarity:

I've put it through the wringer

Fit:

True to size
I have had them for two seasons. I live in Vail, and these are my daily winter boot. Great traction, super bomber!!!
Great boot but sore ankles
Familiarity:

I've used it once or twice and have initial impressions

Fit:

True to size
I just received the boot a few days ago. The build quality is strong and the boot is wonderful. I do have to return my pair however, due to it rubbing my ankle bone the wrong way. I thought it was a tongue placement issue at first but unfortunately it wasn't. I have thin ankles and the boot really irritated that area for me. I gave them a chance, wearing them around the house for a day and once outside to take the dog out, but the pain only got worse. Haven't experienced that with a boot before.



So again, the boot seems to be very well-made, just not for someone with skinny ankles like me.
Pillows on your feet.
Familiarity:

I've put it through the wringer

Fit:

True to size
These have been great and super warm. The Polartec Thermo insulation have kept my toes warm on some of the coldest morning hikes with my dog and the waterproof membrane insures my feet stay dry in some of the deepest snow and puddles. You can't beat a boot either with a Vibram sole you always know with a sole like that your going to get the ulitmate durability as well as traction on any surface. However the thing I love the most about these is how comfortable they are. They have a nice molded EVA footframe that is great on hikes or short trips around town they make you feel like your walking on pillows and some people think the outside of them are just as comfortable as the inside and good place to rest your head.
Great for freezing toes
Familiarity:

I've used it once or twice and have initial impressions

Fit:

True to size
Perfect shoes for outdoors work. They look normal enough to wear indoors, but are much warmer than standard hiking boots and hold up well to the slush. A little stiff, but you'd expect that from a boot with this much rubber on the upper.
Merrell thermo
Familiarity:

I've put it through the wringer

Fit:

True to size
This is my second pair the first pair I got 4 years of comfortable, warm and dry service from them, The boots are light and offer good traction in snow and mud. I used them for work as a courier daily from mid November to mid March .The lower cut of the boot makes it easy to walk in them, I would use a pair of gaiter for deeper snow or extreme cold. The only draw back that I have experienced is that they hold moisture from perspiration. I highly recommend a boot dryer after daily use.
Snowshoeing all the way
Familiarity:

I've used it several times
Bought these boots for snowshoeing which is mainly in the White Mountains.

Positives: waterproof, warm, good fit, price.

Negatives: Shoelaces keep coming undone and I think I had to do a size difference (been over a year since I bought the boots)
Effective Mid snow boot
Familiarity:

I've used it once or twice and have initial impressions

Fit:

True to size
The Merrell Thermo 6 is great. I have other winter boots that go further up the calf for more intense protection, but I really wanted a lower profile boot for uninhibited movement during fast snowshoeing. These have been a great fit, have kept my feet dry and warm, and have been durable so far. I haven't worn them long enough to say much about longevity, but when you handle them you realize they are a substantial yet lighweight boot.
Good for Flatland or Urban use
I've had these for about 3 years now and I find that they're best suited for situations where you're not carrying a lot of gear nor doing anything with significant incline. They give sufficient support around the ankle to me they seem to be rather high, so I don't feel as stable as I do in my general hiking boots. My other complaint is that when you tighten the laces to give yourself more support, the tongue doesn't fit well around the ankle and will dig into your shins. This eventually is very uncomfortable if you're walking uphill for long periods of time. They are perfect however in the winter for walking dogs or shoveling snow, which is basically what I primarily use them for now.
I got myself and oldest son these for winter a few years ago.

Pros: They're waterproof and good for "in-town" use.

Cons: Not warm and I found them to be less than useful in backcountry situations. IMO
I'm a Paramedic who works in NYC. During the winter months while working outdoors, these boots are comfortable, lightweight, and warm. I'm very satisfied with the Merrell line of boots. I would buy another pair when these wear out.
These are very well made, warm, comfy boots. They are basically light duty hikers with extra tread and extra insulation. They are wide enough for my 3E feet. They are closer to a low cut than medium height, so you will need gaiters if you plan to use them in any significant snow. Pretty good looking, too!
My husband loves these boots! He has been working outside in the snow and rain in the North Carolina mountains, and these boots have kept his feet warm and dry along with being comfortable! It's rare for him to find a shoe that he can stand in all day, but these boots have been outstanding! He has nothing negative to say about them. They are definitely worth the money. He wants another pair but this time is going to try a half size larger for his thicker socks.
Took these out snowshoeing over relatively level ground on a breezy day in the upper 20's. They were comfortable, warm (although I'm not prone to getting cold feet) and stayed dry.
Write your question here... Are the sizes...
Write your question here...
Are the sizes true or do they run bigger by a half size?
My experience is that they are dead on. I wear an 11 in most hiking/snowshoeing boots and these have fit great. Of course you will want to be conscious of the type of socks you plan to wear with these. I have found that the insulation does its job and I don't end up wearing very bulky woolens.
Good boots. Typically strong Merrell construction quality. Very warm without being particularly bulky. These are not hard core hiking boots - they aren't quite snug enough on the feet for that. However, for middle-range hiking or around the yard winter sports (sledding, snow blowing, whatever) they're pretty good.
Very pleased with the boots right from opening the box. The boots were really comfortable, although I have to lace them a little looser than my summer hiking boots to put less pressure on the tops of my ankles. Fully water proof, and excellent for snowshoeing with the heels holding the showshoe straps securely in place. Also like the size of the boot vs other "snow boots" - although the weight is still fairly heavy for the size. Would definitely recommend.
I really liked the performance of my Chameleon hex's during the warm hiking months. So when winter came around I decided to stick with Merrell and I bought the thermo 6 boot. Overall it's exactly what I wanted and expected... very light weight, waterproof, great traction (exceptionally poor on ice though), and extremely comfortable for a mid height boot. One complaint... the eyelets on the lower portion of the shoe are nylon. I tore one out the 3rd time I laced them up. It would be better if they were all metal and not just the top 2
These boots are comfortable from day 1.
Sizing is also perfect.
Lots of tread so they aren't going to wear out anytime soon.
Although, my toes did get cold will standing out in the snow, but I guess that will happen with any boot.
Overall... great purchase.
I've owned these boots a year
I've owned these a year and they are the best boots for general winter used I've ever had or could wish for. They look great and I wear them when I go out with jeans on. The soles seem to last forever. The other best part about them is they clean up very nice. I sloshed around in muddy half melted snow water at a compost site and my feet stayed warm and dry. And put them in the sink and cleaned em up like new. I want to buy another pair just to have, if my current ones ever wear out. I've given them a beating and all they have is scuffing. I also use them when I snow blow my driveway. The rubber outer shell is great because it doesn't lose it's shape like leather boots do when you get them soaked.They truly are water proof as well. I can't say enough good things about them. Wear a good pair of wool socks with them and your good to go! These are so worth the money.