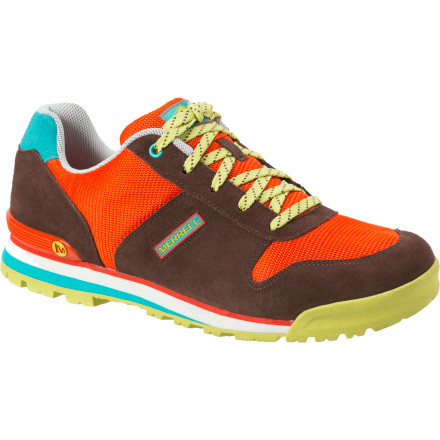 Community Images
With a tried and true, ultra-stable design, the Merrell Men's Solo Origins Hiking Shoe brings supreme comfort and support to the light hiker category. Tough pig suede protects your feet from trail hazards while grippy lugs provide traction underfoot, and air cushioning smooths out the ground under your heel. Merell added an anti-odor lining so you can go the distance without your shoes smelling like you just waded through a swamp on your way to the summit (unless you actually wade through a swamp, in which case, please disregard the previous claim).
Unanswered Question
Any chance you guys will be carrying anymore...
Any chance you guys will be carrying anymore color options?
These shoes are great looking and are comfy/light....oozes style over visible tech unlike most shoes in this category (but that doesnt mean its not in there!)
have the castle rock grey/blue/pink and was skeptical at first of the scheme due to the neon pink, but once i put them on i love it
I hate the look of running/tennis shoes anywhere but when actually running, and most hiking shoes look way to trail for the streets, which leaves me with a hole in my casual life once flip flops are out of season that ive always filled with some chuck taylors or the like (little support, fast wearing, and played out). These are the perfect shoe, they look great at the bar, and are fully at home on the trail.
I got them for a trip to Europe where i will be doing a lot of walking, which means my chuck taylors would be awful (made this mistake with some puma romas a few years back) and my normal hikers would scream goofy tourist. Again, these are the perfect shoe for this, especially with some off the beaten path hikes mixed in.
The only place these wouldn't be the right shoe for the job is the boardroom, mountaineering, or the beach.
Amazing shoes. They fit great, make my feet look the size I think they are and not bigger then I feel they should look. Some of you know what I am talking about...
Great color options, including hipster colors. I am just stoked I found these last minute and I will be ordering another pair just to have on hand they fit so well.
Wilderness chic for suburbanites and city slickers.
I had a pair of lightweight hikers that looked like these when I was in jr. high. I'm pretty sure they were made by hi-tec, but I never saw anything like these colors back then (Castle Rock). Good for walking around town or on trails. They are basically lightweight and comfy sneakers beefed up with aggressive tread and alpine style, but too soft for any hikes with a pack or rocky trails. I bought mine on sale for $49. I bought my wife a pair too. She loves them. If the kids could tie their own shoes I would probably grab a couple pairs for them too. These are adequate for what we do and we think they look cool.
Is the insole on these glued in or is it...
Is the insole on these glued in or is it removable?
Best Answer
All Merrell insoles that I've encountered in my shoe store are removable. Even their dressier shoes have removable insoles. I havent seen these in person, but I'd bet they're removable.
Nice old school look, comfortable for everyday. Fit a little wide and a little stiff. I prefer something more snug for hiking so these are more around-town shoes for me. So far really durable - hardly any sign of wear on the outsoles or uppers.