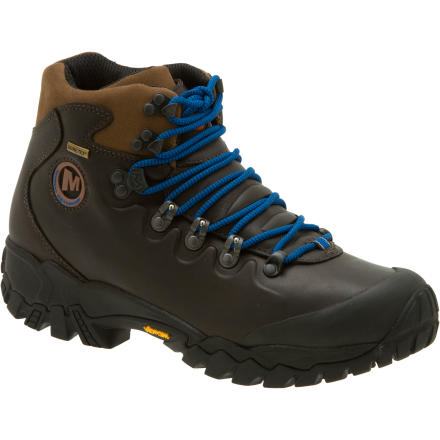 Detail Images

Community Images
Stomp into the Merrell Men's Perimeter Gore-Tex Boot to backpack the Pacific Northwest. Hit the trail in confidence knowing the Gore-Tex gaskets keep water completely out so you don't show up to camp with soggy feet. Silicone-molded upper sidewalls protect your ankles and provide bomber support on long days. An air-cushion midsole and antimicrobial footbed fight fatigue and odor, and a Vibram sole grips every which way but up.
An "ok" pair of boots
Familiarity:

I've used it several times

Fit:

True to size
These boots look awesome. I've worn them on several trails and luckily none of them were too long. The laces will not stay in the open metal grommets at the top of the boots. Also, where the laces cross over top of the tongue they don't sit right. This causes a bruising feeling on the tops of my feet every time. I am currently shopping for a quality pair of boots for backpacking and will use these only for working around home or possibly a day hike.
Pretty Good Boots
Gender:

Male

Familiarity:

I've put it through the wringer
Had these for about 6 months then the sole started to separate. Granted I wore these everyday at a brewery so they were constantly subjected to a wet environment. Other than that, they were comfortable from day 1 and preformed well on the trail through both day and multi-day hikes.



To add to someone else's comment, Merrell's customer service is horrible. Called them after they started to fall apart and was treated as if I was not worth their time. It's a shame. I have worn Merrells for probably 10 years. Thinking about another company next time I need boots or shoes.
Heck of a boot....
Gender:

Male

Familiarity:

I've used it once or twice and have initial impressions
Took them on one moderate hike to break them in and was surprised at how comfortable they are. Just fantastic boots; comfortable and rugged enough to get around the rocks and trails in.
Good Boot
Gender:

Male

Familiarity:

I've put it through the wringer
I have used these boots for the past 2.5 years and have been very happy - and happy with Merrill boots in general as this is my 3rd pair. They have also given me excellent customer service, replacing boots several years after purchase when I had an issue with a broken shank. But, back to the boots, I have worn these boots to class, forestry field labs, hiking and most points in between. They are comfortable, needing some break in, but provided good support until recently when the ankle support has worn out. Although they haven't been worn everyday, this type of wear is expected - at some point they won't fit like the day you bought them. I have a wide foot and they were nearly wide enough and also stretched slightly to fit me well. They are not inexpensive, but you do get a lot of boot for your money. I recommend them.
Anybody have experience with these in...
Anybody have experience with these in really cold weather? I'm debating whether to get these or the thermo 6's. I'm doing a 100 mile backpacking trip in a few months and the weather will likely be pretty chilly. I've hiked in the Moab mid waterproof boots in cold weather and always end up with cold/wet feet.
These boots are killer and they will keep your feet dry - they have "GORE-TEX gasket construction" and "waterproof top grain leather uppers". I pack thru snow-melt, cross streams and follow wet trails and my feet have always stayed dry. I've done a couple 50-mile September, alpine trips (mid-40 deg temps in the day / mid-20 deg temps at night) and cold feet were never a problem. See my review, below, for more info on this boot.
Merrell Perimeter GTX Boots Rock!
Gender:

Male

Familiarity:

I've put it through the wringer
I bought these boots in early 2011. In two summers since, I've put these boots through about 200 miles of backpacking use.



Merrell boots/shoes are usually too narrow for my wide feet. I went up a 1/2 size for these and they fit really well. Right out of the box, they were comfortable - and blister free - on my first trip. The toe box is only a little big for my feet and, at 3lbs, 8 oz. (for a pair of size 11's) they are a a bit heavier than my dream boots would be.



I mostly do a mix of alpine and sub-alpine trail backpacking. I carry between 25 and 30 lbs of pack weight for durations of 3 to 7 days. My last trip included 6 hours of backpacking on boulders, talus and rocks as we topped Colorado's Mt of the Holy Cross peak via the Halo Ridge route. These boots were ABUSED on this hike and protected my feet and ankles like a pro!



The "multi-grip" Vibram soles help stick to sketchy footing while the (steel?) (nylon?) shanks help spread the impact of all-day hiking on rocks. The "protective rubber rand and toe cap" have indeed protected the leather uppers on more occasions than I can remember. (And dig those blue laces!)



I wore the excellent Vasque Sundowners for 20 years and have no regrets about switching to Merrell Perimeters.



Pic shows Merrell Perimeter boots in action in Colorado's Maroon Bells - Snowmass Wilderness:
Most comfortable boots I've owned
I've had these boots for a few months now and that have failed to disappoint me, they've taken me through the mountains of new mexico and through the woods in upstate New York. they are extremely durable and they have taken quite a beating but they hold up through it all. even after hiking through the rain i can still rely on my feet being dry at the end of the day when i take these off.
bad experience with Merrell
After few months from purchase my pair of Merrell began to unglue. Assistance from Merrell headquartes was quite disappointing. I have now a pair of Merrell to be redirected to trash.
Hello there, i have a question about...
Hello there, i have a question about sizing.
My feet size is 11-B B=narrow. 10.5 Wont fit, too short, and 11 Regular is way too wide. I have a pair of charmilions. 11 M (medium) and they are so much wide that it is imposible to tight them, when i pull the cords the sides of the shoe have to move one next to the other and the mid part goes under them. the what size are this? or how Narrow/Wide are these?
This is a great boot, but probably wont work for your narrow feet scenario.
How breathable are these boots? With...
How breathable are these boots? With waterproof boots I find my feet get almost as soaked from sweat if moisture can't escape.
Not very breathable - they are a goretex leather boot so they are going to run like just about any other boot like this, a little on the warm side. The trick is the sock system you use with them IF you need such a heavy boot - try liners with a GOOD quality wicking sock.

If you don't mind something a little more lite weight, check out the Salewa offerings. The come in goretex and tend to be a whole lot more breathable - but you give us the extra support of leather and the material used to build these boots tends to absorb more water than full grain leather even with treatment, so if you do lots in freezing conditions, you may find yourself with cool feet.
I have gone through quite a few boots in my day. I not only use my hiking boots for hiking and backpacking, I also use them for hunting elk, antelope and upland birds. My boots get worn a lot and in all conditions.
Having had some pretty good boots over the years, including Dunham, Danner, Vasque, and Asolo my standards are fairly high.
Since I have a had a lot of Merrell shoes, over the years, and still do, I am familiar with their "out of the box "comfort. I have had a very positive exeperience with Merrell products for many years.
Needing a pair of boots I thougfht I'd give these Merrell GTX's a try.
Indeed, as usual for Merrell, I also found these to be very comfortable from day one.
So far, no complaints.
They have worked well for me, from hunting in snow last fall to landscape work around the yard this spring.
So far these boots have been a pleasure to wear. They stay dry and are very comfortable....And I get a lot of compliments on their looks.
Merrell did well on these...for the money.
I know these boots are priced pretty steep which originally turned me away, but Im really glad I got them. I am extremely picky with my shoes, especially boots. I am a firm believer that if you advertise that your boots are waterproof they should stay waterproof forever, not just the first month you wear them (the story of my life!!!). I wear the Perimeters almost every day at work in consistent soaking wet and icy conditions and not once has moisture ever soaked through, EVER. I live in a region of the Appalachian mountains where keeping your feet dry is a constant struggle, almost every day one can expect at the end of the day to have wet, cold feet... not with these boots. I can guarantee with the Merrell perimeters, your feet will not only stay dry, you'll look good in them as well. I also do my fare share of backpacking the roughest, technical terrain including and not once have these kicks ever let me down. I am proud to say, I wear these boots everywhere from work, to everyday walking around to snow hiking Snake Mountain in the middle of January.

I will say, it takes a good week or two to break these babies in (much like any descent heavy duty boot). There was a small indenture on the top of the toe section of my left boot that Im pretty sure was due to shipping and it took a while for it to get worked out. I almost sent them back because it was sort of an eye sore for me but why would I do that? Who cares? Its character.
i just got lucky when i picked up these gems! i found them 50% off at a season end clearance sale. they were the only pair of boots left in my size. i didnt even try them on (i know that was stupid). but i got lucky! great vibram sole. soles stick when you think they would slip. i have stood in water up to the top of the boot for a few minutes just to test them...no problems. gusseted tongue keeps out the trail debris. they are much lighter than my old boots. i like the pulley type things for the laces. makes them easy to tighten quickly. the lacing system in general is great. once tied, i have never had to retie them down the trail. the laces themselves are crazy strong. i was worried about the 3 top lace hooks because reviews have said they pulled out. i have not had this problem. they seem really strong and they have never hinted at failing. the ankle has very stiff support. never once rolled my ankle. full leather upper is nice and warm. i haven't scuffed them yet in a few hundred miles. i suppose that is due to the high toe cap. i didn't notice a break in period. they are a little bigger than other brands' 10.5, but that's fine considering my hiking socks are a little thicker. the toe box is pretty roomy. even though they are a little bigger, my feet don't slide enough to worry about "turf toe" and my heal stays pretty well tucked in...without cranking down on the laces too much to cut off circulation. i never got a blister even when they were new and put a bunch of miles on them in one day. i do wear a liner when i wear thinner socks because of this. Goretex lining is great. i hardly sweat in them at all compared to my old non-Goretex boots. and nice to note they looked great with jeans during the break in period. i guess it all really boils down to fit. they fit me great and they do all the things they are advertised to do. the only problem i have had is trying to get high clay content mud out of the sole...it was like glue...but i dont think that has anything specifically to do with these boots or this brand. i love these boots and would buy them again at full retail. but, i am glad i got them 50% off. my buddy has the same ones and has had no problems with them either!
I've had these boots a few weeks and have had no issues so far. I've put a few short hikes on them. They were very comfortable right from the start, with no harsh rubbing during the break in. The sole is great in the snow and climbing hills. They are a bit big, but a good hiking sock makes up the extra room. Could have gotten away with a half size smaller for sure. This my second pair of these boots, the first pair I bought almost 7 years ago and only died cuz the sole wore thin. Now with the Vibram sole I expect they'll perform just as long and as well.
I have a larger size 13 boot and having a...
I have a larger size 13 boot and having a terrible time finding a boot - most manufacturers dont make 13 1/2 - how do these boots compare in size and width (my foot is a little wider too)?
I do not have a water ski sized foot as you do, but for a boot of this nature you will not see any problems jumping up to the 14. A little extra toe room is a good thing when Hiking down hill/ adding thicker socks in the cold. You are right, nobody really makes a 13.5. This is a great boot, and I would suggest you give it a whirl.
How do they stand up to water? Seriously....
How do they stand up to water? Seriously. I would be using them at work (movie grip/electric -rather hard on shoes because of all the twisting/carrying/pushing/kneeling etc.). rain for 12+ hours with occasional sloshing around in puddles. I work in Portland OR and have been dissapointed in the past with boots/shoes that claim waterproof but soak through halfway through the day....
I don't own these boots, But do have a pair of Bates with a Gore-Tex lining in them... I work in the fire service and I have flushed hydrants and stood in pools of water for long periods and remained completely dry. Here is a link to the boots I own in case you are curious. (http://www.zappos.com/bates-footwear-gx-8-gore-tex-side-zip-black). Gore Tex is great stuff.
It's been a long time since I had a pair of Merrell boots and is very nice to have them back on my feet.
This Merrell are so comfy I've been using them a lot just basic trekking. Keep my feet warm, dry, good support for the ancle and with a good grip. They just feel like snickers only a bit heavyer.
At the begining a bit stiff but that's just the first few days until they get the shape of your feet and the way you walk to enjoy nature have changed for good!
I have used all types of merrell shoes and boots for 15 yrs or longer.I bought my first pair on a bargain table before the brand became so popular. I an avid hunter and runner,I have never had anything but superior fit and quality from Merrell. I am always amazed at how long they last and how great they feel.Merrell does not spend a lot on advertising so they can focus on quality unlike many of their over rated competitors.I always recommend Merrell .
As far as I can tell Merrell Perimeter is...
As far as I can tell Merrell Perimeter is a fairly decent boot, but my only concern is whether it will be able to maintain its structure after a many outings with heavy loads. Soo can anyone testify if this boot does this or have any suggestions for a boot that could fulfill this category?
Best Answer
Scott, I got only 2 hiking seasons with my pair. I go 6' 190 lbs. I thought they are fine on trail hiking boots, but they are not beefy enough for backpacking. Very little ankle support - too low cut and not stiff enough. The bottoms got completely destroyed - worn down and the cleats simply broke off in many locations. They are very comfortable and kept my feet dry. All that said, I am buying a second pair, but just for on trail day hiking. If you are purchasing a dedicated backpacking boot - keep looking. DD