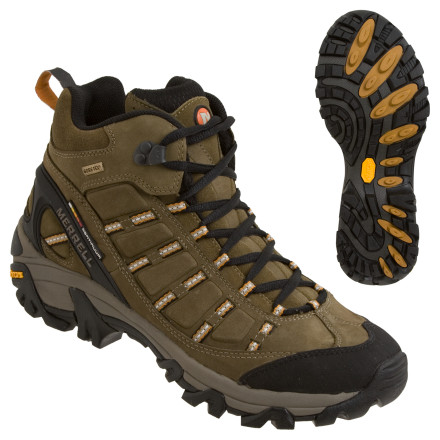 Detail Images

Community Images
I bought a pair of these in size 11 to go hiking in Alaska for 16 days. No break-in period required, and they are as comfortable as a shoe on your foot. I also did some fishing in them, including one day on a boat out of Homer when it rained all day. My feet were totally dry when I finished the 12 hour fishing trip. Unbelievable! And, my feet stayed warm (50 degree temps) and comfortable.
I also hiked in these on both wet and muddy trails, and dry rocky trails. Great stability in all conditions, and very light weight did not tire out your legs.
Best hiking boot I've ever owned, and that is saying something since I am now 65 years of age!
I wear size 13 4E wide in a NB #977 Will...
I wear size 13 4E wide in a NB #977 Will size 13 in this boot fit me and also be wide enough? Any problem or charges if I had to return them?
Best Answer
Hey Joe. Our return policy rocks - its unlimited - so you are under no time limit to send the shoes back. if you grab them and find out the shoes are not for you its a super easy process to return.

That said, I have EE feet myself and I find that these shoes fit me very well width wise, I have doubts that they'll work for an EEEE foot though but I can't say for sure. These shoes are technically just a D (standard/normal width) afterall. if you do get them - put up a review so we all know! hope this helps
My feet feel right at home in these whether I'm hiking or just everyday wear. My feet don't sweat like they have done in other boots, and they have the comfort of a running shoe and the support of a hiking boot. Can't complain about the Vibram sole, good grip on wet or rocky surfaces.
Decent boot but poor longevity for price
Having had my feet eaten alive by more aggressive Vasque Zephrys, I decided to try these Merrell's which certainly are a more comfortable fit than others. Surprisingly, they didn't destroy my unusually protruding heels like most boots (even after months of break-in), so I was initially very satisfied. While they are not as stiff as a full-out backpacking boot, I hiked at least 200 miles in them and the waterproofing held up nicely. I could ford small, ankle-high streams no problem for several months. Obviously, since Gore-Tex is a breathable mesh technology, they will slowly allow some water through if you're hiking all day in the rain. This is to be expected, in my experience with GTX. You can't go wrong with Vibram soles.

After a summer of backpacking and one canyoneering trip, though, the shoe began to fall apart. First, the stitching that holds the peices of dura leather together tore open. I took the boot to a cobbler and he re-stitched the 4 or so inches of split fabric. Yet I soon realized the integrity of the boot was gone. Within another 20 or so miles, the top of the boot split from the sole and there's nothing a cobbler can do. Since these are not cheap shoes, I was surprised to see stitching come apart after only one season. I'm not sure if I was just misusing them for backpacking, but I was disappointed.

In short: Comfortable and good for day hiking, but they probably will not hold up for sustained backpacking or very aggressive terrain.
Not sure what they are talking about
These boots rock. I have not had one issue with them in rain or snow, so I'm not sure why other reviews say that they aren't waterproof. Maybe they got a defective pair? Regardless, these boots need no break in whatsoever. Take them out of the box, strap them on and go. Great traction (but a little difficult to get the mud out of the soles... I had to resort to putting my foot in a bucket to get some GA red clay out of them... still no water leaks, though). I got them on sale, but they would easily be worth the full retail. When I finally wear them out, they will be replaced with another pair of Merrells.
I've had these shoes since spring of 2009 (~9 months). They've been through the Wasatch mountains, the Unitas, Southern Utah, Norther Colorado, Crater Lake area, Redwoods, Tetons, Sawtooth, and various deserts with these boots. They've with stood it all. I've put a good amount of mileage under these boots and they're incredible. They have kept my feet dry and comfortable. There is little signs of wear and tear on them. They should be good for a few more seasons.

There is one thing they don' hold up well against: snow. I took these up the canyon earlier to photograph after a snowfall. While they held up for a while, after about 2-3 hours out there in snow, they started to get wet and my feet started to get cold. When I got home, i stuffed them with newspaper, and within a day they were dry and ready for action again. I know they weren't made for snow, but I had to try them out.

Overall: perfect shoe, except in snow. Totally worth the money.
NOT waterproof. Not worth it.
Feet were completely soaked with even light rain. Only buy these if you enjoy spending hours over a fire/stove to dry your boots every night and morning during your camping trip. Comfortable boots though. I suppose if you are only hiking in dry or desert climate this will work.
Comfortable but not water proof
I did two days of hiking in these boots. First day was great and was impressed with the comfort and durability. Second day it rained and rained and my feet got soaked. The boots are not water proof at all. If you like comfort in dry conditions they are great. Do not count on them keeping your feet dry though.
When my husband needed new boots and fast, I knew he would need Merrells.I ordered these 3 days before his hike and without breaking them in, he wore them for 4 days through rough backpacking conditions.These boots pack performance; and are ready to use and abuse right out of the box!
Love em. When i first wore them they felt like i had been wearing them for years, they are extremely comfortable and waterproof. Just got home from a week long camping trip in the Gravelys and these were great, i strongly recomend these.
i have really wide feet would you recommend...
i have really wide feet would you recommend these
Best Answer
Not if you have exceptionally wide feet. These are more of a medium/standard fit. I would search for something that specifically comes in a wide option. That may suit your needs better.
I have wide feet and they fit great. I wear a size 10.5 normally but I have an 11.5 of these shoes and they fit like a charm
I am going to be climbing Mt. Whitney this...
I am going to be climbing Mt. Whitney this summer doing a 2 day trip. Would these be stiff enough to carry a pack. Probably 40 is lbs as I am going to be the mule for my girlfriends heavier items.
Best Answer
Hello,The Merrell Outland is very comfortable, but probably not the best option if you are looking for a more sturdy backpacking boot. The Asolo Fugitive is a great introductory all around boot check it out http://www.backcountry.com/store/ASO0013/Asolo-Fugitive-GTX-Hiking-Boot-Mens.htmlBesides being a prison weapon, a shank is an insert in the sole of the shoe that makes the boot stiff. Most shanks in modern boots are going to be 1/2 or 3/4 synthetic shanks. The Tech Spechs will usually state if there is a shank and what it is made of. This is a fairly effective way to judge the stiffness of a boot.Mahalo, Sumo
I am in the military and deploy all over...
I am in the military and deploy all over the world. Is this the boot for day that consist of 130+ degree heat, below freezing temps. in the mountains at night. Carrying 100+ lb loads on my back for miles upon miles and for days at a time. Long slow days, hiking through mountains, or sprinting across streets. Many different terrains.
Best Answer
Ed,This shoe is going to be comfortable and work for the average person in average conditions. I would look at a boot that is more rugged and stiff. Look at the backpacking boot section for more appropriate options. Most boots in there will have a synthetic shank that adds stiffness to the boot. When you are wearing 100+ lbs on your back with a lighter weight boot it will bend and twist over every protruding rock. Keep in mind full grain leather boots will be less breathable then mesh boots, but will show less wear. Compared to standard issue boots, almost any backpacking boot will be more breathable. Bottom line: check out http://www.backcountry.com/store/ASO0014/Asolo-Power-Matic-200-GV-Backpacking-Boot-Mens.html it can do everything you will be doing in the military.Mahalo, Sumo
Ed,
I'm not sure which branch of the military you are in, but this Merrell boot does not meet the Army's authorized clothing plan. If, by some possibility your unit has authorized it for wear, then go ahead and keep doing the research. Otherwise go ahead and check out the Oakley 8-inch Assault boot in the desert color. Most Army and Air Force (Some Marines) units have authorized that boot for in-country/ deployment wear. I bought the 8-inch boot and I loved it. I am a squad leader in the Infantry, so I know all about the heavy packs, etc. The only downfall is that the inside of the Oakley boot can tear up after a few months of wear. Mine are still fine, but some of my soldiers had issues. I'm not sure what they were doing to them...soldiers can destroy anything if they put their minds to it.

I do not think backcountry.com stocks that particular boot, unfortunately. www.usstandardissue.com sells Oakley products to military at a discounted price with proof of military ID. I would check that out for your deployment needs. Otherwise, buy all of your civilian hiking/fun gear at backcountry.com. You will not find better prices or service anywhere.

Good Luck.
Not sure about other units, but the Merrell Moab Ventilator is authorized in mine (2-87 IN, 3 BCT, 10th MTN). Garrison is one thing, but in the field regs a waaay relaxed.

Anyway, for infantry that's traveling light and fast, boots like these are awesome, hence the authorization, despite AR 670-1.
Ed, I'm in the same boat. Check out Asolo Revenge GTX or the Merrell Sawtooth. Warning on that particular pair of Merrell's, they don't have Gore-tex. I have been infinitely satisfied with my Asolo's and everyone in my unit (multiple mountain deployments) recommends them above all else. That's just an impartial opinion that isn't trying to get sales for Oakley (who's boots fall apart after 4 months in Iraq) or trying to sell you a 4 pound back packing boot. I'm take my comfort personally probably like you do.
I got these for my husband for christmas holding my breath that I didn't waste our money. Well so far he is very happy that he's back on the mtn. and his feet are dry when he gets home. The traction is great even in the snow and slush. In his words "worth every penny"!
Great boots! I just spent three weeks climbing and hiking in Colorado's San Juans. The Outland gets great marks for both stickiness and skree control, which I used a lot on mountains like Wetterhorn and Sneffels. The GTX and soles performed well on a wet hike to Wheeler Geologic Area. Good durability; excellent hiking boots. Only caution: They fit a bit small--you may want to order up 1/2 to a full size.
do these come in a wide width
do these come in a wide width
Best Answer
They may, but we do not carry them. If it doesn't indicate a Wide width in the drop down menu, it means we just stock them in the standard medium width. (this applies to all footwear on the site)The Outland Mid GTX is only available in a medium width.