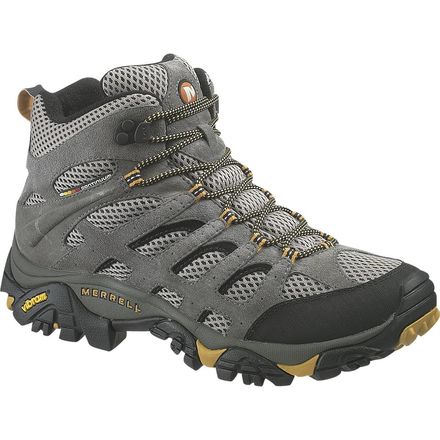 Detail Images
Description
A hiking boot that channels the speed-oriented spirit.
Merrell set out to build a quality hiking boot with the soul of a trail running shoe, and the result was the Moab Ventilator Mid Hiking Boot. Featuring the durability of a combat boot and breathability that will remind you of your flip-flops, the Moab Ventilator offers a hybrid design for aggressive, high-octane hikers.
An upper blend of leather and nylon mesh promotes breathability and flexibility without sacrificing support and durability
Nylon mesh lining helps manage moisture to ensure comfort and a blister-free hike
Vibram Multi-Sport outsole provides excellent traction over rough and varying terrain
Air Cushion heel pockets add shock-absorption capacity and increase stability on ascents and descents
Great pair of boots
Familiarity:

I've put it through the wringer

Fit:

True to size
I purchased these boots about 3 weeks ago from Back Country. This was my first purchase from them and I can guarantee that I will be back for more gear from them. 5 minutes after I placed my order I received a call from an employee giving me his name and direct phone number just letting me know that the boots had shipped and that if I had ANY questions to call him and he'd answer to the best of his knowledge. So if you want great customer service, BUY HERE!!!

I received the boots 2 days later after receiving free 2 day shipping. Out of the box the boots felt perfect and had the feeling that they were already broken in. The material they are made out of is high quality. I use these boots for work were I walk an average of 10 miles a day and go up and down ladders. These are the most comfortable boots i've ever owned and will definitely be getting a second pair. The only reason I didn't give these a 5 star rating is tat after about a week the right heel started to squeak whenever I take a step, not a major issue, just a minor annoyance.
Comfortable right out of the box.
Familiarity:

I've used it several times

Fit:

True to size
Used these boots on 2 big hikes this summer and had no problems. Very comfortable and no blisters! Lightweight construction makes them feel like sneakers. Worth every dime!
Old Faithful
Familiarity:

I've put it through the wringer

Fit:

True to size
I am on my second pair. The first pair put up with 1000+ miles of abuse. Perfect for day hikes definitely a lighter weight hiking boot, I only ever use it on short distance backpacking trips. Would want to upgrade to a sturdier boot for heavy packs or longer distances. 20+ mile days is when you start to wish you had a thicker boot, but the weight savings is a hard complaint (personal preference at that point). Overall a solid choice.
Great boots!
Familiarity:

I've put it through the wringer

Fit:

True to size
These boots have good ankle and arch support.
Merrell's web site lists 2 width options for this boot . I can't see here any info on if back country is offering these in the M width or W width. Any ideas?
ebe4137502,



These are the regular Medium width not the wides.
I wear mine everyday
Familiarity:

I've put it through the wringer

Fit:

True to size
these are the best boots ive ever put on. they aren't waterproof as it says they are but they are water resistant and tend to dry fast when wet. ive been on many hiking/backpacking trips with these and ive also done a ton of rappelling in them(some times down waterfalls) they can with stand hell if they can last through me lol.
Best Shoes.
Familiarity:

I've put it through the wringer

Fit:

True to size
I have had these for a few years now, use them a lot and they are still in great condition. This withstood a pretty treacherous trip to Yosemite and were beat up pretty good there but the shoes are still fantastic. The more you wear them the more comfortable they get. A great investment! Be sure to get it a little big for downhill presses.
Dad loves them.
Familiarity:

I gave it as a gift but have feedback to share

Fit:

Runs small
They run a tad small in my opinion, however my dad absolutely loves them. He says they feel great and makes him feel "safe" (meaning no slipping or similar). Looks like a really good option.
The Air Force Ones of trail crushing
Familiarity:

I've used it several times

Fit:

Runs small
I have used these boots on a couple shorter hikes, as well as some longer 8-10 mile hikes and they are working out great. I am 6'6 and sport a wide size 14 boot and opted for a size 15 after experiencing toe discomfort with a size 14 pair of hiking shoes and I feel like they are the perfect fit for me in a size 15. The boot is very, very comfortable and features plush cushioning in the ankle and a supportive insole that allows me to run down trails and bounce off rocks without experiencing any discomfort or toe bang. I use these with Darn Tough Merino Wool socks, so I dont notice moisture so much, but these are not waterproof boots, although they do not lose alot of the grip after stomping through runoff streams. I am very pleased with these boots thus far, and look forward to a Summer of breaking trail with the Merrell Moabs
I wear a men's 8.5 to 9 wide shoe depending...
I wear a men's 8.5 to 9 wide shoe depending upon the mfgr. What size should I order for the moab ventilator


Hey there, I just picked these up in a size 15 and typically sport a size 14 boot, have a wide foot myself and feel that the 15 is a perfect fit, I'd say a 9.5 or 10 would be a good bet for you
Personally, mine ran right on so maybe get a half size larger than usual for downhills.
My go-to day-to-day boot
Familiarity:

I've put it through the wringer

Fit:

Runs small
These boots are a blessing for those in hot/dry climates or someone looking for a lightweight mid boot. They're comfortable to wear all day in a outdoors setting or even kicking about the office.



The Moab's fit is a little different from my experience with other Merrell boots, this might be a blessing or not depending on your foot. I find these run about a 1/2 size short but have a wider foot box to accommodate those of us with wider feet. Just something to be aware of..



Quality and construction is great. These are not a boot that you can expect to last forever like some super sturdy backpacking boot. These are a lightweight hiker. So keep that in mind as well. I've utterly worn my first pair out.. I've more than put these through the ringer. They've held up to all the abuse I've been able to throw at them so they're hardly "fragile".



For further info please read my other responses to questions regarding this boot posted here.
I usually need a rather wide shoe so I'm...
I usually need a rather wide shoe so I'm hard to fit. This makes me reluctant to order shoes online because I cannot try them on first. The Sketchers I bought are a size 10, 4E width and they fit perfectly. If I order these in a size 10, and they don't fit will they be easy to return? I don't want to waste time ordering these if I'll just have to return them. Any advice would be appreciated.
Best Answer
These are fairly wide fitting for Merrell's. I wear a size 9 in most other boots (Salomon Quest 4D for example) and I find these run slightly small. I've gone through 2 pairs of these now, they're an awesome day-day/day hiking boot.. My first pair was a size 9, and it fit, but I found them to be a bit uncomfortable on steeper and more technical descents. Toes just a bit too cramped. I've since replaced that pair with a size 9.5 and they fit like most other 9's do.



I think you'll be best served stepping up a half size with these Merrell's. As for the width, I think you'll be fine unless you truly do have some exceptionally wide feet.



As far as the return process at Backcountry, they're a blessing to deal with. I've only had to return one item so far, and they're ultra helpful and the process is smooth/hassle free. Backcountry has this stuff wired tight.



Hope this helps you, let us know how things go with them if you decide to pick them up!
The fit (I wear 44/10.5 'Wide' Asolos and Scarpas) was off for me: Much too wide and a bit short. And I have wide feet. Trying to avoid stubbing the toe by lashing them tight was uncomfortable, as the soft tongue does not distribute pressure much. I also found them very synthetic-feeling and sweaty, since the ventilation only cools the foot in certain spots. Points awarded for backcountry letting me return them.
Got these and returned them so I have no feedback on the product.
considering buying these for hiking around...
considering buying these for hiking around Arizona mainly due to the ventilation aspect. Waterproof isn't important as I don't plan on spending much time in the water, and if I do they should dry fairly quickly from the sounds of it. My question is, with the mid-height ankle support would these be adequate for backpacking? Planning a trip to Havasupai (10 mi each way) with maybe a 20-30 lb pack. Any advice would be appreciated.
Best Answer
I've been rocking these in the NM deserts and peaks for the last year and I've found them to be pretty freaking awesome. They're my go-to boot for most outings, but I think you're packload is a bit more than what these lightweight hikers are designed to carry. Not saying they wouldn't work, but these do better with lighter loads.



My 2cents.
I would definitely upgrade to a heavier boot if you are doing that kind of hiking.
I've heard these boots run very small......
I've heard these boots run very small... such that I'll need to order a 10.5 or 11 to fit my normal (Vasque, North Face, etc) 9.5 . True?
Best Answer
They don't run THAT small. I find them to fit rather true to size. I have friends who've had to run a half size larger, but I suspect that they're in between sizes anyhow.
They are pretty true to the size...I wear a 9.5-10 usually and I own these in 10s.
Merrell Moab Ventilator Review
Hey Alain,

Unfortunately it doesn't look like we're getting any size 11's anytime soon.
In stock now, if you are still in the market!!
Simply my goto casual boot for the past 10 years.
In the last few years I've gone through a few pairs (they don't last forever you know!), but each pair has been beat to death. Hiking all the trails, scrambling sharp abrasive traprock here in Western Mass, climbing trees (Maples with coarse bark and tight branch-crotches), and using it to bike with due to the ankle support: These shoes last for easily 3 years a pair doing all this stuff, constantly. For three season weather, these are prime.
Once you factor in water, they may dissapoint you, but maybe not. Usually if you end up spending more than a few hours in the wet (mud after rain, SNOW) they will seep & get damp, but they are ventilating shoes, so you will dry out.
In scorching summer and freezing winter they keep you comfortable, have enough play to fit your range of socks, and most importantly, the VIBRAM sole is indestructable. All the old pairs I've retired had to go because of internal fabric shredding or the shoe material ripping up. The soles still had easily a couple years of real good grip left. And those soles do have grip!
They look great, break in ultra-nice, and are a steal being under 100$. Perfect for a casual to serious dayhiker, or anyone who is walking around nature.