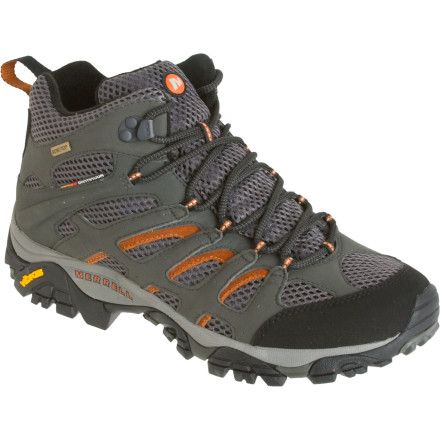 Detail Images

Videos

Community Images
Description
You don't have to venture to Utah to experience the beauty of Moab.
Even if you've never been hiking in Moab, you can understand the importance of support and breathability in the rugged, rocky terrain of the Utah desert. And don't forget about water. Not only does rain fall there, but it often hits in epic proportions and can turn dry creeks into flooded streams in minutes. Lace up the Men's Merrell Moab Mid GTX XCR Boots and experience how lightweight, supportive, totally waterproof, grippy, breathable hiking boots are supposed to feel.
Gore-Tex XCR waterproof breathable insert between the outer material and inner lining keeps feet dry without overheating
Durable, waterproof leather provides substantial support and foot protection while added mesh allows maximum breathability
Ortholite insole made from open-cell polyurethane retains significant cushion longer than traditional EVA foam
Molded nylon arch shank provides stability and prevents rocks from putting a painful end to your hike
Aegis antimicrobial in the mesh lining fends off odor and bacterial growth in the shoe
Vibram Multi-Sport sole has an aggressive tread pattern and durable rubber compound that provides equal traction on wet or dry surfaces
Air cushion in the heel of the EVA midsole provides added cushion where you need it most
Best Hiking Boot
Familiarity:

I've put it through the wringer

Fit:

True to size
I've had 3 or 4 pair of these and wear them all the time for hiking or walking or even at work. Made the mistake once of buying the ones that didn't have the gore-tex lining and regretted it immediately. These are the way to go.
Comfortable and reliable
Familiarity:

I've put it through the wringer

Fit:

True to size
I've worn these trough all sorts of water and mud and the Gore-Tex has yet to fail me. I've had these for about a year and was able to break them in fairly easy on some local hiking trips and wearing them around during the day. Once broken in these boots became extremely comfortable and no matter what the terrain or how fair I go I never get blisters or hot spots. After a years worth of my abuse they are starting to show signs of wear around the heel. The black rubber has sort of rubbed off a tiny bit to reveal a greyish rubber beneath but this is not an issue. The one complaint I have is more of a mark against Gore-Tex and not so much the boot. If you accidentally allow water to get in it will take FOREVER to dry, which on a backpacking trip is not good. I found that letting them dry by the fire at the end of the day helps a little but more than likely they will still be damp the next day and you may need to change socks at some point to keep your feet dry. Overall I would recommend this boot to anyone looking for a comfortable, easy to break in, waterproof boot.
Great price, fit, and so comfortable right out of the box...love them
Will they take a beating? Yes they will
Familiarity:

I've put it through the wringer

Fit:

True to size
I have had these boots for about two years and have worn them 5 or 6 days a week. I have gone on roughly 15 trips over ten miles in them with no problems. The only downside to them was in summers past while working landscaping the colors faded, but that is expected in my mind. The water proofing lasted till a few months ago which actually supprised me because in past my boots have worn out faster. Some people say oh they only last two years.... In my book you are not using the boots enough if they last for a decade as some people say. Love the boots and have another pair on order.
Won't be buying another pair
Familiarity:

I've put it through the wringer

Fit:

True to size
I bought 2 pairs of Merrell at the same time - one lightweight non-waterproof pair, and these so-called waterproof ones. Main use was for light trail use while walking the dog - on the rainy days. They are very comfortable, but after 3 months of relatively light use they started to leak. Now, another 6 months gone and they are like a sieve. Were it not for the waterproof problem they would be a good shoe, but alas I won't be buying another pair.
Won't likely buy another pair
Familiarity:

I've put it through the wringer

Fit:

True to size
This is the start of the second Summer with these boots, and the seal between the sole and the uppers are separating on both. They now act as a pump to suck in water any deeper than 1 1/2" . They are my fourth pair of Merrell boots, and lasted the least amount of time... normally I was getting good wear from other Merrell models. I can't say I was hard on them as they were used when I was trail hiking with a light pack.

I can agree they were quite comfortable when brand new, but feel flat now. The traction is good, and very little wear on the bottom of the sole.

They are now all sealed up with ShoeGoo, and I will be replacing them asap.
The Best
Familiarity:

I've used it several times

Fit:

True to size
Im 58 years old and they are the most comfortable boots Ive ever had.

I hike and hunt all the time.true to size
All-Around boots that need better laces
Familiarity:

I've put it through the wringer

Fit:

True to size
Right away I want to say that these are probably the most comfortable pair of shoes I own.



And they can do almost anything; hiking, biking, rainy days, around town, in the office.



They offer decent ankle support and are relatively breathable. They are very affordable and are built to last.



My only gripe is the cylindrical laces like to come undone.
Go-To Boots
Familiarity:

I've put it through the wringer

Fit:

True to size
Apparently, my dog liked these boots as much as I did since they were the only pair of shoes he's ever eaten. But, I can tell you I will repurchase the same boots. I have never worn more comfortable hiking boots.

I took these from the hottest parts of the Grand Canyon to the wettest parts of Peru and they stayed warm and dry in one and cool and breathable in the other.

I haven't had a chance for any big trips lately, but whenever that happens these boots will be back on my feet.
The first thing I noticed besides how comfortable it is the traction, which doesn't really make or break a shoe but I will say it is very hard to slip on wet or dry. It's very warm as it should be. I normally wear an 11.5 to 12 and got a 11.5 which seems to have more than enough room for thick wool socks. heads up the dark earth color is not that dark as pictured, but still a good looking shoe. In addition my experiences with Merrell is that they are very durable, so while I can't say I've put it thru the wringer, I can say I have high expectations for the durability.
Good ventilation for a waterproof boot.
Familiarity:

I've used it several times

Fit:

True to size
I picked these up for the Gore-Tex waterproof membrane expecting to only be able to wear them when there was snow on the ground. I was pretty surprise when my feet weren?t soaked in sweat after a good day on snowshoes. I ended up taking them out a couple times in the spring and summer with similarly surprising results. Even with the warm weather these boots kept my feet well vented and feeling good.
Wrong color!
Familiarity:

I've used it once or twice and have initial impressions

Fit:

True to size
The color of dark earth is not as pictured. I have seen the pictured boot in a store. The color "dark earth" is much darker than in the picture.
Better than I expected!
Familiarity:

I've used it several times
This boots aren't bad, once you break them in which can take awhile. The Gore-Tex does it's job well enough too. And as a Vibram Critic I am honestly impressed with the traction these boots can provide. Overall a great boot for the money.
Awesome boots! Buy them NOW!
Familiarity:

I've put it through the wringer

Fit:

True to size
I have came to love these boots. The first time I tried them on they were actually my old mans as I forgot my boots for one reason or another one day. Needless to say I didn't want to give them back... so I ended up buying a pair for myself. I have not retired mine yet nor do I plan to anytime soon. Somehow my old man managed to go through a pair (which took a few years) so I bought him a replacement pair for his birthday last year and he wears them just as much as he did his first pair. They are my go to for hiking in spring, summer or fall. Even in winter these things rock with the Gore-Tex keeping your feet dry always (just wear a warmer pair of socks as they are Not insulated). If you are even half considering buying these, Do it already. They are extremely comfortable as well.. I forget I have mine on or think I am wearing more casual shoes even at the end of the day. All in all a great boot especially if you can land them on sale. They also have great Vibram soles and give my feet adequate support. I own the Dark Earth color and think they are a great looking boot. Get them!
If I'm a size 12 1/2 (which merrell doesn't...
If I'm a size 12 1/2 (which merrell doesn't do) would it be wise to get a wide 12 or just get a 13 and drop a thicker insole in these?
Best Answer
I would go with a 13 but a thicker insole wouldn't change the length of the shoe, just the depth...I would go with a bigger sock...That being said after a day of hiking my feet have usually swollen a bit so the extra toe room is nice as it gives my feet the room they need to expand.
Durability could be a little better.
These are overall great boots for a great price. They are sturdy and comfortable, plus the GTX works well. I've noticed some tearing in the mesh, and separation of the soles, however. These problems came after a 14er trip in the San Juans. I doubt I have more than 100miles on these boots yet.
My go to backpacking boot
I just ordered my second pair after putting about 450 miles on the first. Traction was still great, but the foot bed had molded to my foot and the shank had lost most of its stiffness.

Since it's gore-tex it's guaranteed for the life of the boot to be water proof, and even in the end mine were still kept the water out.

http://www.gore-tex.com/remote/Satellite/content/our-guarantee#!

They are amazingly comfortable, I never got a blister until they were past life. They bite almost as well climbing shoes, even when wet.

They are mids so if ankle support is a concern these are not for you. Also, gore-tex does restrict airflow, on long duration hikes I found I had to rotate in-soles to keep them dry.
Merrell Moab Mid GTX XCR Boot - Men's
I have a pair very similar to these. I use them as my primary hiking boot, and I also used them hunting and around the house. The water-proofness is nice, and the are both comfortable and very durable. Love them so far!
I bought these right off the shelf and then hit the trail with them and I had no problems with them. They fit me great and did great on the trail. They provided decent traction and were indeed waterproof (except for the big opening at the top - duh!)



I put a few hundred miles on them since and they are obviously worn, however, they still have lots of use left on them. The soles are still intact although they have lost a bit of grip on wet rocks and roots, and they are still waterproof.