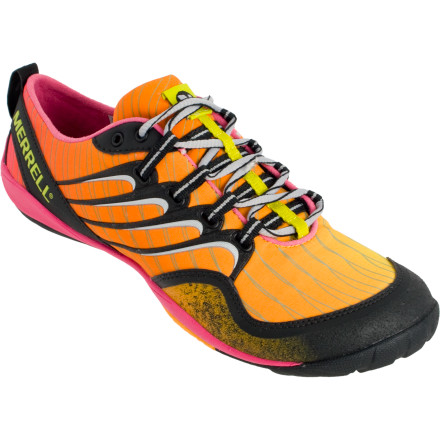 Detail Images
Minimalists cut tags off their clothes. Real minimalists wear the Merrell Lithe Glove Women's Trail Running Shoes. All that these shoes leave between your foot and the ground are 4mm compressed EVA midsoles and paper-thin Vibram Trail Glove soles. With this minimalism comes a scant weight to give you a shoeless feel and get you used to running with nothing on your feet.
do these have a tie lace up?
do these have a tie lace up?
Yes, these shoes have tying laces.
I have been running in these shoes for about a year and absolutely love them. It took some getting used to on the trails and I still slip and eat it when the trails are wet. That said, when I wear these I don't have problems with my knees or with tight IT bands. I ran a marathon in them last year and will be doing another in September. The marathon is mostly trails if that helps anyone's decision. They do get really smelly ...
I love these shoes! I tried on all the Merrell gloves that I could find and these were the only ones that fit my huge feet! I don't actually use them for trail running but I wear them for daily wear as a lightweight and comfortable shoe. I can walk in them for 8-12 hours without any trouble. The only downside is the lack of arch support (as expected in a barefoot shoe)... I have a very high arch (not even super feet reach my arch) so it's a common problem.
Hey I was wondering if anyone knows how...
Hey I was wondering if anyone knows how these compare to other merrell barefoots as far as trail running is concerned? I've never had barefoot shoes before. Because I never really wear shoes anyway but I thought these might be a good compromise to me leaving muddy footprints all over the house. I'm just not sure which version would be best in the mountains.
IMO, the first thing you need to consider when getting a pair of barefoot shoes is how they fit your foot. It doesn't matter if it's the best on the trail if it is uncomfortable to you. Beyond that, I'm not a runner, so I can't speak to that specifically, but I can say that the Lithe seems to offer a little more structure and support when compared to the Pace or Dash so it may be better for gnarly terrain.
I wanted to love these, I really did. I gave them a week of serious trail running, pavement running, and even just lounging around the house, and without fail every time I wore them I ended up with serious blisters on my heels, toes, and the top of my foot. I think its a great concept, just the wrong match for my foot. My best friend got the same shoe and she swears by them Hallelujah for Backcountry's forever return policy.
I bought these shoes and am generally very...
I bought these shoes and am generally very pleased! they are so comfortable and light. However I broke a couple of toes on my right foot this year (on some gym equipment, I was barefoot, literally, not a good idea...) anyway, these toes are slightly malformed now and rub in just about any shoe I wear. should I buy a 1/2 size larger to accommodate? If so, will they fit the rest of my foot? I already have a slightly narrow foot, so my heel doesn't stay in some shoes if I buy a bigger size. It's like I need a 1/2 size larger shoe for just the toes on my right foot
Some specialty running stores will allow you to mismatch sizes for an extra $20 or so, but it's probably not the best idea. My third toes on both feet point slightly outward, and so they rub in a number of my shoes. The answer is duct tape. Just cut a small piece to fit around the end of each toe, and it'll cut down on the rubbing and discomfort. Works for me anyway.
My suggestion would be for both of you to have shoes made for you!!! Than you and your feet will smile :)
these have a softshell upper and are a perfect transition in to fall/winter barefoot running. i have been wearing my pace gloves all summer and these are perfect for the colder weather, rain and even snow.