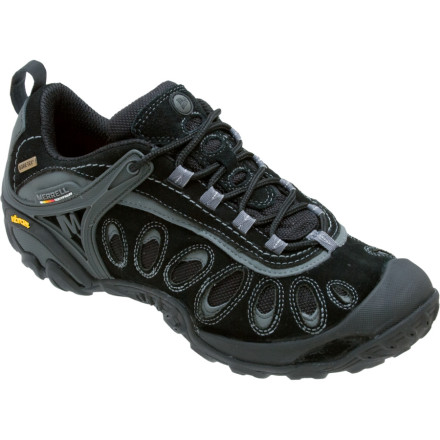 Detail Images

Community Images
Merrell designed the Chameleon 3 Ventilator GTX Hiking Shoe with speed in mind. Featuring Gore-Tex gasket construction and Vibram soles with an aggressive lug pattern, these light hikers will go just about anywhere.
Gore-Tex gasket construction provides protection from the weather and even rocks and other debris that try to get inside
Suede Leather and mesh upper is tough and breathable
Merrell Air Cushion sole reduces fatigue and help you hike farther and faster
5.0mm sole lug depth provides all-terrain traction
Received these today (a day early) and these were shipped to Oz.
I do a 7Km hike to work through some rugged land so these, I hope, will make my journey comfortable. Backcountry delivered on...before time and at a great price. I could not get hold of these shoes in Australia and I knew what I wanted. Went to our local shoe shop for a fitting and then ordered here.

Thank you Backcountry you have a repeat customer here.
Good, but far from great.
Bought a pair of these in December 2010 and I just returned them to Backcountry.
First of all: Quality on these wasn't what I expected and it's far away from what I remember when I used to buy Merrell's years ago.
After a week or two the right shoes started to make a weird noise in every step. A month and a half later I realized that something was loose inside the sole (I think it was something like an air capsule). Then I decide I should return these boys.
As Brian G. Sweeney posted (check below for his post/picture), I did actually have a problem with the shoe laces too. None of them broke, but there was definitely heavy wear in some parts in the upper portion.
The goretex was amazing. Not a single drop of water touched my feet, ever. Keep in mind that this is regular goretex (not XCR) which will get your feet very warm after a while (I have tried both) but it seems like it will last longer than XCR.
The sole on these is rigid, which is good for hiking but very uncomfortable for walking in the city. I do not recommend these shoes if you're going to use them mainly for walking around the city, try to look for a pair with a more flexible sole.
These are my first pair of shoes with Vibram sole. I really expected to be a lot more durable. Signs of wear were visible after 2 or 3 weeks.

About backcountry: You guys are great. Returned them with no problem at all and got refunded in my credit card quickly. Now I went for a pair of Salomon Xa pro 3d ultra gtx. I found them in other stores for $30 less, but a good store like yours will always get me coming back. The customer service alone is well worth the extra $30. Great store!
I backpacked around Japan for over a month in these bad boys. They kept my feet warm and dry and haven't shown the wear and tear they have received. Definitely recommend giving them a try.
Got my first pair in 2003, I used the as my go to shoe for everything. Finally had to replace them in January of this year. Stitching came out on one of the shoes after some light hiking in New Zealand.... even with that small issue theses shoes are the best. backcountry service is the best!!
I own a pair of these already ... love...
I own a pair of these already ... love them. I bought them for rainy days and short hikes in north Georgia. But I am getting ready for a 4-5 day hike at Denali STATE park in Alaska in early June. Would these shoes be appropriate (30 lb pack, max) for that particular hike?

And, what is up with the "squeaky" problem that many other owners seem to be complaining about on other sites? I have noticed one of these shoes is starting to make such a noise.
Best Answer
You want a full boot, not a shoe. In June, if it's not still covered in snow, it's going to be soup. Especially this year.

I've never heard the squeaky problem on mine, but maybe a little selectively applied WD-40 or Armor-all on the soles might help.
Agree with Phil, you are going to want a boot for your Denali hike. As for the squeak, I noticed it slightly with the right shoe. The good news is that it never got worse.
Stretch vs. Ventilator: I live in north...
Stretch vs. Ventilator: I live in north Florida and like to go trail and woods hiking. Occasionally I may come across some marshy, wet areas where my foot might sink down a bit. I almost bought the Stretch but cancelled the order b/c after reviewing the Ventilator I thought this would be a better shoe, particularly the Vent GTX.

My main question is this: Could I get by using just the regular Stretch for the conditions I described, or would it become completely wet and as a result wet my feet, or should I just go with the Vent GTX? Both look good. I also know there is the Stretch GTX, but would this be worth getting over the Vent GTX? I also plan on hiking a few miles at a time too, so which one has more comfort?

Any help would be greatly appreciated. Which one do you think would be better if you've worn both?
Best Answer
Derek, the regular Stretch shoes are going to soak up water like a sponge but they dry quickly. If you are going to be in damp and marshy areas I would recommend sticking with the Gore-Tex models. If you decide to go with the Stretch Gore-Tex they feel a little different but the main difference is the lacing system.
Hey Derek,

I'll go with Mike on this one. I've owned several pairs of Chameleons, both GTX and regular. For walking through wet and muddy areas like grasslands and/or very shallow puddles, the GTX is the way to go. For what you describe though, for your own purposes, define "sink down a bit". With either of these hiking shoes, anything deeper than just below your ankle bone is going to leave your feet wet, regardless of your shoe being waterproof or not. Maybe something in a Gore-Tex that's a little taller might be the way to go. Just a thought that I hope helped add to the conversation.
I am looking for a comfy pair of shoes to...
I am looking for a comfy pair of shoes to go to Disney World in August. These look good, but wanted to know how well they breathe. Also, I typically wear Vasque but wanted to try out Merrell. How do the sizes compare?
very comfy shoe, fits well and works well in all areas. very breathable as well seeing as how it has gore-tex, it also helps in sweat control, also wont start to stink if the inside gets wet, at least it has not for me in the months I've used them in rain or muddy weather.
Are these shoes good for carrying heavy...
Are these shoes good for carrying heavy loads over long distances? I am looking for a pair of hiking shoes to pair with my merrell chameleon II's I am looking at going on a full AT hike and i plan on switching between the boots and a pair of hiking shoes.
Best Answer
I wouldn't recommend super heavy loads with these shoes. Theres just not enough ankle support for huge loads. Great shoes for lighter overnight loads though. Stick with backpacking boots for longer treks!
I used merrells on one of my AT thru-hikes and they worked great. I got about 1,000 out of one pair but usually I get around 700 miles out of a pair. I don't carry a heavy pack, 28 pounds is max, but usually around 22 pounds. The soles held up great and had good traction but the uppers would strat to rot out on the trail when I couldn't dry them out for long periods of time. Very comfortable...!
I prefer shoes over boots to save on weight. These shoes are great. Good to go right out of the box. Lightweight and waterproof, what more can you ask for. I was worried the Goretex would keep my feet hot and sweaty, but i've hiked in 90 degree heat and haven't noticed anything out of the ordinary. The soles are very good for hiking. Have used them on dry rocks without a problem, but would exercise a little more caution on wet rocks. Just from hiking alone, i've put on approx 90 miles on these shoes and they are not showing any sign of wear on the bottom yet.

One thing about Merrell's- they are very shaped on the bottom of your foot. Make sure you get the correct size, these are not shoes where you can get away with a half size up or down because of the shaping of the arches and toes. I find these run pretty true to size and I have what I would consider "average" shaped feet, but I've noticed that when I try on Merrell's in different sizes, they feel awful. Get the right size however, and you will be very happy.
To me they just don't seem too breathable - i wear them with smartwool socks all the time and they still make my feet kinda hot and sweaty. Maybe its just me. Aside from that they're great - waterproof, comfy fit, nice soles...
The Merrell hiking shoes look great and feels comfortable when hiking up hill but coming downhill is a totally different story. I have room but not too much room in the shoe. Foot slips forwards and were bruised from 2 seperate hikes. Used thicker socks on the second hike and still had the same problem. Not sure what is going on?
Love these hikers - durable, comfy, and look great
I've had these for almost a year. These are my main shoes for summer/fall hikes.

The shoes are good to go right out of the box. I used them for a 10 hr hike without any breaking in, and my feet were not complaining at the end of the day. I have even used them for hikes up to 12 hrs long, with my feet feeling only slightly damp (which is normal).

They are made of GTX so no water gets in where it is not supposed to. The vibram soles are also fantastic with grippy rubber and moderately deep lugs.

I loved these shoes so much that I got them in the mid cut for winter pursuits.

I have tried many other Merrell's (ie - all the Moab models, Chameleon 2, and their boots), and these are the most comfortable even with my slightly flat feet - no blisters or aching.

If you are looking to use these shoes for day/weekend hikes, these will be perfect.
breathable and comfy and vibram soles. what more do ya need to know? girlfriend had a pair and they are in near new shape after plenty of use.
As before, Backcountry delivered.... the shoes are exactly what they claim to be, I wore them for 2 weeks on our trip to Argentinia and I didn't even break them in. Good shoes!
As awesome as a cold beer on a hot day
These shoes are amazing. Comfortable, waterproof and look good. So far I have used them for general wear and hunting and in both instances they rock