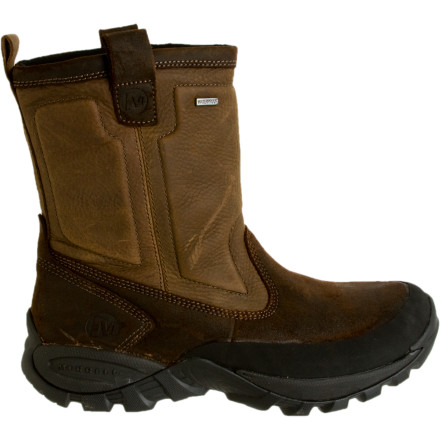 Detail Images

Community Images
Pull on the Merrell Bergenz Waterproof Boot on your way out to walk the dog first thing in the morning. If there is a chance that the dog gets all confused because of the cold and pees on your foot, then the waterproof membrane will provide a protective layer to keep your woolies warm.
200 grams of PrimaLoft insulation is rated to keep you warm down to -40F (-40C)
Fleece lining with Aegis antimicrobial treatment keeps everyone else happy when you take your boots off
Ortholite insulating foot-bed maintains arch support and pulls moisture away from your foot for all- day comfort and warmth
TPU waterproof shell and waterproof breathable membrane keep your foot dry
Merrell Air Cushion in the heel for stability when hiking all day long
Feet never get cold. Take a little time to break in. Would buy again.
Saved me this winter
Gender:

Male

Familiarity:

I've put it through the wringer
During one of the colder and snowier winters in downtown Salt Lake, I decided my 5 year old skate shoes weren't going to cut it. These boots are awesome in the snow, fully waterproof and VERY warm. Couple nights down into the single digits and these worked perfectly...sometimes even a little too warm for me. Being able to just pull them on is great too, but if you're not careful in deeper snow you could get some down in there. Fits true to size, all in all a good buy.
I love my Merrells
Gender:

Male

Familiarity:

I've used it several times
I love my Merrell Bergenz, they keep my feet warm with regular type socks. They are a little tight the first few times you put them on but the fit is very comfortable. The only complaint I have is UPS delivery is not reliable, 2 day shipping became 6 day shipping.
Arctic Test: Final Result
Just returned from 30 days 150 miles North of Arctic Circle around Ivalo, Finland. My Bergenz were more than adequate for the conditions. Temps ranged from -10 to +30 F. I was usually on packed snow or polished ice with occasional walks in deep snow. My other cold weather gear was high quality. I wore the boots every day for at least 12 hours in mostly snow and ice, with 75% of my time in the elements. They fit better then ever and look almost new. These boots were my "driving shoes" in a variety of sports cars, and their compact dimensions were great!The boots do "form fit" to the wearer in about 5 days of wear and become easy to put on and take off. The sole material is pretty good on ice with tiny sipes to aid grip. I spent a lot of time on frozen lakes highly polished by vehicular traffic. The boots also look nice enough to wear with casual clothes and jeans for social occasions. Now the bad news: In my opinion and experience these boots will not be adequate at temps down to -40 (C or F). At -10 F my toes started getting cold after a few hours in the elements. When daytime temps stayed above +25, my feet actually got a little too warm. Sock selection for conditions is key. Assuming a better sock combination might help, these boots maybe good down to -25. I was fortunate that the March temps in the Finnish arctic were relatively mild this year. I anticipate returning to Finland in 2013. I will take these boots with me... but I will also take my Sorels for those days of temps below -20F. I do think these boots will last a very long time, and at the current sell price ($112.46), a true bargain!
I bought a pair of the Bergenz boots to replace my Sorel (pre China Canadian made) Caribous. The fit is great. I can wear them anywhere I don't need a tuxedo and the breathe well enough I can wear them without my feet geet hot in normal fall type conditions.
Every year I spend a month or so 150 miles North of the Arctic Circle in Ivalo, Finland. I teach winter and ice driving on frozen lakes in very fast sports cars when I am there. The Sorels were warm enougth but not very good as driving shoes. I used them for 3 seasons. They are still quite functional. My 12 hour teaching days are about 70% outside the car and 30% driving in a sports car. ALWAYS in snow and ice with temps from -40 F to +30 F. This year I will be there the month of March, with temps ranging from 0 F to 30 F. Not as cold as Jan and Feb as I have experienced in previous years, but a realistic test. I plan to wear the Begenz every day for 30 days... I bought them for the -40 temp spec and their small size compared to my old Sorels...I will post the results of my experience in about a month... sooner if the boots fail me.
True to size - a bit tight, but I expect them to loosen with wear. They're very well-made and warm. I look forward to wearing them for a lot of winters.
I take a UK 8,do i need alarger size in...
I take a UK 8,do i need alarger size in Merrell BergenzWrite your question here...
What is it like to snowshoe withthis...
What is it like to snowshoe withthis boot?
Probably not the best idea since it doesnt lace up and you cant tighten it down
Great Winter Waterproff Boot
Good looking but functional. Looks like a boot instead of looking like Yukon Jack.

Agree that they are a bit hard to out on at first but gets easier with time and you don't want a fit that is too loose. Easiest sitting down and pulling from the side straps. Don't pull from the back strap or you'll rip it out. That strap is just made for carrying the boots.
Nice looking, loose on top half
I bought these planning to use them for doggie duties and short winter walks. However, the styling is so nice, they can easily be worn when dining out up in ski country.

Reasonably warm during a 30min walk in about 25-30 degree weather. Probably good in lower temp's, just haven't seen lower than 25 yet.

They're a bit of work to pull on (no elastic, no zipper), but still much faster than laces. I think they'll get easier to put on with time. Its easier to put them on if you are seated.

The one complaint is that the top half has so much extra space (if I pull the boots forward, my shins have almost 2" of space in front), so the top half flops around a little. My wife insists this is common with winter boots, but I prefer my boots to fit a little more snug. The fit over the foot portion is great, and they have moderate arch support.

I wear 10.5 shoes, and I ordered these in 10.5. Overall, these meet my needs so they're keepers.

Hope this review helps!
i have a pair of merrell encore storm slip...
i have a pair of merrell encore storm slip ons that are great. is the sizing for the Bergenz boot the same as the slip ons?
I have both pairs my self, and I would say they have a similar fit. Although the storm has a sherling lining that causes a tighter fit at-first. I like this Merrell.
Write your question here...What is the...
Write your question here...What is the sizing like for this boot? Run large, small? I wear an 11 to 11.5 in street shoes.
I think the length should be the same as your street shoe. If you have a high instep (top of foot) you may want to go with the 11.5.
Bit hard to put on when you first get them, but they are great after a few wears. Nice and warm in cold weather... and waterproof. Broke through pond ice and still stayed dry.
Unanswered Question
is there a place in Edmonton Alberta that...
is there a place in Edmonton Alberta that sells them and how wide of a withe do they come in
If you want to be warm, comfortable and look good buy this boot. Most winter boots make you look like a wanna-be Arctic explorer. This one is actually really good looking, nice leather, looks good with Jeans.