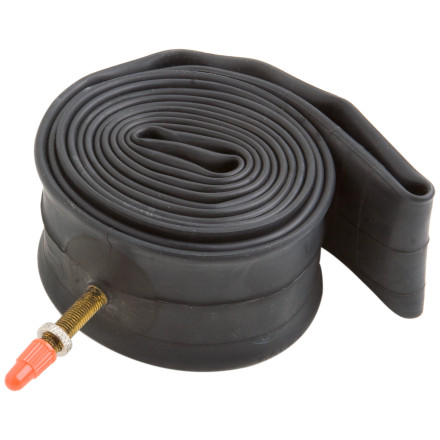 Built for downhill racers, freeriders, and dirt jumpers, the Maxxis Welter Weight Mountain Bike Tube provides the durability you need for ripping without feeling like you have iron in your tires. Basically, you can still fling the bike around like it's made of feathers, but you won't be changing pinch flatted tubes every time you overshoot a landing.
These are the tubes I buy for my mountain bike regularly. No problems at all. :)
Got this for my husband, he's had to replace 2 tubes, he hits a lot of thorns when he rides. He's patched one up pretty well and it's still going strong.
Nice Tube
Gender:

Male

Familiarity:

I've used it several times
Great tube, not a wimpy super light xc tube, but not excessively beefy. Get some!
I have run this tube in my rear tire for about 6 months without incident. How durable is it? Let's just say that I am a 240lb guy who likes to jump curbs, logs, and the occasional roadkill. No incident to date.
Durable tube at an affordable price
These tubes have taken a beating thru the rocks and then some. Glad I went with them!
I have put about 400 miles on these tubes and i couldn't be happier. i ride 5 days a week 20miles a day to get to work and they have held up with my commute and the occasional ride to the bar. If I had to choose a tube that isn't that heavy and will hold up to abuse and for the price that you can get them at I would have to go with these tubes every time.
good strong light weight tube and for the price its awesome
, ☃bcs_badge_alumni_label☃
Maxxis Welter Weight Tube
These are inexpensive and pretty reliable, however I have gone through a fair amount of them. I bought a dozen to have them. I think next time around I will pick up a slightly burlier tube for lift accessed riding...but for XC and All Mountain these do the trick.
A pretty basic tube that works as it's supposed to. I use them primarily around Salt Lake City for XC riding and they're solid.
if your not running tubeless, this is the tube to use if you like jumping and dh/freeriding.