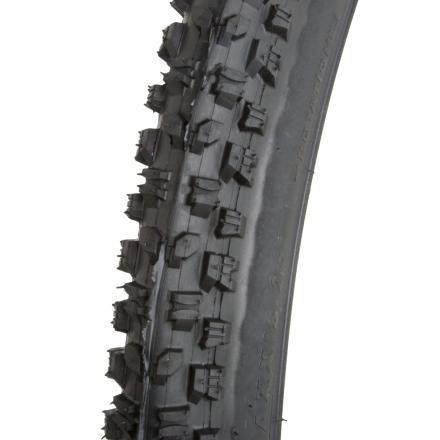 Detail Images
Maxxis started from scratch to design a tire fit to handle UCI World Cup racing, and in the end the Minion DHR Downhill Mountain Bike Tire was born. Tough-as-nails two-ply construction prevents blowouts when you're ripping rock gardens and railing berms at top speed. Maxxis used ramped tread to provide quick acceleration and stopping, so you can brake into a corner, rail it hard, and get back up to speed quickly.
Tire Durometers: Higher the number the harder the compound, softer durometers grip better, but wear out faster
60a: Better traction, higher rolling resistance
ST or 42a: (Super Tacky) Highest levels of grip, fastest wearing – For downhill racing, freeride
3C: (Triple Compound) hard center compound for low rolling resistance and long life, progressively softer compounds on the edges for higher grip when cornering
UST – Universal Standard for Tubeless – use in conjunction with UST rims
Unanswered Question
WHAT? No Minion DHF? WTF?
WHAT? No Minion DHF? WTF?
Consistent performance in a variety of conditions. Have tied a few different tires, but keep coming back to these.
After using lots of different tires my favorites have been these Minions, I keep going back to this tire cause of its "feel" it has a real nice rolling grip, good durability, and they are burly. I love the 3c version, they have three types of rubber for maximum grip but longer wear. Even after they get beat down, small nicks, and cuts, or abraded sections the tires hold strong.
Hey how do these guys work in looser stuff?...
Hey how do these guys work in looser stuff? Thanks Josh
Amazing. These tires will be great for you.
ridiculous grip, this will stop you dead no matter what. with a minion DHR/DHF setup i've got zero grip worries. there's ridiculous rolling resistance if you're pedaling around, so if youre a retard like me and take your DH bike on urban runs without swapping rims/tires you should prbly look elsewhere. or just man up and think of it as a form of resistance training.
Great Tire for the rear. I have the Wire Bead 26x2.5 3C, run them tubeless with a little Stans on Mavic 823, no problems. Little slower than the DHF but has better braking bite.
I ride in the northeast. We have everything from dry,hard and rocky to muddy,slick and rooty. These tires handle it all. Im 250lb+ and never had an issue with pinch flats. They are strong and durable. My brother ordered a pair for his bike.
These bad boys will suck up any soft dirt and keep you gripped to the trail. They do great in wet conditions and perform well in everyday conditions.