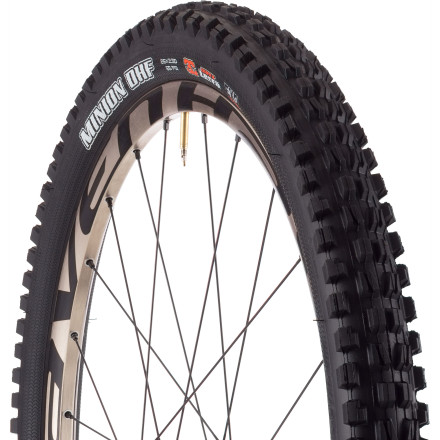 Detail Images

Community Images
While the 26in Minion DHF 3C EXO Tire offers excellent downhill performance, Maxxis's design is built to handle all kinds of aggressive trail riding. The Minion DHF is made with a versatile 3C Maxx Terra rubber compound and incorporates ramped knobs for low rolling resistance and channel-cut knobs for precise cornering. Maxxis also uses a light 60TPI casing that is reinforced with EXO sidewall protection to resist abrasion and prevent flats. The Minion DHF 26-inch tire is a folding clincher and is available in a 2.5-inch width.
3C Maxx Terra rubber compound
Ramped knobs for low rolling resistance
Channel-cut knobs for precise cornering
60TPI casing
EXO sidewall protection
I needed new tires for my cross-country bike and got the Maxxis Minion DHFs because most of the riding here in the Wasatch involves at least some steep and fast, plus the customer reviews were super positive.



I've used them for three weeks or so all over the Wasatch -- DV, Canyons, the Crest, Bobsled, Corner Canyon -- and just got back from Gooseberry Mesa. I'm no expert mountain biker -- I thought SRAM was pronounced "ess-ram" -- so take my feedback for what it's worth.



The Minion DHFs are burly as all hell.



The only "con" is the weight. Perhaps the price on full retail, but good isht has never come cheap, and everybody knows Maxxis makes hella good tires.



The "pros": The weight is off-set by the confidence I have that these will be super durable. The Minions feel ultra-solid in hand and look the same, which makes me think that the tire construction will not fail no matter how hard I ride; the multi-hundred foot drops you ride a few feet from on parts of the Gooseberry South Rim trail tested that theory. Personally, having a lot of confidence in my mtb tires translates into a funner ride.



The tread is huge! Almost comical when I first got the tires. Reminds me of Kawasaki dirtbike tires. But on any trail with loose ground the tread cuts right through and bites into the firm stuff underneath; no momentum-killing rear wheel spin on steep, gravely switchbacks. The rubber is incredibly grippy on slickrock, too. And eventually, when the tread is half worn. they'll be like a new pair of ordinary tires.



Pic is from the Gooseberry Mesa North Rim trail
Back tire was what i was really worried would not clear, but would ya look at that! It clears, looking forward to getting many rides on these tires. I'll post an update once i get a few rides on them. These have gotten many reviews so i'm sure i'll be adding to the positive vibes this tire has.
These fit on my BMC but just barely. I previously had the Rocket Ron from Schwalbe and they were 2.25's i was concerned these would not fit on the rim but they got on there. These are 2.5's and i can't wait to rip around on them! The Mountains are calling and i must go! After a few rides the tire ride really soft which i liked a ton. Even when bombing down a dirt road the using this a back tire even though it's a DHF was totally fine. The feel and response was good and would recommend this product.

Grip it n Rip it
Familiarity:

I've used it several times
I purchased these tires for my boyfriend who almost always rides cross country. He was fed up with loosing traction on the downhill, and didn't much care about the uphill becoming a bit more difficult with the larger DH treads. Suffice to say, he loves the tires! Work perfect on his circa 2010 Trek Fuel Ex 8.
Only Tires I'll Use
Familiarity:

I've put it through the wringer
I have the 3C EXO 26x2.5 up front, and the 3C EXO TR 26x2.3 out back. These thing go around turns like they're on rails, and they last far longer than the Specialized tires I used to run.
Is this the downhill (2 ply) version of...
Is this the downhill (2 ply) version of the tire?


This is the folding lighter weight version not the heavy wall DH version
On the front
Familiarity:

I've used it several times
Pair this with the Maxxis High Roller on the rear and let the Minion lead the way. This has improved my turning at high speed and control in the lose dirt.
My Front AM Tire of Choice
Familiarity:

I've put it through the wringer
New England or Utah so far haven't found any terrain this tire won't grip going up or down. Why bother trying something else when this works!
Classic.
Familiarity:

I've put it through the wringer
Holy Shit balls.. These things are getting so expensive. They are my favorite tire for my DH bikes. Front and Rear. I have seen many different tires being tried by many of my buddies because these things can break the bank when getting fresh rubber for your ride.
DHF = Down Hill FAST
Familiarity:

I've put it through the wringer
Here it is: the king of tread. Often imitated, the Minion DHF works equally well on the front or rear wheel, and offers trustworthy traction, especially in the terrain of the mountain west. Loose over hard, soft and dusty, this is your tire. Look in the lift line next time you are at the resort...Minions are everywhere, and for good reason.