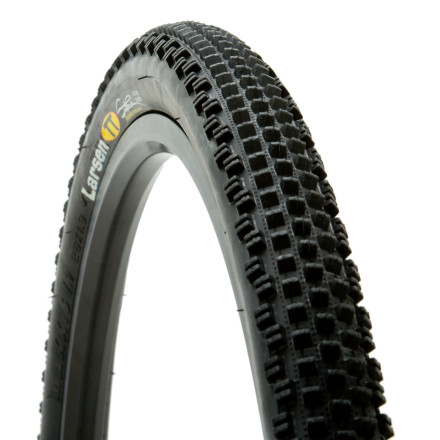 Detail Images
The Maxxis Larsen TT is a proven XC winner and a favorite of pro dual slalom racers. Its closely-spaced, small-block tread pattern hooks up in hard conditions thanks to a consistent contact patch, while the ramped profile on the knobs makes for fast rolling through the straights. A wide range of sizes and durometers mean the Larsen TT can hang on both coasts, and the eXCeption version features an ultralight 120 tpi case for race day.
Tire Durometers: Higher the number the harder the compound, softer durometers grip better, but wear out faster

70a: Hardest compound for maximum tire life, lowest rolling resistance

62a: Medium compound for improved traction, low rolling resistance, will wear out faster than 70a

60a: Better traction, higher rolling resistance

3C: (Triple Compound) hard center compound for low rolling resistance and long life, progressively softer compounds on the edges for higher grip when cornering

Exc: (eXCeption Series) Combination of 62a compound and a 120 TPI (threads per inch) casing, 120tpi offers lower rolling resistance, higher flexibility(better handling) and lighter weight – recommended for racing.

UST – Universal Standard for Tubeless – use in conjunction with UST rims

Rollin, Rollin, Rollin....
...get those wheels a rollin! I ride on dry hardpack to loose dirt conditions, and that's what these tires are made for! The grip is great on the switchbacks and I am able to keep my speed effortlessly on the XC sections thanks to the low rolling resistance(I got the 70a). The sidewalls feel a little thin, but haven't had any issues. Not made for mud, but kick a$$ in dry conditions!
I ordered the 2.00" LUST version, and when mounted/inflated, it was closer to a 1.85". Decent height, but pretty narrow.
Rocks, Hardpack tire...not a mudder
Great low rolling resistence, great side lugs, light weight as both a UST & tube tire and my old set has lasted for all 2 years of a drought here in Texas. Great tire if you're running it in dry conditions. Loved it in the limestone ledges and scree and loose dirt. For the clay + limestone in my area this is NOT a mud tire. It packs up pretty quickly. So it's not a wet season tire by far.
Are the 62a UST tires the ones with the...
Are the 62a UST tires the ones with the LUST sidewalls?
Fantastic All Mountain Tire
I love these tires! They have great uphill traction, sticky on slick rock, and great roll on pavement.
these tires are good for just about everything, and awesome on hardpack and the street, but in mud they are useless, my main complaint is that the sidewalls rip like paper. if your staying away from nasty jaged rocks and mud, buy these
whats the 60a and 70a mean and the exc
whats the 60a and 70a mean and the exc
It is the durometer, the lower the number the tackier the rubber compound. Although the down side of tackier rubber is that it wears quicker on the road and slickrock. My advice is go with the exc, 60a, or 62a. Exc is a maxxis race compound.