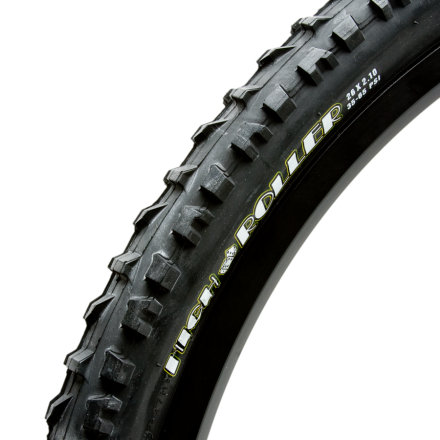 Detail Images
The High Roller excels in every discipline in nearly every condition. Just find the size and rubber that meets your needs, pry it on, and ride. The center tread has both rectangular bars for tractor driving and grooved, triangulated lugs for a piercing bite. The side knobs are tall and straight and hold the line where you find it.
The UST has 70a rubber and 120 TPI casing and a folding bead.
Tubeless 101: The Why and the How Explained.
Tire Durometers: Higher the number the harder the compound, softer durometers grip better, but wear out faster

70a: Hardest compound for maximum tire life, lowest rolling resistance

62a: Medium compound for improved traction, low rolling resistance, will wear out faster than 70a

60a: Better traction, higher rolling resistance

ST or 42a: (Super Tacky) Highest levels of grip, fastest wearing – For downhill racing, freeride

3C: (Triple Compound) hard center compound for low rolling resistance and long life, progressively softer compounds on the edges for higher grip when cornering

Exc: (eXCeption Series) Combination of 62a compound and a 120 TPI (threads per inch) casing, 120tpi offers lower rolling resistance, higher flexibility(better handling) and lighter weight – recommended for racing.

Go for it
Familiarity:

I've used it several times
I was finally talked into putting this on my rear. I don't know what took so long. The grip railing are well beyond any other tire I've used. I have used these in Utah (mtns and desert) and they are the bees knees.
My favorite
Familiarity:

I've put it through the wringer
I have used this tire in various widths on all my mountain bikes. It provides excellent traction and a very predictable feel.



These are the 70a which means they are made of a very hard compound. That makes them great for desert riding or cheapskates.
Amazing grip!
Gender:

Male

Familiarity:

I've put it through the wringer
These tires rail through the corners. They are a heavier than a lot of tires, but its worth the penalty. Rear tire always feels glued. They roll reasonably fast too. Great trail tire.
Run this on the rear.
Gender:

Male

Familiarity:

I've put it through the wringer
I have run Maxxis High Rollers on my rear tires for years. These work great in dry conditions here in UT and I run this UST on a Mavic Crossmax SX on my Nomad c. These tires work excellent both climbing and have excellent grip when cornering.
I am running a 2.35 LUST. Not too heavy but still tough enough to get the job done. Corners like it is on rails and not to heavy to pedal up. I think this is a great trail tire for any condidtions.
Good for what it does, but be careful...
While it does give exceptionally small rolling resistance, which is killer for those hardcore climbers out there, be sure to get the correct width to match the type of biking being done. I got a 26x2.1 width tire for 50/50 XC/AM riding and while it climbed superbly and descended well in grippy terrain, the loose stuff (very loose rock or sand) going downhill tended to shake the High Roller at that width. I'm sure that a wider version of this tire would give a better feel on the looser DH conditions though.
I have put a seasons worth of riding on the 2.35 60a, and am surprised how well they have lasted. The 60a I have run for DH wore out fast. These saw minimal pavement virtually all trail riding. They grip to roll ratio is good. I would buy these again.
The Maxxis High Roller Mountain Bike Tire is a great tire. As has been said here already, runs great on the front or back. Excellent downhill tire as well. This has low rolling resistance and climbs surprisingly well. Also, a varying degrees of durometer allow this tire to fit the needs of just about anyone.
If you want to roll fast on your heavy DH rig this is the ticket. The side knobs are awesome and will hold on any off camber corner. The range of sizes kicks butt, as well as the Durometer (Rubber Compound). I run 2.5 3C front and back for almost all DH applications. 2.35 is great for all mountain bikes. I have a bunch of friends that aren't quite over the Maxxis Minion in the front so they just have this as a rear tire.
These work awesome as a front or rear tire. The other great thing is that not only do they have different widths, but different rubber densities for tweakability. I'm running a 2.35 up front and a 2.1 in the rear with a slightly harder compound. 2.1 sheds mud really well but mind you it is a SMALL 2.1 if not a 1.9-2.0. Still if you're riding a soft-tail, just run a high pressure and the pinching won't be an issue. I haven't yet found a condition that doesn't suit these. I can climb out of saddle on slick hardpack and she still hooks up. A heavier tire that's worth every penny!