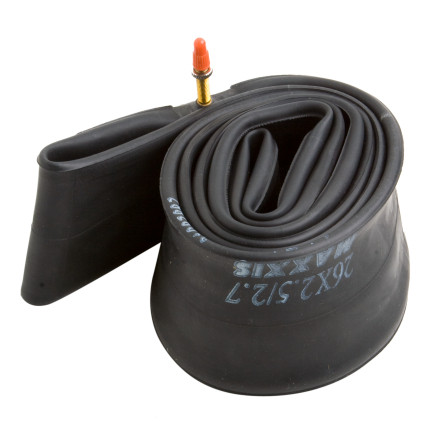 The Maxxis Downhill Mountain Bike Tube provides the durability you need to keep your mind from reeling about the possibility of a pinch flat on your race run. Tough, thick rubber withstand more abuse than any other tube in the Maxxis lineup, so if you flat with these, maybe you need a different line in the rock garden.
Unanswered Question
how long is the valve stem length of cutter...
how long is the valve stem length of cutter x wide heavy duty mtb tube
Thick and Strong tubes.
Weight is worth it and shouldn't matter if you're riding DH.
Loses one star only because of the price. 16 bones is a bit steep for any tube.
Not a ton to say here, holds air, is heavy, does not flat etc. Great tube but be prepared for the weight penalty.... Who cares, your riding DH!!!!!
I have run these tubes in my DH bike for 4 years now, not once getting a flat. Just bought some more for my DJ bike due to being sick of getting flats with crappy normal tubes, the extra weight is soo worth the durability of these tubes. Bottom line, if your hard on your bike and ride any drops or off trail, these will make it worth the while and time saved in tube changing.
The extra weight won't bother you when your stomping everything, without a pinch flat in sight. If your serious about your DH rig then run a set of these tubes, you won't regret it.
If you prefer to run tubes in your DH tires, these are the ticket! P.S. do not even slightly "preinflate" these if you are running them in 2.5" tires, it makes it very hard to seat the bead . If you leave them as is straight out of the package & then work them into the tire, seat both the beads, then it makes life good.

P.S. They are HEAVY! But isn't that the point?