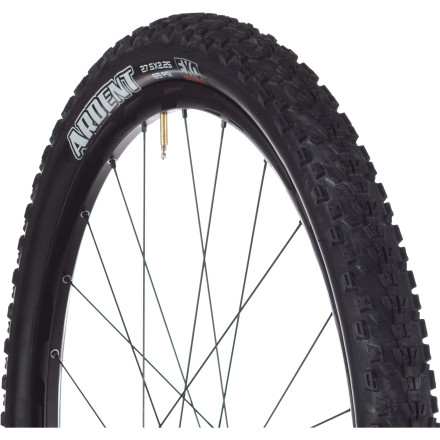 Detail Images
With large blocks, an aggressive tread pattern, and a 2.25-inch width, the Maxxis Ardent EXO 27.5in Tire ranks high on the list of perfect trail tires.
However, Maxxis knows that traction is only part of the trail equation. So, to prevent energy loss, the center tread features ramped knobs. And while these are ideal for acceleration, they also assists with braking traction. At the side of the Ardent EXO, large block-style side knobs result in numerous edges for confidence through high-speed cornering.
This Ardent uses a 60 TPI casing with EXO protection. This consists of added pinch flat and abrasion protection at the sidewall for an enhanced resistance to cuts. It also features LUST, or Lightweight Ultimate Sidewall Technology, which is a rubber compound covering the casing. So, the tire becomes less permeable, meaning that it retains its air for long periods of time.
The Maxxis Ardent EXO 27.5in Tire is available in the color Black and with a 2.25-inch width.

Is this tire tubeless ready?
Is this tire tubeless ready?
These tires (specifically the folding bead) are not sold as tubeless ready. However, there is a good chance they may work depending on your rim. I personally am going on my second season running these tubeless with no problems. Last season on Stan's Flow EX rims and this season on Enve AM rims.



Again they are not made specifically to be tubeless (UST) or tubeless ready so results and safety are not guaranteed! If you are unsure then do some more research online, at local shops, and with fellow riders to see if you are comfortable giving it a shot.
As the reviews below state, this is the ideal rear tire for a low resistance rolling tire on smooth trails or slickrock. The Exo sidewall helps durability without adding a bunch of excess weight when you pedal.
Great Back Tire
Familiarity:

I've put it through the wringer
The tread on this tire has a very low rolling resistance which makes it ideal for a back tire. I like running the smaller 2.25 in the back with a larger and more knobby tire in the front. They are the only tires I would run in Utah and Colorado where the trails can get pretty rocky. I have never had any sidewall issues with any Maaxxis tires. They are also very light which is nice for acceleration when you need to boost past your friends to show off a little bit. They are a very predictable tire. A Highroller 2.4 or a Minion DHF 2.5 in the front and you have great grip and cornering ability on the trails.
Excellent tire
Familiarity:

I've put it through the wringer
This is a rear tire on my bike, mated to a High Roller II front. The ardent is a great tire, with a fast rolling tread that I have found to work just right in all conditions. Great center knobs, not too many intermediate knobs) and the right height side knobs for a rear tire make it predictable in corners, confidence inspiring on the descents, and reliable climbing. I will be running this tire again next year, and hope they release the 2.4 in 27.5 so I can try that out, as well.
Best rear 27.5 for me
Familiarity:

I've put it through the wringer
For the AM riding I do here in Utah this Ardent is definitely the best 27.5 option for a rear tire. Nice and fast, great climbing traction, decent cornering traction but it doesn't out-stick most typical front tire choices which is good. I have slashed one already and needed to replace it, but some things no tire can avoid so I didn't blame the tire and ordered another brand new Ardent to replace it. You could definitely rock it in the front to for non-aggressive XC riding and it'd be nice and fast.