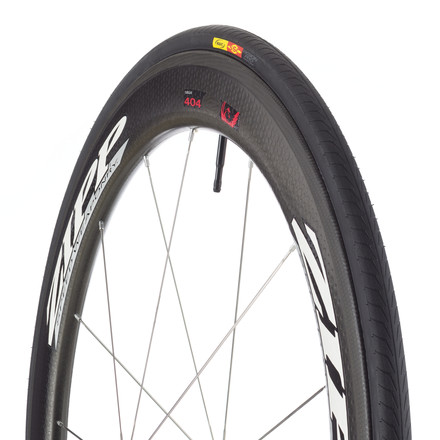 Colors
Description
Grippy traction for the front.
Strategically designed for the traction and cornering needs of a front tire, the Mavic Yksion Pro GripLink Clincher Tire offers ultra-grippy performance in all conditions, as well as increased protection against flats. The GripLink compound sticks tenaciously through corners with its softer shoulder compound, also moving water away from the center channel for superior grip in inclement weather. Boosting longevity, the tire's 127 TPI casing and hard center strip enhance wear life. Plus, there's a Kevlar strip embedded under the tread for extra protection against punctures. Note that Mavic makes a rear-specific Yksion Pro PowerLink tire for complementary performance.
Front-specific clincher tire
GripLink: softer shoulder compound, harder center strip
Kevlar anti-puncture breaker under tread
127 TPI casing
Front is good, back is not.
Familiarity:

I've put it through the wringer
I have a more complete review under the powerlink tire, which wore out after about 1,500 miles. The front tire was actually still in good shape after 1,800 miles and were pretty nice in terms of ride quality, but the back tire just didn't last, so I had to toss it with life left on the front tire. Since I generally replace tires in pairs, it kinda cut short the front tire's life too. Kinda disappointing.
This is a very good tire choice
Gender:

Male

Familiarity:

I've put it through the wringer
I always wonder when I see dramatically different reviews on a product how they might have been used under different conditions or is the product that inconsistent. My experience with Mavic is that they are very consistent in their products. I have owned several sets of their wheels and found them bulletproof. I have owned two sets of these tires and had really good results. The first set yielded about 3500 miles and the set I just took off had 3900 miles on them. Never had a flat on either set. They are as lightweight as any you will find in this price range, ride is very good, handling is superb, and they last. I'll be the first to admit that the roads I bike are better than average and I'll also throw in that I check pressures before EVERY ride-105 psi in front and 110 psi in rear. I use Continental race tubes and run them on Mavic Ksyrium Elite S wheelset on my Cervelo R3.
Had these tires on my road bike and in under 400 miles of fair weather ridding on smooth pavement, the tread separated from the bead on both sides on both tires. I wouldn't trust these tires again and do not recommend them as they appear to be of very low quality.
Grippy for road slicks
Gender:

Male

Familiarity:

I've put it through the wringer
This is the front tire (Griplink) and I found the high TPI count is to design and not like some cheaper tires that say 180 TPI but is really three layers of harder 60 TPI rubber.

These are tires that feel great from the start, great cornering, very grippy, and eventually lose the special feeling once they begin to wear. I rode mine through winter into spring and 7 days through Utah's national parks and scenic byways with great satisfaction. They are supple and absorb small bumps and rocks really well compared to stiffer tires. Totally satisfied... would by them again if and when they go on sale and if I need grippy and supple tires for cornering performance and for racing. Also, the treads should arrow forward and not backwards when installing the tires.