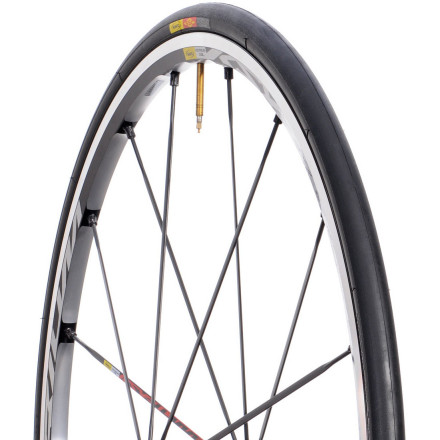 Mavic's Yksion PowerLink Tire is designed for the rear of the bike and is a perfect complement to it front specific counterpart, the GripLink. Why put two different tires on the bike you may ask? That's because the front and rear tires perform their own role on the bike. The rear tire carries a greater percentage of the load of bike and rider than the front. Mavic created their tire sets to optimize performance and increase durability.
Mavic engineers gave the PowerLink a dual density rubber compound for the express purpose of reducing the rolling resistance and increasing energy transfer while maintaining superior cornering traction. The center strip of the tread uses harder 70a rubber. This gives the Yksion the hard wearing and fast rolling characteristics that Mavic intended. However, since safety and great performance depends on a good cornering grip, the rubber on the shoulders is a softer, far grippier 60a durometer.
The 127tpi casing is tough enough to fend off sidewall cuts and damage to the tire on coarse roads. To further maximize the puncture protection, Mavic layers a nylon breaker underneath the tread.
The Mavic Yksion PowerLink Tire is available in Black or White and is available in 700 x 23c only.