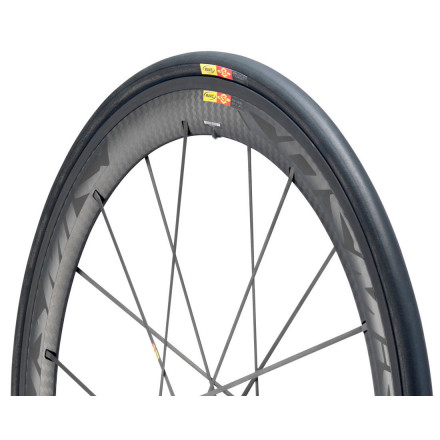 For years we've relied on the same tires for both ends of our bike when, in reality, the job requirements are different for the front as compared to the rear. This is the reason that Mavic's racing tires are built specifically for each end of the bike. This Yksion GripLink Tubular Tire has been created with a dual tread compound for the express purpose of keeping your front wheel glued to the tarmac when you lay your bike into a sweeping high speed corner.
The smooth black sidewall is more than just window dressing. The tread rubber is thickest, of course, in the center where it experiences the most wear and thins progressively towards the bead. The result is a sidewall that resists cuts on gravel strewn roads as well as looks great when paired with black carbon fiber rims. Inside the vulcanized casing rubber is a fabric that contains 25% Kevlar threads. This adds to the puncture protection along with a nylon breaker that Mavic includes underneath the tread. Even with these safeguards, the Yksion GripLink Tubular is a lightweight, race-ready tire.
And true to its name, it corners like crazy thanks to Mavic's dual compound design that places rubber with a 60a durometer in the high mileage center portion of the tread and a grippier 60a S+ high silica rubber on the shoulders. The 60a center is even softer than their PowerLink rear tire counterpart, but with the typical rear heavy weight bias on road bikes, the softer tread is more than durable enough to wear evenly with the rear tire while yielding far better grip through corners. The 290tpi casing is extremely supple and responsive. After all, what good would sticky rubber be to a brick-stiff tire. The Mavic Yksion GripLink Tubular Tire is Black and is designed for tubular rims. It's available in 700 x 23c only.
What do you think about this product?
Have questions about this product?
Decent Tires
Familiarity:

I've put it through the wringer
I had both the Griplink and Powerlink glued up on my wheels and at sale price ($90 a set) its a pretty solid deal, but I would rather go with some Vittorias. I probably did around 2000 miles with the Mavics and they did a decent job. I did flat both the Powerlink and the Griplink within the first 100 miles of usage (a staple and a small thorn) but Stan's sealed it up (the valve cores on these are easily removable which makes using sealant on the road rather simple) and I was able to continue using the tires (they even stayed properly inflated). After 2000 miles I finally had to toss both tires as they would no longer hold pressure because I had amassed countless other cuts and small holes on them. At that point they still probably had 500 miles of life in them. As for the ride and grip - decent, but nothing special, there are better tubulars out there but if you can pick these up for half price I would go for it.