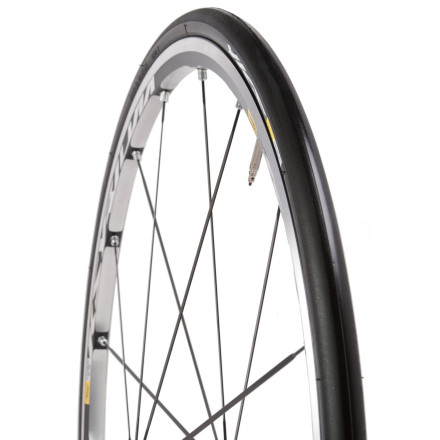 Mavic created their Yksion Griplink Tire to work specifically for the front of your bike. What distinguishes it as a front tire is the dual tread compound designed for supreme traction when you lay your bike into a sweeping high speed corner. In this regard, we think about the twitchy, sometimes downright manic stage finishes that Team Garmin/Cervelo riders negotiate as they set their sprint train in motion for Tyler Farrar, and we're often in awe. Those guys will be on Mavic tires and wheels this year, and we're certain that what's good for a Protour outfit is more than fine for us mere mortals.
The Yksion Griplink Tire is the perfect complement to Mavic's Exalith treated clincher rims as the black sidewalls match the color of the braking track for a stealthy appearance. And that the Mavic SSC logo is also identically matched to the wheel isn't lost on us either. The smooth black sidewall is more than just window dressing. The tread rubber is thickest, of course, in the center where it experiences the most wear, and thins progressively towards the bead. The result is a sidewall that resists cuts on gravel strewn roads as well as looks good. Mavic also includes a nylon breaker underneath the tread to add to the puncture protection. Even with these safeguards, the Yksion Griplink is a lightweight clincher tire.
And true to its name, it corners like crazy thanks to Mavic's dual compound design that places rubber with a 60a durometer in the high mileage center portion of the tread and a grippier 60a S+ high silica rubber on the shoulders. The 60a center is even softer than their Powerlink rear tire counterpart, but with the typical rear heavy weight bias on road bikes, the softer tread is more than durable enough to wear evenly with the rear tire while yielding far better grip through corners. The 127tpi casing is supple and responsive. After all, what good would sticky rubber be to a brick-stiff tire. The Mavic Yksion Griplink Tire is available in Black or White and is designed for clincher rims. It's available in 700 x 23c only.
Good Looking Rubber
Familiarity:

I've put it through the wringer
Put around 500 hard miles on these tires. They look good and roll well. Held up well against punctures although as the tread wears out they become more susceptible to them. Tires were durable and surpassed my expectation in regards to performance and ride feel. Definitely recommend.
Ride superbly, *not* puncture resistant
Familiarity:

I've put it through the wringer
I had these tires on the Mavic SSL wheelset I bought from my LBS (came as a package deal). They are lightweight! And they rode really well. Supple and smooth, fast acceleration, and did I mention light?



BUT in only a few hundred miles of riding, I suffered one puncture on the front (hit a small sharp rock that poinged out to the side as I rode over it) and three flats on the rear (one of them a quarter-inch tear/slash when I rode over a bit of broken glass).



I ride regularly in eastern Los Angeles and the Pasadena area. My past tires -- Vittorias, Panaracers, and Conti -- didn't puncture and tear as often. I think it's the thinness of the rubber. Lightweight but you sacrifice for it.



I've switched to Conti Grand Prixs.
Great but...
Familiarity:

I've used it several times
I have had a couple of issue with these tires. The first set of tires arrived and the tire has an irregular spin but Backcountry promptly sent me a replacement. I slapped on the "new" tire and got a flat within 4 miles of my first ride on them. My entry level Vittorias that I replaced lasted roughly 1000 miles and never once puntured. I know that these things can't be helped but really, after only 4 miles? I have now inspected the tire again and it has a giant slash across the the tire. I love the tire when it's fully inflated as their rolling resistance is amazing, but I just don't have confidence that these tires are going to last anywhere near 1000 miles.
Great
Gender:

Male

Familiarity:

I've put it through the wringer
True to claimed weight which i find rare with cycling components. Not "impossible" to put on as someone below claimed. and very grippy for a slick tire. All around I am impressed.

sure they aren't puncture resistant at all but you get the speed and sleekness and lightness
I've put a few thousand miles on these tires. No punctures, no flats of any sort. Grippy enough, never had the tires slip in the rain except perhaps 2-3times pedalling hard up steep switchback curves in the rain - could've been road debris fault, plus those are just bad conditions for any slick tire. First set lasted me about 2,000 miles and I saved the tires for future use as they were not totally burned out by any means (may use them in the future as trainer tires). Lightweight IMO, and the durability + traction were the strong points in my experience. I currently have 3 sets of wheels outfitted with these.
I've put half a season of road and criterium racing at a beginner level on these tires, and so far they've held up great. No complaints from me!
I've put a few hundred miles on this tire (with Powerlink on back) and consider it to be one of the best deals I've received from RC. Installed as easily as any other tire on Fulcrum 7 wheel, has proven to be reliable in standard training-type riding on streets and paved trails. I live where I seldom face wet streets so I can't comment on wet grip. I got a great deal on Real Cyclist; glad I did because it got me out of inferior tires that were squared off after a few hundred miles. On sale? Get 'em.
Almost impossible to put on. Was only possible with special tool. If I get a flat, I'll be stranded. No wonder they have them on sale at 50% off.
Has great road feel and is excellent for dry weather.