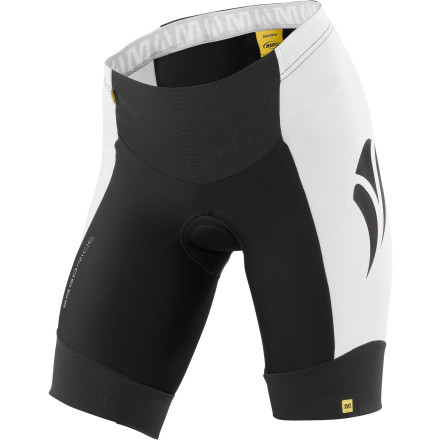 As a company that's known for its obsession with technological development, Mavic isn't shy about touting the superiority of the innovations that go into its products. The Ventoux Women's Shorts are no exception to either rule, incorporating the level of fabrics and construction expertise that you'd expect from anything bearing the iconic yellow-backed M logo. They'll quickly become your go-to shorts for hot weather.
The Ventoux Shorts use a blend of the Skin Wick ST and Skin Power Mesh materials. Skin Wick ST is used throughout Mavic's clothing line to provide lightweight wicking for comfort on hot rides. Skin Power Mesh is stretchy, resistant to abrasion, and provides just a touch of compression for added support. The Ergo Waist incorporates an elastic panel for a more comfortable fit in the front, and the Ergo Grip cuffs feature a wide panel of elastic mesh material with silicone elements to keep the shorts in place without the constrictive fit of a single elastic.
The shorts' Ergo 3D Ultimate Women's Insert has a wildly variable topography that graduates three densities of foam across six different thicknesses to keep pressure where you want it and alleviate it on sensitive spots. The surface is highly breathable, so it'll keep you dry and ventilated during hot summer rides, and it's shot through with carbon threads for antibacterial protection.
The Mavic Ventoux Women's Shorts are available in four sizes ranging from X-Small to Large in the color White/black.