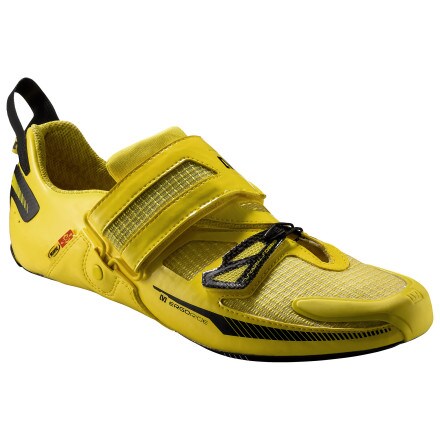 Detail Images
Description
Everything your feet need.
If you're looking for top-level triathlon shoes with every imaginable technological offering, the Mavic Tri Helium Shoes are the obvious choice. And lucky for you, Mavic understands that the winning recipe for triathlon shoes features a whole lot of comfort, sprinkled with an easy entry and exit, and a direct and efficient power transfer.
The Tri Helium uses Mavic's Energy carbon fiber SLR outsole. Not only does this design minimize weight, but with its rigid composition and low stack height, the carbon outsole experiences little energy loss during the transfer to the pedals. Additionally, Mavic mated the outsole with what it calls its Energy Frame Carbon SL Concept. Basically, you can think of this as an inlaid skeletal support over the longitude of the shoes' arch area. Not only does this carbon frame reduce the amount of material needed, but it also provides a greater level of lateral support, medial support, and foothold than traditional upper materials like leather or microfiber. And going even further into efficiency, Mavic also added its carbon fiber 3D heel counter. Now, the heel is secured above the calcaneous bone in order to eliminate heel slippage. Energy transmission is maximized throughout the shoe, but while using half of the weight than a traditionally injected heel counter.
Along the lines of comfort, you'll notice that the majority of the Tri Helium's uppers are comprised of a highly breathable mesh. This way, moisture is quickly evaporated after T1 and during your ride. You'll also find that Mavic incorporated its most sophisticated insole, the Ergo Fit SL. This insole features a three-layer construction that targets the dampening of ride vibration, moisture management, breathability, and antimicrobial protection.
For the entry and exit, Mavic understands that triathlon plays by another set of rules. Its hallmark ratcheting system and buckles aren't relevant to your discipline, so, Mavic incorporated its Ergo carbon SL strap, mated with a trimmable 'burrito-wrap' upper. What does this mean? Well, the Helium features an opening that runs over nearly the entire top of the shoe. The burrito analogy is drawn from its upper construction where one layer of the upper wraps over the other. This allows you to really dial in the volume of the shoe, whether it be for training or on-the-fly during a race. For your T1 transitions, the two-strap closure system is a breeze. The large top strap opens away from the drivetrain to allow a quick and seamless securing of the shoe. As for the bottom strap, you'll find that this is used less for transitions, and more left alone once you've established your desired volume and fit. However, the gripper tabs placement on the strap simplifies any adjustments that you might need to make from the saddle. To really speed up T1, Mavic has also included a durable pull-tab at the heel, and the burrito flap easily remains open from the point of setup to when you get out of the water.
The Mavic Tri Helium Shoes are available in the color Yellow Mavic and in whole and half sizes from 4.0 to 12.5.
Share your thoughts
What do you think of the
Mavic
Tri Helium Shoes
? Share a...
Posted on
I'm very interested in this shoe but the...
I'm very interested in this shoe but the vast majority of sizes have been out of stock for months. Specifically, US 11 or potentially 11.5. Will you have any of these or a bulk order coming in soon?
Responded on
Hey Kris,
Thanks for the question and sorry we didn't get back to you sooner! Those items are on back-order currently and we are waiting for the vendor to send us more of those sizes. Because we are waiting on them in back-order it makes giving an approximate arrival date very difficult.
Posted on
is the sizing in UK or US?
is the sizing in UK or US?
Responded on
Hey Elliot,
The sizes shown are U.S. sizes. If you click on the sizing chart you can see how the U.S. sizes translate to U.K. and E.U. sizes, if needed.
Posted on
Do you have them in stock?
Do you have them in stock?
Responded on
Yes these are in stock! Select the size you need from the drop down menu- the sizes you see displayed there are the sizes we have in stock. Once you add your item to your cart you will also be able to see how much inventory we have left in that specific size.
Responded on
That's exactly what I did on November 8th when I placed an order for these. What I didn't know until I placed my order is that they were on back-ordered. I keep waiting... so others should double check the wait time before placing an order