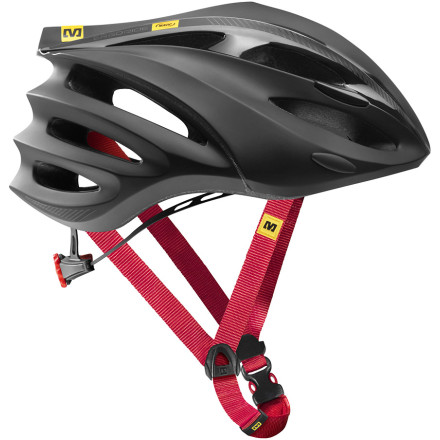 Unless you want to spend the afternoon picking up bits of your own skull from the side of road, wearing a good helmet isn't really an option. That said, spending $500 isn't necessarily an option, either. Enter the Mavic Syncro Helmet, a lightweight, safe, and highly vented helmet that will keep your head safe, cool, and comfortable without putting a serious hurt on your bank account.
Mavic designed the Syncro with the same Ergo Fit cranial mapping it used in the top-shelf Plasma SLR, so it fits most head shapes like a dream (this would be the perfect spot for an "all-cyclists-have-the-same-head-shape" phrenology joke). Mavic does, however, recognize that not all domes are created equal, so it endowed the Syncro with the Ergo Hold System, a dial adjustment that makes one-handed adjustments easy peasy.
Inside the Syncro, Mavic's Syncro Fit Pad wicks moisture away from your skin to keep your head cool and dry. Additionally, 22 vents keep the air flowing, and reflective highlights keep you visible when the sun starts sinking. Mavic also outfitted the Syncro with a removable, adjustable visor that comes with plugs so you can stay aero if you're choosing to ride visor-less.
Polystyrene foam
Ergo Hold fit adjustment system
Moisture-wicking Syncro Fit Pad
Adjustable and removable visor with plugs
Reflective details
22 vents