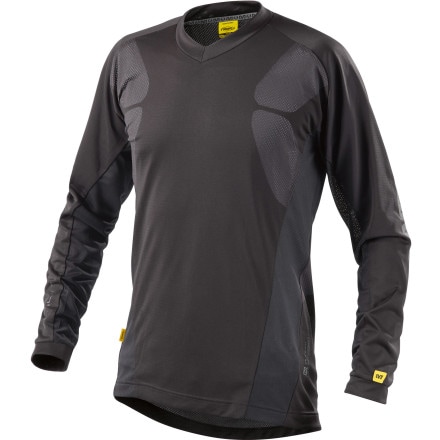 Description
Lightweight durability.
One might think that jerseys are all the same, but in reality, there are essential differences between one intended for road use and one intended for off-road use. The Mavic Stratos Long Sleeve Jersey is a prime example of the latter, due to its durability-enhancing scuff guards, a loose yet athletic fit, and technical fabric.
Mavic's Stratos Jersey is a semi-loose top that, when worn alone, won't be annoyingly flapping on fast descents. And if you size up, it can easily be layered over armor. Ensuring the aforementioned characteristics, it's been constructed from Mavic's Dura Lite SoftTech fabric. Basically, this is a polyester knit that provides protection from the sun, while maintaining excellent breathability. Another important feature, as previously mentioned, is the scuff guards at the elbows.
Mavic uses a lightweight bonded layer at the crash-prone elbow zone to increase the Stratos' abrasion-resistance. The jersey also possess Mavic's Hot Ride technology that boasts excellent breathability and moisture management, all with a UPF 30+ level of protection.
Mavic's Stratos Long Sleeve Jersey is available in five sizes from X-Small to X-Large and in the colors Black and Yellow Mavic.