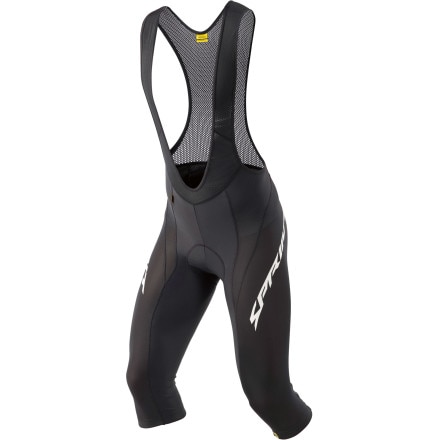 Description
Keep your knees warm from the wrath of cold winds
The Mavic Sprint line is designed for warm weather riding. That said, when your rides are going to head into the mountains, the extra coverage of Mavic's Sprint Knickers make the ideal coverage for chilly knees. And, if the sun comes out, Mavic's Wick Matrix ST fabric will keep you from overheating.
Wick Matrix ST is a lightweight polyester blend with excellent breathability. This keeps cool air moving over your body and pulls perspiration away from your skin so it can be quickly evaporated at the material's surface. Additionally, the fabric also has a UPF protection level of 30+. So, your skin will be protected from fabric-penetrating UV rays on long, exposed sections of road.
Mavic adds to the comfort of the Sprint Knickers with its Ergo 3D pad. Anatomically correct support is supplied by three different density layers and six different thicknesses. A moisture wicking, low density, and open cell foam pulls perspiration away from the skin, and it has an antimicrobial treatment to fight bacteria. This first layer is incredibly soft against the skin in order to prevent irritation.
At the top of the Sprint Knicker, Mavic uses a mesh bib to allow fresh air to circulate and for heat to escape. And at the bottom, leg grippers keep the knickers from riding up as you pedal.
The Mavic Sprint Knickers come in six sizes from XX-Small to X-Large and in the colors Black/black and Black/white.