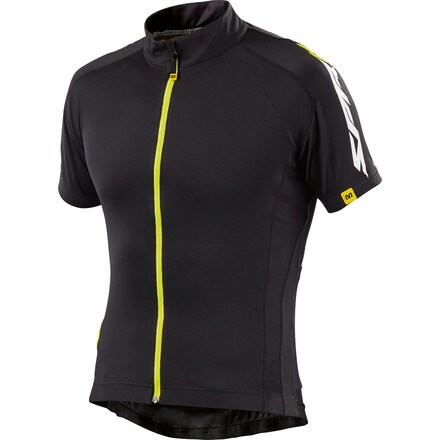 Description
Minimizes tan lines.
Riding in the summer means staying protected not only from the heat but from the skin-scorching rays of the sun. The Mavic Sprint Relax Jersey combines cooling and heat protection for your summer rides.
Constructed from Wick Matrix fabric, the Sprint Relax Jersey's knit is designed to pull moisture away from your skin so that you'll be comfortable and not clammy during your ride. And if you're still a bit toasty, the full-length zipper provides additional ventilation.
If you've ever spent hours in the sun in a jersey and bibs, you have most likely noticed tan lines once you unrobe, because, well, it is possible to sunburn through fabric. To counter this, the Sprint jersey was given a Hot Ride UV Finish. This gives the Wick Matric fabric the minimum of a 30 UPF.
Adding to the small details that make this jersey so desirable are five back pockets. In addition to the traditional three open back pockets, a zippered pocket and an easy-to-reach open mesh pocket were added. So now you have a secure place to stash your ID and spare cash.
The Mavic Sprint Relax Full-Zip Short Sleeve Jersey comes in fives sizes from X-Small to X-Large. It is available in four colorways: White/black, Red/black, Black/white, and Black/fluo.