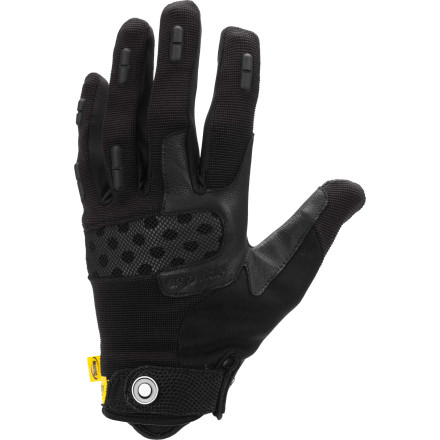 Detail Images
The requirements for a good mountain bike glove cover a much larger range than a road glove. Not only do you need to have your palms protected, you need to have your fingers and knuckles well covered. For those of us who prefer not to wear any gloves, this can become a bit of a hassle. The Mavic Single Track Long Fingered Gloves solve this conundrum with a pair of super protective gloves that still succeed in being comfortable and stylish.
First and foremost, a mountain bike glove should give you plenty of grip. The last thing you want is to feel like you aren't in control of your bike. Mavic's Ergo Palm has been constructed to give loads of grip while placing the vibration-absorbing foam right where your palm most needs it. They also used Pittards Leather for the exterior of the palms. Pittards is a kind of leather that is so thin and durable that it makes an ideal material for the type of beating the palms of your gloves will invariably take. Pittards goes through a special tanning process that helps the leather to absorb less water and resist sweat better than the other leathers and synthetics.
The uppers of the gloves are a mix of the stylish and the practical. With a discreet black on black appearance, you won't feel wonky about wearing these into the coffee shop after a ride around the ski resort in the summer. The material Mavic uses is its Scuff Guard with extra reinforcement. This combination provides high abrasion protection for the sensitive zones around the back of the hand while trail riding. The knuckles have a protective layer and they have even provided a soft nose-wipe section on the thumb.
Finally, Mavic uses their Ergo Fit methods to make certain that these gloves will fit your hands like, well, a glove. They used a pre-shaped cut developed in house for enhanced fit allowing ease of movement, comfort, and high performance. Add to that the Ergo Vent which provides micro laser perforations that increase breathability and moisture management so your hands won't get hot and clammy with sweat.
The Mavic Single Track Long Fingered Gloves come in Black and are available in sizes Small through Large.