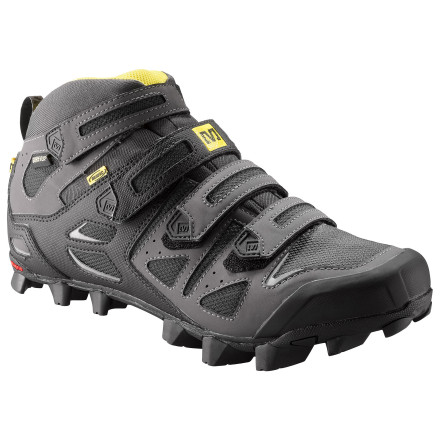 Detail Images
One glance at the Mavic Scree Shoe will tell you that something about this shoe is different. While most mountain clipless race shoes have a light, delicate look, like road shoes with a few lugs glued to the bottom, the Scree looks angry; like it wants to eat those other shoes. Mavic didn't load the Scree with a bunch of high-tech carbon fiber bits, an electronic ratchet system, or a bluetooth-ready heel-counter. The Scree is designed to protect your foot on epic rides that take you many miles from civilization. In other words, rides where you can't afford even minor injury.
The most obvious difference between the Scree and other shoes is its mid-high cuff. This design provides two important benefits. Coming off your pedal unexpectedly in varied terrain can have dire consequences. An inconveniently placed rock or rut can twist or even break your ankle. The Scree's high cuff provides extra support that can keep a light dab from becoming a major accident, or a twisted ankle from becoming a broken one. The importance of avoiding such injuries grows geometrically the farther you are from civilization. The other benefit is keeping trail debris from getting into your shoe. A rock in your shoe is usually just an annoyance, but you'll have to take your shoe off to get it out, which can be dangerous if it results in being separated from your group.
Another big difference between the Cree and most other mountain bike shoes is the guaranteed waterproof breathable Gore-Tex membrane that keeps moisture from getting in while it lets water vapor escape from inside the shoe. The result is a dry, comfortable foot after miles of riding, even on wet and muddy trails. Huge Contagrip lugs provide traction off the bike, and rubber toe and heel protection keeps stubbing and bruising to a minimum. Reflective highlights spare you the irony of being run over buy a car once you return to civilization.
Mavic Scree Shoes come in both whole and half sizes from 5.5 to 13 UK.
What do you think about this product?
Have questions about this product?
So far, these shoes have been wonderful. They are a tad, but not noticeable when on, compared to my Sidi Dominators.



The first time that I tried these on I was amazed that they finally made a shoe for my tastes. I am an all-mountian rider, that loves backcountry rides, as well as hike a bike. These are awesome in almost every way.



My only complaint is that the top strap is too short. I am big, but not fat, and it barely latches. Most of the time, it unlatches as I am riding. I have developed a home grown fix.