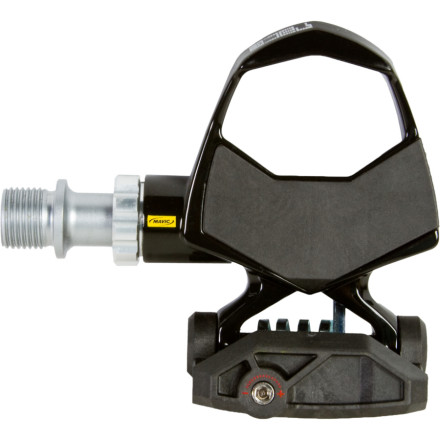 Detail Images
If you're looking for an affordable road pedal that's light and stable, with adjustable release tension, the Mavic Race Pedals are worth investigating. They're very similar to Mavic's pro-level Race SL Ti pedals, but they substitute Cro-Moly for titanium in the spindle, and composite for carbon fiber in the pedal body. These substitutions add a few grams but don't sacrifice any function.
The Race Pedal is constructed mainly of aluminum, with a composite retention assembly. There's also a composite plate where the forefoot lands for a reliable connection between the cleat and pedal. You'll notice the substantial width of that cleat/pedal interface -- this is Mavic's Energy Transfer System, which ensures that the sum of your power is directed to the drivetrain. Additionally, Mavic uses only high-quality cartridge and needle bearings for its pedals to ensure that drag is kept to a minimum throughout the lifetime of the bearings, which should be a long time due to their sealed design. Even if the bearings do wear out, the Race Pedals are completely serviceable.
The Mavic Race Pedals feature tension adjustment via a 3mm hex screw. Mavic pedals use a triangular cleat similar to those used by other manufacturers. However, Mavic's 'DuraCleat' has strategically placed wear-resistant zones so that your coffee shop treks and unexpected hike-a-bike sessions don't erode your ability to clip in securely and mash with confidence. These pedals come with cleats that allow for 7 degrees of angular float, but 0-degree float cleats are available.
Cleat-adjustable float, 7-degree cleat included, 0-degree available
Large platform ensures maximum power transfer
Simple-to-adjust release tension lets you dial in your comfort level
Sealed bearing keeps grit and road grime out so you can keep spinning