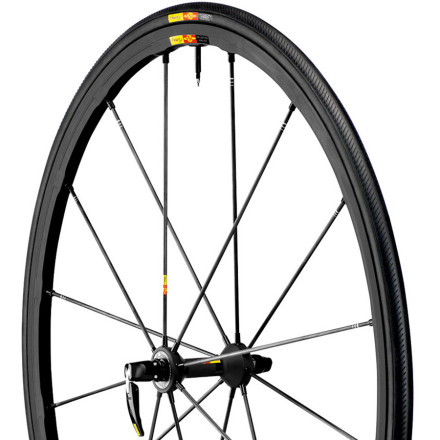 Detail Images
We put a great deal of demand on our wheels. If they're not stiff, responsive, and lightweight, we tend to treat them with either neglect or complete disdain. We need our wheels to move efficiently with each pedal stroke and in every race situation, but especially during demanding climbs and mountain races. However, while comparing fantasy to reality, what we really need is to easily be able to change a flat during a training ride -- quite the production with tubular tires. With the smooth rolling, aerodynamic Mavic R-Sys SLR Clincher Wheelset, the line between tubular and clincher wheels becomes blurred and irrelevant. Unless you have you own support car, you should be riding clinchers.
Like its tubular sibling, the R-Sys SLR Clincher wheels benefit from being tested in the pro peloton in a multitude of race scenarios, earning its merits on the bikes of climbers. And though you may be intrigued by the idea of full carbon wheels with deep rim profiles, an attraction that we understand, the rim depth on the front and rear wheels (22mm front and 25mm respectively) promotes the healthy aerodynamics and stiffness that you need for climbing bursts and swift descents.
That being said, here's something that might surprise you -- the R-sys SLR Clincher is made with Maxtal aluminum and it's received Mavic's Intern Spoke Milling to minimize the weight of the rim. This process aids in the creation of the wheel's high strength-to-weight ratio, and to further increase the wheels stiffness, the R-sys uses Mavic's Soude Usine Process to form the rim seam. Basically, the seam is arc welded and milled for a smooth finish that forms an incredibly strong rim joint. Accordingly, it reduces vibration and nearly eliminates brake shudder at the rim.
To keep the rim light and strong, the Mavic Fore drilling method has been used. Instead of drilling through both rim walls to get the spokes into place, only a single wall is drilled. This makes the wheel four times more resistant to fatigue while increasing the rim's rigidity by 20 percent. The rim has also been given an Exalith treatment that increases braking power, delays rim wear, and maintains the anthracite coloring for thousands of kilometers of training and racing.
The R-Sys rims roll smoothly on Black aluminum hubs. Equipped with QRM+ bearings, they're double-sealed for longevity. Each hub allows for micro-fine, preload adjustments without requiring you to remove your wheel from the bike. Keeping with the lightweight design, a Force Transfer System Light is used in the freehub body. This reinforces the contact area between the aluminum hub body and the pawls with two stainless steel inserts for a better engagement.
Connecting the hubs to the R-sys rims are ultra-stiff, lightweight carbon fiber Tracomp spokes. The front wheel uses 16 spokes for a radial lacing, and the rear has 20 spokes with a two-cross drive-side and radial non-drive side lacing pattern. Tracomp spokes provide an incredible amount of rigidity, because they flex less under load. And when the spoke experiences less compression it's less prone wheel deflection.
Mavic didn't want to sacrifice ride quality by running just any clincher tires on these wheels. Expanding the line of its wheel-tire system, Mavic has included Griplin/ Powerlink front and rear specific clincher tires with the wheel set. With a 127 TPI, and incredible cornering capability, these tires will stand up to the likes of the Roubaix and still grip on hair-pin turns down sketchy descents.
Mavic Exalith 2 brake pads come with the wheels to ensure a quiet and high level of braking. Included with the wheels are BR601 quick releases, wheelbags, a computer magnet, a bearing adjustment tool, one spoke wrench, a spoke holder for aerodynamic spokes, the Tracomp ring tool, and a user guide.
The Mavic R-Sys SLR Clincher Wheelset come in Black with Black tires. They weigh approximately 1960g with tires and are available with either a Campagnolo or Shimano/SRAM compatible freehub body.
Share your thoughts
What do you think of the
Mavic
R-Sys SLR Road Wheelset - Clincher - 2014
? Share a...
Tough and light. Awesome wheels.
Familiarity:

I've put it through the wringer
I beat the snot out of these wheels after reading so many bad reviews to put them to the test. I literally aim for potholes with these. After 5k miles on them and a lot of abuse they are still 100% true. I've broken 2 bikes but not a single spoke failure. My only negative with these wheels is that they get a little twitchy over 45 mph on descents. I have some cosmic carbones that handle better at higher speeds, but in terms of toughness I've never found a better wheel.
Very disappointing unreliable wheels
Familiarity:

I've used it several times
Bought these for my wife's bike and wishing I had stuck to something hand built with DT hubs or Chris King & Sapian CX ray spokes as I normally do.

After 3 weeks the front wheel developed very significant side to side play. Unfortunately the only way to preload the bearings is to swap out the end caps with varying thicknesses. Apparently previous models could be adjusted with an Alan key.
Even with the largest of the 4 caps there was still noticeable play. LBS requested a new axle but Mavic Australia claimed this was fair wear and tear so not a warranty issue! LBS disagreed as they were only 3 weeks old and replaced the axle free of charge but there was still significant play. LBS have persuaded Mavic to take a look at. Hope to have a resolution early in the new year. That will be 2 months. Fortunately my lbs has been very good and given us a temporary wheel.

This week my wife had a rear drive side aluminium spoke snap from a rolling start. So I will be back at my LBS requesting something fit for purpose next week.

To put this Into perspective. My Current Zip 202s with DT 240 hubs have covered 15km without fault and cost aus$ 300 more than the retail $3k price tag! We have a set of Dura Ace C24 which have which have covered +20k without fault but are at the end if their life.

On the plus side the new braking surface is very effective and after a 800km shows no signs of wear.

Spoke problems
Familiarity:

I've put it through the wringer
Have had two broken drive side spokes, and both times it rendered the bike unrideable due to rubbing violently against the brakes. According to the local Mavic dealer there is a recall on these wheels, They say there was an issue with the tolerance on the drive side spokes. Mavic are taking the rear wheel back for a full rebuild and no news on when it will be done. Was promised a temporary replacement, but after two weeks still waiting.
Spoke problems
Familiarity:

I've put it through the wringer
Purchased these wheels in Sept/Oct of 2013. Agree with the raves others have written, BUT... six weeks after riding them - big time spoke failure. Fixed. More good miles - April 11, 2014, another spoke failure. Starting NOT to trust this wheel, esp. since they were purchased for climbing/descending. Has anyone else experienced this??? Mavic so far has remained, MUM. I have close to 4 thous. miles on them. Any suggestions?

800 miles
Familiarity:

I've put it through the wringer
Ive put 800 miles on these threw Colorado. Alot of flat and climbing rides. Have hit over 50 mph several times. They are solid. They come out of the corner with cheetah like burst. bomb proof.. I would say 23mph+ is were you start to lose a little. your winding them up constantly to keep up. climb fine. supper stiff. The price tag vs other wheels in that do the same thing is a bit silly. should be closer to 1,300.00 MAX
could you run continental 4000gs 25mm in...
could you run continental 4000gs 25mm in these?
I have run the 25mm 4000s on the rear wheel without problems except mounting of Conti's in general but no harder than any other wheel. The feel is completely different but they last a lot longer than the Mavic tires.
I spoke to a guy today with that exact set up and he did say they were horrible trying to get them on but thats just a conti thing. Apart from battling to get them on he said they ran really nicely.
I have Vitoria 700x28 on mine right now.
Are there any rider weight restrictions...
Are there any rider weight restrictions on these wheels? I weigh 93kg's
Best Answer
It took some creative Googling, but I tracked down Mavic's professional tech manual (link below), and these have a weight limit of 100kg for the "rider and all gear." They specifically state that the weight does not include the bike, so as long as you're not wearing 7kg of clothes and stuff in your pockets you should be good.

http://www.tech-mavic.com/tech-mavic/technical_manual/data/docs/themes/2_19.pdf
Awesome thanks, I may have to get a set now!!!
I weigh 84kg and have had two broken spokes. Apparently there is manufacturing problem and recall on at least some of these wheels.
Mavic R-Sys SLR clincher wheel
Familiarity:

I've put it through the wringer
These are absolutely awesome wheels, light and tight, responsive and agile. They exceed all my expectations, The braking is very quick and predicable.
Solid
Familiarity:

I've put it through the wringer
I sold a set of 1250g carbon clinchers because I wasn't racing any longer and they sucked at stopping. I've been riding these for almost a year and I'm amazed at how nice it is to stop again. The Mavic's look great and are surprisingly respectably light.