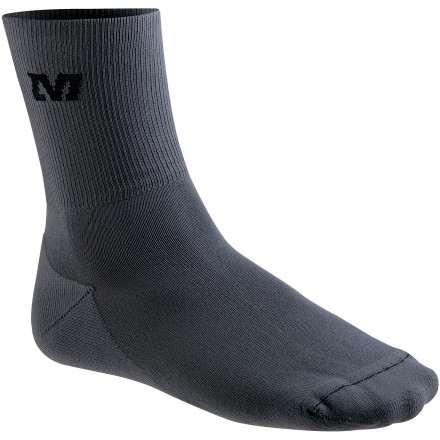 The recipe for a perfect pair of socks is relatively simple, yet most companies still manage to drop the ball. Essentially, all that we need is a comfortable material, limited seams, and a relatively high cut. Basically, we're describing the new Mavic Notch Socks.
For the construction of the Notch socks, Mavic used the venerable Meryl Skinlife material. Basically, this fabric was chosen for both its hypoallergenic and bacteriostatic characteristics. By this, we mean that Skinlife has been engineered to maintain the ideal balance of bacteria on the skin. Yes, despite what the chronic handwashers have to say, some bacteria is actually beneficial to our skin's health. Obviously, though, an exceedingly high level of bacteria creates its own set of problems. However, maintaining a natural presence, as Skinlife does, creates the ideal level of biological comfort. Additionally, within this balance, Skinlife prevents the growth of odor-causing bacteria. So, your socks and feet will remain free of stink, even after long, hot days in the saddle.
The Mavic Notch Socks are available in the colors Autobahn and Black and in the sizes Small, Medium, and Large.