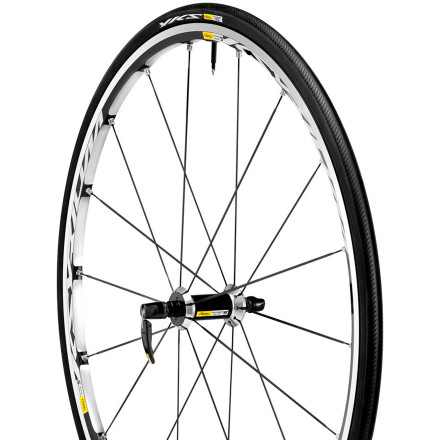 Detail Images

Community Images
Collectively, we can't remember a wheelset that more of us have ridden and loved then the Mavic Ksyrium Elite S Clincher Wheelset. We've followed it from generation to generation for one reason -- Mavic always manages make it better. This year, we find that the Ksyrium Elite S has gone on a diet and stolen some of its siblings' technologies. Lighter, faster, and smoother than ever, the new age of the Ksyrium has arrived.
For this iteration of the Ksyrium Elite S, Mavic made strives to balance opposites -- it's trickier than it sounds. The objective was to increase stiffness, while also increasing compliance, and somehow at the same time, decrease weight. Needless to say, that to achieve this, Mavic loaded the Ksyrium Elites with proprietary, patented technology. Starting with the rims, Mavic again went with the venerable Maxtal aluminum alloy. Exclusive to Mavic, Maxtal was developed in order to crush the conventional 6061 alloy. In comparison, Maxtal provides a higher strength to weight ratio and is around 30% more resistant to stress. This strength is further expanded upon by Mavic's Soude Usine Process or SUP. When the rim is being shaped and welded, this process is responsible for arc welding the rim joint into a seam that's then given a smooth finish. It might sound fairly boilerplate, but this exclusive process improves wheel balance, eliminates brake shudder, and increases the overall strength of the rim.
Now that we've covered the process of shaping the rim, it's time to bring spokes into the picture. Once again, Mavic utilized multiple production technologies to bolster the Elite's output and aesthetics. Where the spoke meets the rim, Mavic uses its Fore technology to eliminate drilling through the rim bed. The process involves pushing down on the lower of the two rim bridges, and then threading the alloy to allow the nipple to thread directly into it. This leaves the the upper bridge untouched, and accordingly, it increases the wheel's rigidity by 20% and makes it four times more resistant to fatigue. And while rigidity is a must to get up to speed quickly, maintaining that speed on an upward gradient requires a minimization of inertia. Need a refresher in physics? Inertia is the resistance of an object to change its state of motion or rest. Through its patented Inter Spoke Milling (think of those little ridges along the rim from spoke to spoke), Mavic was able to reduce rotational weight and balance the rigidity. This liberates the Elites from high points of inertia, and thus opens the wheels up for quick bursts of acceleration on climbs and through sprints.
Following the spokes down to the hubs, this year, Mavic used its Isopulse lacing pattern and flange design. Increasing the dish amounts to a superior balance and spoke tension. So, to do this, Isopulse requires radial driveside lacing and a two-cross non-driveside lacing. Basic, yes, but when you look at the flanges of the rear hub, you'll notice that the driveside is oversized and circular in comparison to the non-drive's five-point flange. Not only does this system raise rigidity, but it also creates a heightened stability. And once the wheels get turning, you'll notice the fluidity in which they operate. The Elites spin on Mavic's fully-adjustable QRM+ bearings, and the free hub uses a 100% aluminum design that's been complimented by stainless steel inserts between the pawl and hub body.
This year, the Ksyrium Elites have been designed for usage with Mavic's GripLink and PowerLink tires. Featuring a low rolling resistance, durable compound, high TPI, and front/rear specificity the new Mavic tires unleash the speed of the Elites and tow the line through corners in any weather condition. Also for this year, the wheels are laced with 18/20 bladed spokes. And for an extra aerodynamic benefit, the wheels have varied rim depths at 22mm up front and 25mm at the rear. This design plan is typically exclusive to far more expensive wheelsets, as it significantly reduces drag by increasing laminar airflow.
The Mavic Ksyrium Elite S Clincher Wheelset is available in the color Black and in both Campagnolo and Shimano/SRAM freehub compatibilities.
Another great Mavic wheelset
Gender:

Male

Familiarity:

I've used it several times
I ran a set of Mavic Aksiums on my CAAD10 for more than 10k miles without any problems, and when I decided to upgrade the wheels on my Cervelo R3 my first choice was something in the Mavic line. I chose these because of their reputation, my previous experience with Mavic, it checked off all the boxes that I needed and was a reasonable mid-price choice. I shed over 200 grams from the Fulcrum Racing 5.5's that came on the bike and it is apparent when you accelerate. The bearings are silky smooth. It's early yet but I think they are going to be a winning choice.
Great Wheelset!!
Familiarity:

I've put it through the wringer
When I first put these wheels on my bike just prior to doing the Salt to Saint relay, I could not believe the difference they made. I was much faster, the bike just rolled down the road with no effort. Climbing was great, and trust me I had to do the Traverse Mountain climb, and I can tell you if it wasn't for these wheels I for sure would not have made it!! Great product!!
Is the price of $799.90 for the front and...
Is the price of $799.90 for the front and back wheel? Thanks.
Hey Julius,



The price listed is for the wheelset and it comes with both front and rear wheel.
Good wheelset but watch the tires
Familiarity:

I've put it through the wringer
I've used these now for 6 months and feel I got a great value for the price. Wheels remain true and are the weight reduction from my base set is of noticeable value.



The one drawback to this wheelset are the tires. I was enthused, at first, since they seemed a nice benefit. Good apparent quality and came mounted on the wheels. However, the front "Griplink" tire experienced three flats in my first two rides. It seemed to suck any rock chips and minute metal debris up into the tire, holding it there until it pierced the tube. In all three incidents I found other debris in the rubber that hadn't yet gotten to the tube (but would have had something else not beat them to the punch). The rear tire lasted a few more rides before its first puncture but I just don't trust the Mavic tires enough to have kept it on.



So, good wheelset and value but be cautious if you ride common streets as the tires grip debris better than any others I've used.
Where exactly to you place the spacer for...
Where exactly to you place the spacer for a 10-speed set up?
Put the spacer on first, then install the 10-speed cassette as you normally would.


True value...
Familiarity:

I've put it through the wringer
At $550 they were a no-brainer (still a bargain at $800, imho). Light and strong, they're the best upgrade I've made yet. Almost 3k miles and no issues. They're as true now as the day I got 'em.



I need to vent about one thing, tho: When the holes were drilled for the tube stems, they weren't finished. I went through two inner tubes on the front before I realized it was the scalpel-like edge of the hole that was slicing through the tubes. Maybe they were the last ones off the line late on a Friday afternoon. Just made me wonder what else might have been over-looked in the QC process. But, a piece of duct tape solved the problem.



One other thing; beware the rear tire, the PowerLink. I've gone through three so far. Sidewall blowout each time. I don't think I'm too hard on them. And at less than 180, I don't think it's a weight issue. Maybe too delicate for daily use?



Bottom line on the wheels: you can't go wrong.
Over 195 lbs - Beware
Familiarity:

I've put it through the wringer
I would love to highly recommend the Mavic Krysium Elite S - however - After 7 months, a couple of centuries, and exactly 2294.97 miles the rear wheel developed a crack at one of the nipples. No sense in getting that trued..... speaking getting trued after those miles I had the front true just recently and the rear was never trued. Really loved the wheel set until this happened. For the money it was an awesome deal, $550.00 or so 1.5 pounds lighter the crap that came on my Spec Roubaix. They Climbed better, Rolled better, Looked better. Now I need to see how Competitive Cyclist and Mavic handle the warranty process. I see from other reviews I am not alone as a guy over 200 with a cracked rear wheel. I count about 6 of us out there from various review threads. Manufacturing issue or should they issue a warning if you are over 200???
Durable and reliable
Familiarity:

I've put it through the wringer
I have about 7,500 miles on these wheels and can't imagine buying a different wheel to meet my needs. I'm 6'3" and 195 lbs and ride about 3,500 miles per year. I have only had to true them once, but that was very minimal work and more of a "hey, can you true my wheels while I have my bike" in the shop. The only negative thing I can say about these wheels is the rear free hub requires maintenance about 2 times per year to clean and re-lube the free hub. I live in a very dry climate where it is recommended to do this 2x per year if you ride a lot.



Another minor complaint is that the bladed spokes get caught in the cross winds more so than a set of wheels with standard spokes. I ride these on gravel roads, up long mountainous climbs, down long mountainous descents, and hardly notice any flex either. I've had the Aksiums as well and there is a very noticeable difference between the Ksyrium Elite's and the Askiums (weight, flex, rolling resistance).
Hi there, I'm very interested in these...
Hi there,

I'm very interested in these wheels - however, does it make a difference that i'm a small woman (118 lbs)? I recently had a used carbon wheel set (bontrager) and who knew?the hub was broken. I got a few hundred miles but that was it. I hated the wheels?never felt very solid. Previous to these wheels i had Shimano Aluminum that come with Specialized Ruby?Okay to go with Mavic even though i'm not big person? I race in triathlons.

Is this a good fit?

THANK YOU!
Best Answer
Mavic wheels have a solid reputation for quality, the bearings and the freehub are made with high-end precision. Your size should never affect the performance or longevity of a wheel, in fact you are on the lighter side and typically lighter riders are less hard on wheels. OK to go with Mavic. Your question about using for Triathlons, this is not an aerodynamic product specific to triathlon but will work for any type of road riding or time trials. They'd be a great training/racing wheel.
Big guy approved!
Familiarity:

I've put it through the wringer
I'm 6'2, 245 pounds (actually now I'm at 220 with a goal of 215), and kept popping spokes on my original wheelset, which was brand new.

I knew I needed a wheelset that can handle heavier riders and after chatting with customer service, I was led to these wheels. After four months of continuous use I have nothing but positive things to say, and couldn't be happier. I'm hopeful these willl last for a couple more years.
Incredible Wheelset
Familiarity:

I've put it through the wringer
I bought these after two years of riding, researching, and investigating. Of course I was drawn to the carbon wheels, but always find my way looking at these sub $1,000 wheels. I always thought there might be a catch to these.....none. They are quite simply the best aluminum clinchers I have come across.



City riding for 3 years....never had to true the wheels yet.

Mountain riding....spin smoothly up the hill, and stop with pure confidence the whole way down.

Flat lands....not the greatest aerodynamically, and the ride can be a little tough, but coupled with Mavic tires and the results are glorious.



I would buy them again if I had too, but fortunately, that wont be the case. Just wish they could turn these into a nice cyclocross specific wheelset.
Has anybody who has purchased this wheelset,...
Has anybody who has purchased this wheelset, or any mavic wheelset, noticed if their rear wheel's valve stem hole is off-center?
Not really sure what you mean. Do you mean the Valve stem hole is off centre between the spokes, or your valve doesn't fit as it is off centre.
Damaniac, I mean the valve stem hole is actually off center between the spokes (where the actual valve stem of the tire tube goes into). A friend's set of the same mavic ksyrium elite s has the same off centered valve stem hole.
Best Answer
If you are looking down at your valve stem from the top, yes it is off center as it comes out through the rim. However, unless I am mistaken, if you look at the valve hole in the rim from the inside of the rim when the tire and tube are removed, the valve stem is centered on the rim. This "off center" appearance is due to the shape of the rim. Hope this helps.
Is this the 2013 Mavic Elite S WTS...
Is this the 2013 Mavic Elite S WTS Wheelset?
Best Answer
99.9% sure that this is the Elite S, you can tell from the hubs. I have the 2011-2012 Elite'f for my other bike, and the hubs are all black, with no 'S' on them. You should be good to go; they are great daily drivers and should hold up for a long time :)
Any confirmation from CC that these are...
Any confirmation from CC that these are Elite S version per Mavics web page : http://www.mavic.com/wheels-roadtriathlon-ksyrium-elite-s#.UkEAsGt5mSM
Best Answer
Never mind, close up of the hub shows Elite S.
YES! THESE ARE INDEED THE 'S' MODEL. - TIRES ARE INCLUDED.
Do these come with tires?
The Gold Standard Of Wheels - Deserved!
Gender:

Male

Familiarity:

I've put it through the wringer
I have many wheels and the Elites are the best value by far and the wheel by which all others should be compared. Spending more may or may not get you better wheels as I have the R-SYS wheels which are more than double the cost of these and there is negligible difference in speed. The TRACOMP carbon fiber spokes of the R-SYS wheels smooth the ride a little but hardly justify their cost and the weight drop is not really noticeable. Most carbon fiber rim'd wheels at 2 or 3 times the cost weigh as much or more so I have my doubts they are worth it so expect to pay many times more for a wheel that is marginally better and you could easily spend triple for a wheel that is at most equally as good. The durability is as good as the performance of these wheels too, they last forever and I've yet needed to true mine after thousands of miles. Also, my more expensive Easton EA90SLX wheels are good, very aero wheels but still not as good as Elites unless going downhill at max speed is your only concern. Yes, Mavics aren't as aero as other wheels but don't think you are going to win races with more aero wheels unless it is only a downhill race. On the flats and climbing, Elites are just superior or equal to almost all wheels. The Backcountry deal should not be passed up if you are riding on OEM wheels of a bike shop bike that cost less than $6000 as they are significantly inferior to Elites. Also, stay away from the Equipe's which are over priced Aksium's. You either get Aksium's which are the entry level bargain of all time through Backcountry or the Elites, the best choice to go to the next level. PS:The Aksium wheelset blows away all OEM wheels on bike shop bikes that sell for less than $3000.
POWER ROLL
Familiarity:

I've used it several times
I asked my cycling experts with many years of road cycling experience, what is the ONE thing that I can do to my bike a 2012 Specialized Roubaix to make the biggest performance impact?

Replace the wheels with Mavic Ksyrium Elites! So I did!

What an AMAZING difference it makes!! The ability to accelerate, gain speed and maintain speed is the biggest thing. It helps immensely climbing hills, due to the wheels being so light and stiff. When cornering, the wheel turns crisply and sharply compared to the original wheels. You can carve a turn confidently. The ride quality is excellent, even the though the wheel is stiffer, it rides as smooth as the original wheels. I am Super Pumped with these wheels!
USE LAUNCH50 TO GET 50$ OFF
Familiarity:

I've used it once or twice and have initial impressions
50$ OFF
Can these wheels be used with 28c tires?...
Can these wheels be used with 28c tires?
Best Answer
Any clincher race wheel is OK for 28c tires. Ideally you would want a slightly wider wheel to minimize the risk of pinch flats but narrow race wheels work fine.
Great all around
Familiarity:

I've put it through the wringer
I bought these wheels new from my LBS 3 years ago and they have been incredible! I have never had to true them and have put around 5K miles on them. I've raced and won crits on them, placed top 10 on a few century races, and a podium finish in a road race last year. They are incredibly versatile and they last! These wheels have sold me on Mavic and when I upgrade wheels I will stick with Mavic and probably pick up some Cosmic Carbones.