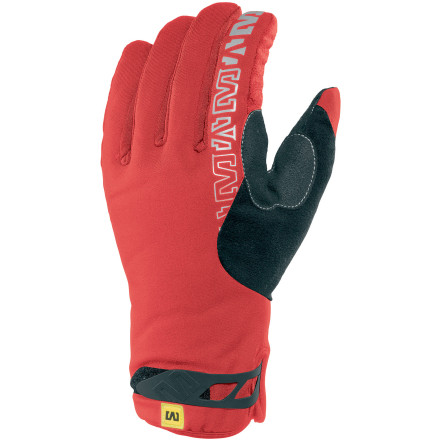 Detail Images
Subfreezing temperatures are a enough to keep the most dedicated cyclist indoors. However, if you're willing to make a small investment into proper riding attire for beyond frigid days, you can pedal through just about anything. Case in point are the Mavic Inferno Gloves. If you're anything like us, your hands are the first extremities to succumb to the freeze. No longer. With a claimed degree of protection down to five degrees Fahrenheit, the threat of frozen digits are no longer an excuse to roll on the indoor trainer.
Starting with the shell of the Inferno, Mavic covered the uppers with the patented Thinsulate insulation fabric. This material provides the perfect ratio between dexterity and insulating warmth. What we mean by this is that an all-to-common ailment of low-temperature gloves is the loss of full movement. However, Thinsulate, as its name suggests, is extremely thin, leading to an easy articulation of your fingers. Additionally, this fabric is extremely warming. As we previously stated, Mavic suggests using these gloves between the temperatures of five and forty degrees Fahrenheit. But, don't let that wide temperature range scare you off from using these in the upper 30s. We say this because Thinsulate is quite effective at wicking away excess moisture from the skin. So, within the recommended range, your hands will remain dry and comfortable, mile after mile. And going a step even further, Mavic has fully-taped the seams of the gloves in order to compliment Thinsulates water-resistance. So, with the extra addition of a DWR finish, the Inferno is capable of withstanding water up to 4000mm water column.
And while the element protection of the Inferno gloves is fabulous, warmth is only important part of the equation. Of course, vibration absorption and adjustability are the others. So, Mavic incorporated what it calls its Ergo Palm Concept with the Inferno. This design concept requires a layering of Clarino synthetic leather and deliberately placed sections of high density EVA foam at the palm. Mavic was sparing in the applied thickness, so, you still retain a strong grip at the bars, while also giving your hands a rest from road vibration. As for the fit, the Inferno follows Mavic's Ergo Cut design that pre-shapes the form of the gloves for easy movement. For security, you'll find an adjustable wrist closure that reminiscent of the straps found on Mavic shoes like the Zxellium and Fury.
The Mavic Inferno Gloves are available in four sizes from Small to X-Large and in the colors Black and Bright Red.
What do you think about this product?
Have questions about this product?
Great Winter Commuter
Familiarity:

I've used it several times
I was looking for a WARM glove without adding the excess bulk of an extremely insulated glove...Here's what I got:



Warm - Yes

Warm Enough - No (it was single digits)

Dexterity - Yes (after break in)

Bulky - No



Out of the box impressions were SNUG, but after some warming up, and a brief break-in, they were primed and ready. Warm glove that would work well in the 20-40 degree F range(any warmer and your hands might turn to prunes), and have a great low profile design that won't get in your way.



I'm not sure if what I'm looking for exists without an electric heating system....
Warm and windproof
Familiarity:

I've used it several times
I have a real hard time riding in temperatures lower than 50F given that my hands and ears get cold easily. I bought these gloves for riding during the winter in NYC in temperatures ranging from 25-45F (I hate riding in temperatures lower than 25F). So far I really like these gloves, they don't let the wind in and keep my hands warm during my 40 min commute. By the time I get to work, my fingertips are a little cold if riding in the low 30s but nothing serious. You do lose some dexterity when wearing these guys, but nothing that can affect your ride (you won't be able to operate your phone while wearing these guys). I'd say that they work perfect in the 30-40F range, but I'm sure that some people will find them comfortable at lower temps. And yes, they are also very good at keeping water out.
Got these. They are good to mid 20's at best. Was out this am for 1 hour at about 28 degrees with 15 mph wind. thumbs and tops of hands were very cold by the time i got home. 5 degrees in these gloves would give you frostbite. I ride in all sorts of temps and no way would i venture out in these that cold. You get much better results with a lobster glove. Having said that I will say it is a quality glove for temps 25-40. It is not too bulky, has good wind resistance and flexibility and plenty of other good features. I have the castelli 5.0 also and if i had to pick i would take the mavic over those.