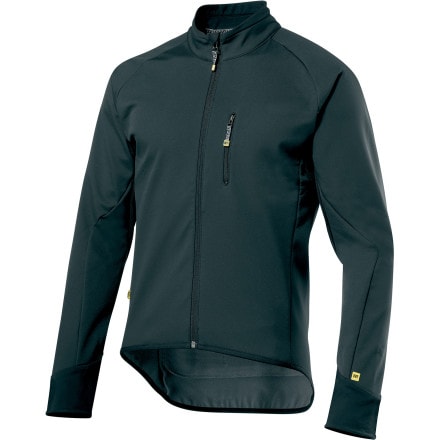 Description
Extend your season.
One of the biggest new developments in outdoor clothing in recent years is the softshell jacket. Manufacturers realized that moisture from inside the jacket robs your core just as fast as moisture from outside, so breathability became a huge issue. Mavic brings the softshell concept to cycling with its Espoir Thermo Jacket, which combines wind protection with light insulation to increase your riding efficiency during spring and fall rides.

The Espoir utilizes Mavic's Warm Shell fabric to achieve lightweight, efficient breathability with built-in weather protection. Recommended for temperatures from 32 to 54 degrees Fahrenheit, the Espoir adds comfort to weather that would previously have been chilly enough to sap your energy right out of the gate. Rather than trapping heat and moisture, however, Warm Shell allows the Espoir to breathe and release moisture.

Mavic also gave the Espoir Ergo cuffs to seal out drafts and chilly winds. Storage is taken care of with three rear pockets and a zippered chest pocket for easy access to essentials. Reflective trim elements to make you more visible in traffic.

The Mavic Espoir jacket is available in sizes small through 3X-Large. It comes in the color Black.