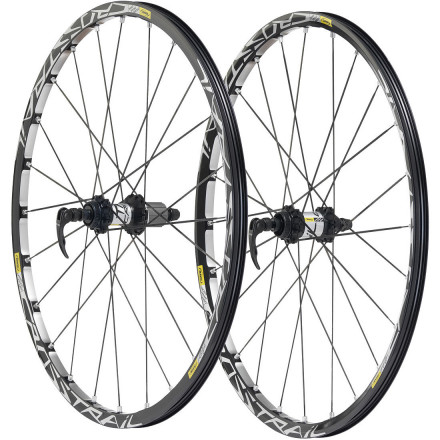 Mavic's Crosstrail 26inWheels get better and better. They benefit from constant trickle-down from the top shelf wheels. This latest version has a number of improvements. Most notable are the 150 or so grams that Mavic got rid of, and they have a graphic treatment that brings them into the fold with the rest of Mavic's high performance offerings.
The weight savings is due to a new extrusion for the Maxtal aluminum rims. Mavic's engineers determined that they could do the same job with less material. Then they further lighten them using their Inter Spoke Milling (ISM) process to remove unnecessary weight from between the spokes. Both hubs are aluminum, and the front hub is 50 grams lighter than before.
One of the reasons we like Mavic wheels is summed up in three letters -- UST. Mavic achieves this coveted designation by employing their FORE drilling process to create threads in the inside wall of the rim for the 24 stainless straight-pull spokes in both wheels and to allow nipples to attach into, yet there are no holes in the outside wall of the rim. You won't need rim strips, and you won't have to fuss with them to get a good seal.
The Mavic Crosstrail 26in Wheelset is built to accommodate centerlock brake rotors and is shipped with two 6-bolt adapters if you use standard 6-bolt rotors. You'll also get Mavic's standard quick releases, but the front hub is convertible to 15mm thru-axle with included adapters. The FTS-X freehub is compatible with 9- and 10-speed drivetrain systems. The wheelset is delivered with UST valves and accessories and a spoke wrench.
This wheelset is part of Mavic's MP3 extended warranty program. The acronym stands for Mavic Product Protection Plan, and it provides you with two years of almost unlimited no-fault protection from Mavic. More details can be found on the MP3 website. Please note that MP3 coverage must be purchased within 5 days of the date that you receive your wheels. Contact one of our customer service representatives for the retailer and product codes that you'll need to register your wheels on the Mavic MP3 site. You'll also need the serial numbers that you'll find on your wheels. The cost for this coverage is approximately 8% of the retail cost of the wheels.

What do you think about this product?
Have questions about this product?
hello .. International shipments do ...?
hello .. International shipments do ...?