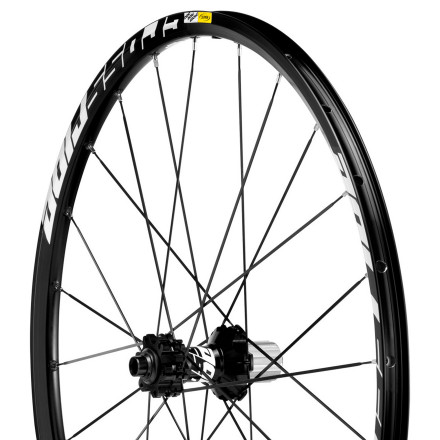 Detail Images
Most companies talk about offering a high-performance product for a second-hand price. Very few deliver. Having been at the top of the bicycle-wheel food chain for years now, the folks at Mavic wanted to build a mountain bike wheel at an entry-level price, but refused to sacrifice Mavic's reputation for a high quality product. The result is an entry-level price on a nowhere-near-entry-level wheelset–the Mavic Crossride Disc.
Mavic's Crossride Disc Wheelset was developed with rider experience at the forefront of its design. With team input, and a dash of French engineering prowess, Mavic was able to make the Crossride a rigid, but comfortable wheelset that wants to accelerate and sprint out of the corners. The first step in the new design was incorporating Mavic's Self Lock system. This system uses a specially shaped spoke end that makes it virtually impossible for the spoke's threads to loosen from the nipple. This means that the Crossride's 24/24 straight-pull rims retain a constant, out-of-the-box shape with a tension and true that refuses to deviate. To combine durability and rigidity, Mavic next used the H2, hammer hardened, rims that are locally strengthened where the spokes experience the most stress. Combined, the Crossride wheelset is both strong enough and responsive enough for brutal, technical climbs and descents. Mavic's technological innovations aren't limited to just the rim; they extend throughout every component of the wheelset. The hubs use Mavic's top-shelf QRM cartridge bearings that feature a protective double seal, and a C3 internal clearance to nearly eliminate bearing play. For the freehub, Mavic used the FTS-X for its durability derived from strengthened pawls, self-locking axle end screws, and friction torque reducing seals.
This wheelset is part of Mavic's MP3 extended warranty program. The acronym stands for Mavic Product Protection Plan, and it provides you with two years of almost unlimited no-fault protection from Mavic. More details can be found on the MP3 website. Please note that MP3 coverage must be purchased within 5 days of the date that you receive your wheels. Contact one of our customer service representatives for the retailer and product codes that you'll need to register your wheels on the Mavic MP3 site. You'll also need the serial numbers that you'll find on your wheels. The cost for this coverage is approximately 8% of the retail cost of the wheels.
The Mavic Crossride Disc 26in Wheelset is both UST tubeless and tube compatible, and accepts only six bolt ISO standard disc rotors. This wheelset is is available in the color Black, and the freehub body accepts Shimano and SRAM 8-, 9-, and 10-speed cassettes. This wheelset has a 15mm thru-axle front hub and a 10x135 QR rear hub. The thru-axle, quick release skewer and adapters are sold separately.